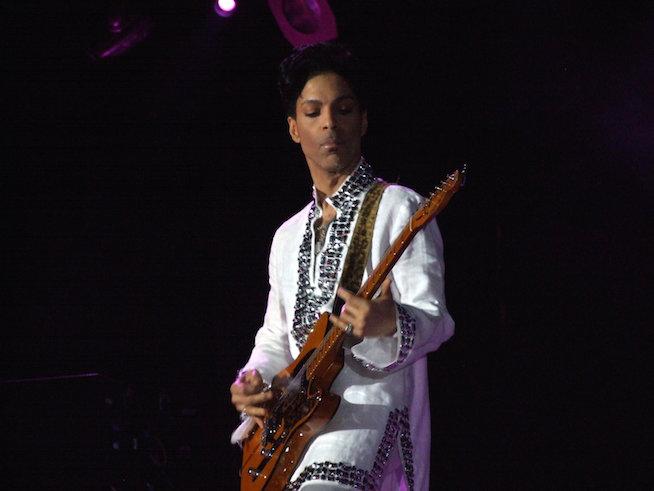 RIP.
Excuse the shoddy writing that's about to happen here. This '80s girl is in shock after learning that legendary pop musician Prince was found dead at his home today.
Doves cry, my friends. Doves cry.
Born Prince Rogers Nelson in Minneapolis, Minnesota, the singer was known for… Jesus, fucking everything. The guy made music, he made movies, he made headlines. Remember "Purple Rain"? Remember "1999"? Maybe you don't because you're too young but you've quoted it. "Tonight I'm gonna party like it's 1999" has been paraphrased a million times over.
Prince's song "Darling Nikky" caused shockwaves among uptight parents and led Tipper Gore to create the Parents Music Resource Council that invented those black and white warning labels on records. In the '90s, we all knew those were the best CDs to buy. You just knew there was going to be some good stuff on any album that was pissing off adults.
In 1993, he stopped using the name Prince over a conflict with a record label and instead went by a glyph known as the Love Symbol. At the time, he was called The Artist Formerly Known as Prince, or just The Artist. You've probably used the phrase "the artist formerly known as" as often as you've used "party like it's 1999." Prince is in the fabric of our culture.
Prince wrote songs that were recorded by all kinds of amazing people. He wrote "Nothing Compares 2 U" for Sinead O'Connor, "Manic Monday" for the Bangles — he co-wrote "Stand Back" with Stevie Nicks. I'm sure there are dozens more that I'm forgetting.
Goddamn am I sad about this.
Last week, he was reported to be ill with the flu, but no details or cause of death have been released. So far, we only have confirmation from his publicist that Prince is gone.
Send us a sign to tell us about the afterlife, Prince. You've got forever, and forever is a mighty long time.