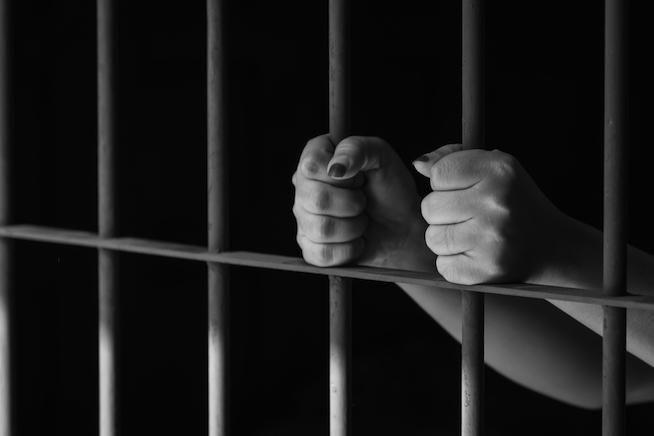 Victims are still arrested and sometimes imprisoned in states with Safe Harbor.
"I was so brainwashed. I didn't have a voice. I didn't even know who I was anymore," she said. "Even though this was not the life that I wanted in any way, shape, or form, this was the life I was living."
When the police arrested Wendy Barnes's pimp, it appeared as if she were free at last, she recalls during our phone interview. "Maybe this nightmare ends," she thought. But that's when they handcuffed her, brought her to the station, and charged her with the exact same crime: prostitution.
Though they gave her an attorney, she knew there was no hope. In order to attest to her innocence, she'd have to attest to her pimp's guilt. And if she revealed that he had forced her into the sex trade from ages 17 to 29, his wrath would be worse than any state punishment. "He would've beaten me every single day," she recounted.
When she received her sentence of 23 months in prison plus four years of post-prison supervision, a stricter version of probation, she was just glad there was an end in sight. But the judge left out one thing: Because she had to register as a sex offender, she wouldn't be allowed near her kids — or any children, for that matter. While a few officers let her see her children sporadically while she was in prison and then a halfway house, she wouldn't be off the registry until she'd been out of prison for eight years, after sending countless letters to senators, governors, and congresspeople.
While some may wonder how the police got away with this arrest, it was, in fact, what they were supposed to do. Oregon, where Barnes lived, remains one of 16 states without Safe Harbor laws, which prevent criminal punishment of sex trafficking victims.
That's right: Throughout the country, victims are arrested and imprisoned, even when they're so young that their sexual encounters would be treated as statutory rape were there no money exchanged. Over 1,000 children per year in the United States are arrested for prostitution.
The majority of these children are African-American, said Malika Saada Saar, a human rights lawyer and board member of the Human Rights Project for Girls., in an email interview. "There are entrenched cultural mythologies that frame Black and Brown girls as the oversexualized, licentious Jezebels and therefore 'unrapable.' Against that backdrop, African American girls' sexual victimization is therefore disregarded, and they are actually criminalized for the violence done to them." Saar met a survivor who remembers being told "You are a bad Black bitch" by the police officer who pulled her out of a car and handcuffed her at age 15. The cop ignored the john she was with.
Victims are still arrested and sometimes imprisoned in states with Safe Harbor, which "provides for diversion instead of detention, but that does not eliminate arrest rates," Saar explained. "And even in states where there is Safe Harbor, some [victims] are still detained for a period of time."
Americans have long been debating whether people should be legally punished for voluntary sex work, and in 49 states, they are. But most citizens in all political parties would probably agree that nobody should be in prison for being trafficked. Yet children, even those below the age of consent, are held criminally liable for prostitution in 36 states.
We've been taught to see sex trafficking victims as perpetrators, but make no mistake, Saar said: They've "been subject to repeated, commercial rape."
Unfortunately, terms like "prostitute" not only stigmatize voluntary sex work but also place responsibility on children and other victims who did not enter the sex trade by choice. "How a person is named is how she is treated," Saar explained. "Exploited and trafficked children in the United States are named, and therefore treated, as child prostitutes. We must, in our language and cultural norms, let go of the notion of a child prostitute — because there is no such thing."
Barnes was not a child when she was put behind bars, but she was a victim, both of her pimp and of the criminal justice system. "I was so brainwashed. I didn't have a voice. I didn't even know who I was anymore," she said. "Even though this was not the life that I wanted in any way, shape, or form, this was the life I was living."