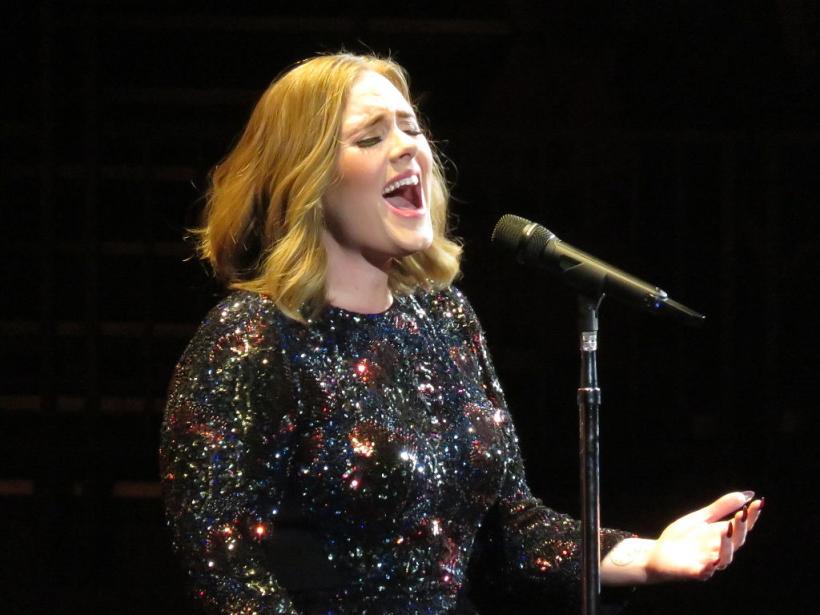 Image: Wikipedia
Adele is my Beyoncé. 
A week before 21 was released, she announced her tour dates for the album in New York City. Living in Connecticut at the time, I immediately took a train to Harlem to buy tickets for the show. I stood in line all night alongside a group of homeless people who had been paid to stand in line by scalpers. I still recall how no one waiting in line with me had any idea what songs Adele sang. Like the rest of the country at the time, no one there anticipated what an enormous star she would become. Except for me. I had always known. 
Throughout every milestone of my life and the important parts of my relationship, Adele and her music have been there for me. Even my husband knows this. I jokingly tell him that he should be grateful for her, because if it weren't for hearing the song "Chasing Pavements," we would not be together right now. For our honeymoon, we traveled to Mexico City after I impulsively purchased tickets because all of the tour dates for her most recent show sold out in the U.S. within seconds.
***
For me, everything she does is a "Yasssss" even if it's not for everyone else. Like every respectable member of the Beyhive, I was tuned into the Grammys on Sunday night shouting "Slay Queen" — only my chants were for Adele, not Beyoncé. 
It came as no surprise that both superstars were nominated for the biggest categories in the music industry. I anticipated they would each take home several wins throughout the night. Adele had five nominations for all the big categories, which paled in comparison to Beyoncé's nine nominations. None of the wins were a surprise — except for one that collectively shocked viewers watching worldwide. 
It pains me to choose Beyoncé over Adele because of my devotion as a fan. However, I will always be a Black woman first.
Audiences seemed to be in disbelief, as Adele stood on stage to accept the "Album of the Year" award. Besides witnessing two flubbed performances we had just seen from Adele that night, or the fact that Beyoncé literally ascended from the skies on stage in a glowing visual performance that earned a standing ovation, there were a number of other factors that proved Beyoncé's Lemonade was robbed from winning the statuette. 
***
For me, 25 was a disappointment. When Adele finally returned to the spotlight after a three-year hiatus, everything about her career seemed different. 21 had gone on to sell over 10 million albums since our first concert together, and now the rest of the world had acknowledged Adele's star power. But upon her triumphant comeback with 25, I found the album to be lackluster at best. People have jokingly conceded that Adele could sing the phonebook, and it would win all of the Grammys, but for me, that may have been better than 25. As a loyal fan, I stewed in silence — and gave the obligatory "Yasss." 
I reluctantly watched as the rest of the world settled for this mediocre album, which paled in comparison to her previous work. And after all, the garbage album didn't change the fact that Adele's voice was still a combination of champagne and velvet perfection. 
***
Then, Lemonade dropped. 
I'll never forget the first time I saw the unforgettable cover art image of Beyoncé adorned with blond cornrows, her face burrowed into the arm of a luxury fur, standing in the arresting position of palms pressed against the vintage blue vehicle. I am not a member of the Beyhive by any stretch of the imagination, but I knew that this album was a monumental creation from Queen Bey. Her Super Bowl performance of "Formation" paid tribute to the Black Panthers, featuring an army of black femmes, which only solidified my suspicions regarding how epic Lemonade would be.
What I didn't know at the time was that the entire album would be a love letter created for Black women by a Black woman. Despite being described as "a conceptual project based on every woman's journey of self-knowledge and healing," Beyoncé was very specific about letting her fans know that she was talking to us. 
At the time of its release, Black people were hurting. We were watching police kill us daily, without consequence, on social media, and in the news. #BlackLivesMatter was on the forefront of all of our minds. And "Formation" served as a battle cry for those of us who were exhausted, fighting for our own humanity as black women. 
Although this was Beyoncé's second visual concept album, she had never before released anything like this. Nor had her music been so deliberate and unapologetically black. Before the album's release, Beyoncé was among artists like Prince, Whitney, and Michael who had somehow transcended race and made their way into the hearts of White America. It was for that reason alone that creating Lemonade was such an incredibly risky career move, but one that deserved to be rewarded by the Recording Academy. 
***
Adele has never been shy about her allegiance to the Beyhive. Even when Adele was promoting 25 in Vanity Fair, she shot down rumors that she had denied a duet with Beyoncé. "Just to clear up, I would never be so disrespectful," Adele told Zane. "I would never disrespect her like that. I'm such a fan, oh my God!" She went so far to end this statement with the declaration, "Queen Bey to the day I die."
But regardless of how much praise Adele had offered Beyoncé, those who had no history with the singer could not defend the way the awards went down. It was a slap in the face to those who the album was intended for, Black women, as well as the artist, Beyoncé. 
It's hard for me as a loyal Adele fan, not to critique Beyoncés loss as anything other than a result of white supremacy.
It was strenuous to watch Beyoncé suffer through Adele offering to forfeit a prize that even she admitted had wrongly been awarded. In spite of the admiration she had for Beyoncé, it was still a familiar scene — one that practically every hardworking Black woman could identify with. So many Black women can relate to the scenario of pouring your blood, sweat, and tears into your craft, as a labor of love and a testament to your credentials, only to watch a white woman with a similar skill set waltz through the door and take something you had rightfully earned. 
Seeing Beyoncé with tears in her eyes, seated below, as Adele continued to praise her from the stage above — it was hard to decipher whether she was indeed moved by Adele's words or genuinely upset that such a historical body of music and art had lost to a safe and underwhelming piece of work like 25.
It pains me to choose Beyoncé over Adele because of my devotion as a fan. However, I will always be a Black woman first. Which means for me that I will always support the under-appreciated labor that is our creative artistry  — which has been stolen and appropriated without acknowledgment for centuries. Adele genuinely seemed caught off guard by the win. But many were unimpressed by her speech that resulted in observations of "white feminism." 
On stage, Adele said, "But I can't possibly accept this award. And I'm very humbled, and I'm very grateful and gracious. But my artist of my life is Beyoncé. And this album to me, the Lemonade album, is just so monumental. Beyoncé, it's so monumental. And so well thought out, and so beautiful and soul-baring and we all got to see another side to you that you don't always let us see. And we appreciate that. And all us artists here adore you. You are our light."
But the portion of her speech that garnered the most criticism was what she had to say about her "black friends." 
"And the way that you make me and my friends feel, the way you make my black friends feel, is empowering. And you make them stand up for themselves. And I love you. I always have and I always will. Grammys, I appreciate it."
Despite positive reception from the news media, reactions were mixed online, as some thought she regarded her "black friends" as tokens. It is all too often as Black people we're used to hearing white people mention that their "best friend is black" when defending themselves from accusations of racism. But for me, it just sounded like she understood what Lemonade meant, not only to her but the Black people in her life. 
By Monday morning, tabloid news was already portraying Adele as the "white savior," in contrast to others online who labeled her a "white feminist." Through real tears, I continue to question my own blackness — because deep down I recognize the unintentional wounds her speech had reopened for my sisters. I understand that this was not Adele's intention, but I can understand the impact. I mentally can not bring myself to accept that my imaginary musical bae has joined the ranks of the awful "white feminists" who came before her (in the form of Jennifer Lawrence and Amy Schumer). 
Adele understands that Beyoncé is superior to her artistically, by her own admission, and made a public declaration to critique the racist systems that contributed to her loss within the Grammy association. 
"My album of the year is Lemonade," she said, referring to Beyoncé's album that was also nominated in the same category. "So part of me did die inside as a Beyoncé fan — not going to lie. I was completely rooting for her, I voted for her. I felt it was her time to win. What the f–k does she have to do to win album of the year?"
In my heart, I know it was not Adele's intention. But so many times I have experienced well-meaning white women being predictably terrible, under the guise that they were unaware that their actions were harmful.
And although Adele made the symbolic gesture to give her award to Beyoncé by splitting the award in half, doing so would have made her a martyr and been the ultimate display of "white guilt." Beyoncé does not need Adele to fall on the sword for her in the name of equality. If she had done so, it would have seemed patronizing and condescending in comparison to the subtle nod she gave.  
***
In the end, it is not hard to see that the voters of the Recording Academy are the real villains. In the face of all this controversy, they maintain that their system is not problematic.
And that is the bigger problem. 
I don't expect Adele to forfeit her accolades in the name of white supremacy. In any event, she is still a tremendous talent. Instead, she can continue to do the work and try and dismantle the systems that led to a win that clearly belonged to Beyoncé — and hopefully, turn lemons into lemonade.