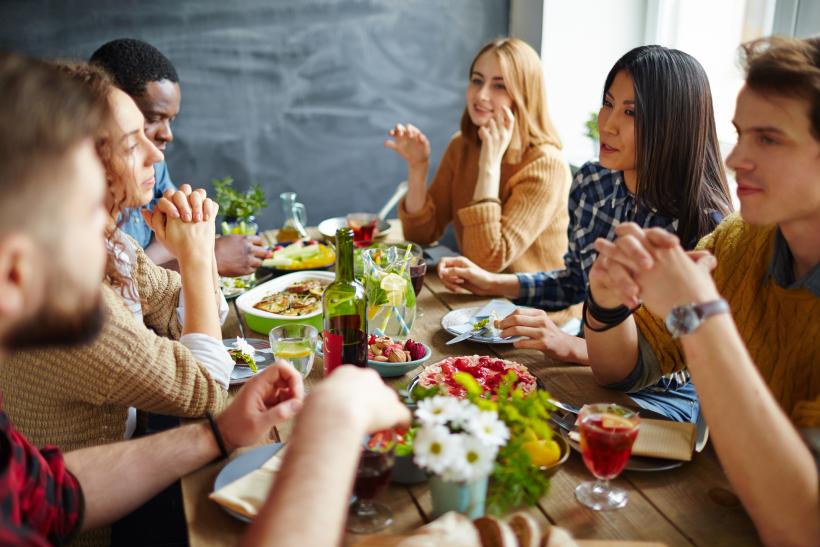 Raise a glass to Friendsgiving - feasting without any sides of controversy or conspiracy theorizing.
The lure of Thanksgiving is hard to deny. Any holiday that encourages stretchy pants, excessive gravy, and pumpkin pie is one worth celebrating. However, adding family into the mix can make for an awkward encounter that all but ruins your appetite.
Which is why Friendsgiving beats real Thanksgiving every damn time. Sure you might not make a turkey as good as grandma does, but at least you don't have to put up with racist jokes and suppressed family issues when you're feasting with friends.
Here are just a few reasons why Friendsgiving (also known as Inappropriate Thanksgiving or F*cksgiving in my proper household) is the best of all feasts.
You can get irreverent - When Friendsgiving rolls around, you don't have to be worried about Aunt Margaret clutching her pearls if you accidentally drop the f-bomb at the table, and there's no need to shove down that urge to tell a really good joke at a family-member's expense. Friendsgiving is time to let your flag of impropriety fly high.
It doesn't get political - Have you ever sat down to a family meal only to have someone wholeheartedly state that Obama is part of The Muslim Brotherhood? Because I have, and let me tell you, it really sours the taste of a home-cooked meal when you know racism and conspiracy theory is mixed into them biscuits. Luckily, your friends know better than to bring political talk to the table, so you can eat freely without wondering when the racist bomb at the table is going to go off.
You actually like everyone at the table - With the exception of the occasional bad boyfriend or girlfriend that tags along during a friend's unfortunate lapse in judgment, you're pretty much cool with everyone at the Friendsgiving table. This is your chosen family, which let's face it, is probably a hell of a lot cooler than your real family (and bonus points: doesn't include any creepy, handsy uncles!).
Everyone brings their A-game - Maybe you're not a world-class cook, but at Friendsgiving, that doesn't matter. The potluck to end all potlucks, Friendsgiving is a feast where everyone brings the one thing they know how to make really, really well, so it's all A-game food across the buffet-style spread. And for those who really don't know how to cook? Wine or a bag of salad, my friends. Friendsgiving ain't here to judge.
Big. Batch. Cocktails. - Let's face it, Friendsgiving is the grown-up version of a house party, where the wine flows freely and you finally get to try out all those big batch cocktails you've been saving on Pinterest throughout the year. Mixing alcohol and family is often a recipe for disaster, but getting drunk with your friends is just a throwback to your party days (or, you know, possibly the last time you watched The Bachelor together in sweatpants).
No awkward, intrusive small-talk - Since you presumably see your Friendsgiving crew more than once or twice a year (and because they understand how to use social media to follow how awesome you are on a day-to-day basis), they already know what's going on in your life. They don't feel the need to ask about whether or not you're having babies, or if you've found a good man to settle down with yet. Friendsgiving is a time for memory making and merriment, not a time to raise awareness of your ticking biological clock, so let's raise a glass to that.
 
---
Related: