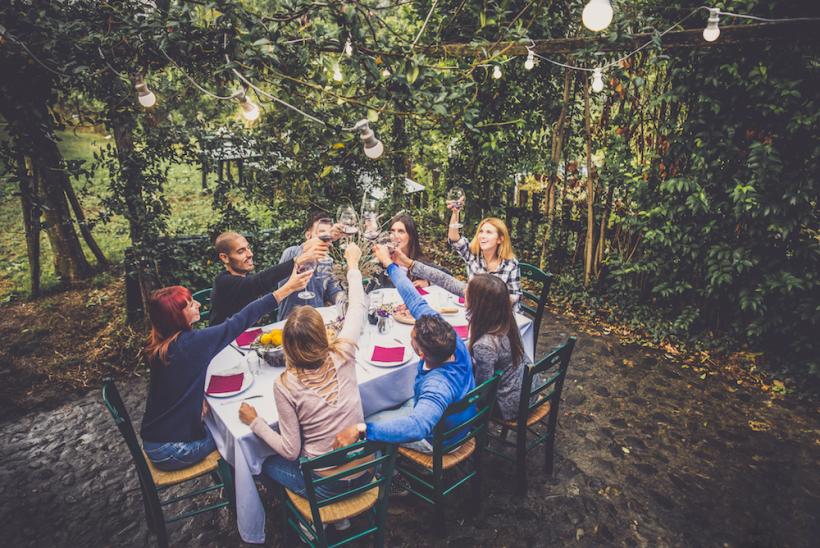 We can choose simple over excess, modesty over extravagance. (image credit: Thinkstock)
We decided to skip town for Thanksgiving. Traditionally, we spend it with nearby family or friends. We enjoy this tradition and, because I am the main cook in our circle of friends and family, it usually means lots of effort on my part. I'm happy to do it. Truly. Cooking brings me life, it gives me a creative outlet, and it is a way to share my love with people around me. I also love challenging myself, and the holidays present a way for me to dig into new recipes and foodie concepts that I don't typically consider.
This year, though, we have a new baby. We scaled way back on our typical feast and guest list. And when 1/3 of our already small group had a change of plans that took them out of state, we changed plans, too. We booked a last minute air bnb, loaded up all of the kids and our gear in my best friend's minivan, and headed west. 
The Oregon Coast is cold and rainy nearly all year around. We all knew this going in, and we scraped our pennies together to split the cost of a house close to the water. The ocean connects me to the deepest parts of myself, healing and soothing with the endlessness of the breaking waves and cresting white water. I love sharing that space with my best friend and our families. It feeds my soul in a way very few things do. 
We can start new traditions. We can do life differently, even if no blueprint exists to help us frame it.
We had no turkey, no casserole dishes heaped sweet potatoes or creamy green beans, no pies made from scratch, no beautiful table settings or nice dishes to heap our non-existent feast upon. 
What we did have was a slightly obscured view of the stormy, wild waves and the surfers who braved them. We ate a humble seafood supper on Thanksgiving Day with simple vegetables and sugar cookies for dessert. We played games, we combed the beach for treasures, we read books, and we watched the water while we cooked and played and ate.
We had showdowns with our kids. My baby caught her first cold. Someone accidentally ripped a curtain rod out of the wall. Children refused to eat delicious meals. We stayed up too late and ate too much. There were meltdowns, because life is life and kids are kids, no matter where we go.
But I wasn't one of melter-downers.
I was in happy place with my favorite people. My friends and family created an experience that we wanted, and one that I hope our kids will remember. I don't want their holiday memories to be of stressed-out parents, over-consumption, and the mental-emotional hangover of trying to cram an impossible amount of activity into just a few days. 
I want my kids to remember the bracing salt sea air on their faces, fingers numb from digging in the sand, hot drinks and simple food and the comfort of being together. I want them to remember that feeling of coming alive with discovery and exploration, how good it feels to be small, and the warmth of a soft blanket after a day full of being outside. I want them to remember how present we were to each other, relaxed parents, and the sweetness that only exists when we create our own imperfect but authentic version of the holidays.
We can start new traditions. We can do life differently, even if no blueprint exists to help us frame it. We can choose simple over excess, modesty over extravagance, experiences over material things, and the people who bring us life over the ones who deplete it.
May your holidays be filled with the things your heart loves.
---
Related: