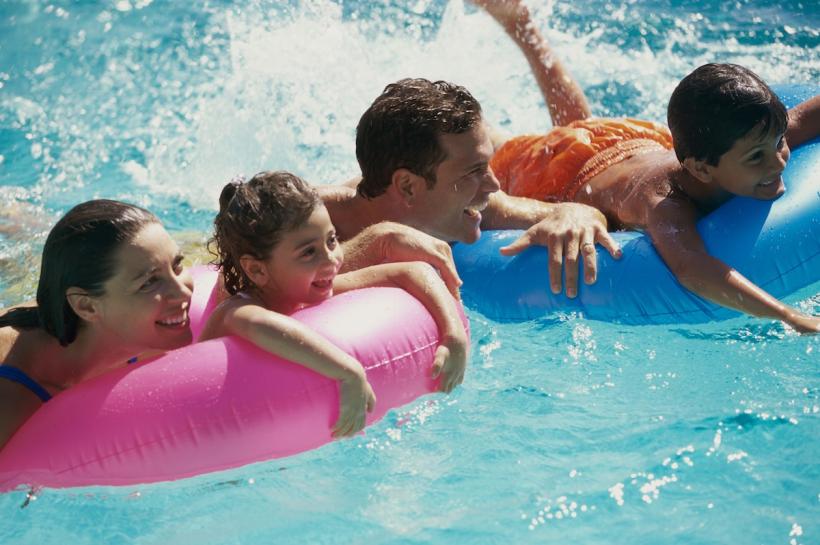 When an entirely unplanned (not even enough time to save money for) vacation opportunity landed in my lap, I said "yes" instead of passing as the typical me would.
I will admit it: I've gotten carried away with things this year. In fact, I think I blinked my eyes, and I have an almost one-year-old and an almost nine-year-old, and I'm left wondering where the time went. Not only did we have a new baby last August, but we had a really challenging school year in 3rd grade — a year that tested us all so much that we're probably relocating early fall. Yup, that bad. 
Our all over the place schedules have gotten out of hand, and I'm so disconnected from the people I love the most. 
Being a work-from-home-mom meant that I barely had time off after we brought our new little baby home from the hospital; I took two weeks off and then crept back into my almost full-time schedule pretty rapidly. I had to, to help make ends meet for our family, as there's no such thing as paid maternity when you're self-employed. So I jumped back onto that hamster wheel that spins so quickly and never stops. I became glued to my phone, not only because it's my livelihood and a big part of my job — but I realized that I was choosing to be that way. 
Instead of waking up each day and being the present mom I always thought I would be, I was choosing to be sucked into all my devices, fearing that if I stepped away, my world would come crashing down. 
Over and over again I thought, "shame on me." 
Then one day, I was out at the park with the kids on a weekday, and I missed an opportunity for a high paying quick turnaround article. It all kinda became clear to me that being tuned into my email and social media was my normal, and it was never going to change because of my job. I needed to figure out a way to balance things better. 
So a few months later, when an entirely unplanned (not even enough time to save money for) vacation opportunity landed in my lap, I said "yes" instead of passing as the typical me would. I was overjoyed to share the news with my family, and we budgeted as best we could the next month, counting down the days for our adventure to Orlando, Florida to do the whole Universal theme park thing and stay at a completely over-the-top fantastic resort. We were stoked, to say the least. 
Traveling as a family for the first time on an airplane, the smiles on our kids' faces was enough to make my heart melt. At that moment, my eyes opened. 
I knew that this was what all the hard work I do each day was for. It became clear to me that I needed to make sure I had dedicated time to unplugging, or else I was doomed to be so sucked into my devices, worrying about deadlines, that I would miss out on what was right in front of me. 
One of the biggest struggles for me is the need always to be taking pictures. I want those memories to look back on and share with the world, but the need to upload them immediately to social media was waiting for me at my fingertips and causing major distractions. So, I made a golden rule for myself while we were away that I would take pictures, but not upload them to social media at all until we got home. This allowed me to snap away and then jump right back into whatever we were doing, which was a huge help.
I cleared my schedule, which is something I hardly ever do. I made sure that editors knew I was away and worked deadlines around our trip time. I also crafted an out of office message in case anyone important reached out. Being out and about with my family from morning until night, every day, without a concrete plan, made things exciting. We had all these adventures right at our fingertips, and nothing was holding us back from eating late dinners so that we could hang at the pool longer, drinking all day, and going around and around the lazy river until we couldn't possibly feel more relaxed. 
It was a trip filled with "yes" answers instead of "no" because I wanted to look back and not feel like I missed anything, and that was the guiding force that has helped me live my life every day since we have returned home. 
We're of course back into somewhat of a routine, because we need to be, but I'm working hard to channel all those things I learned about taking leaps in life for the people we care about most. 
---
You Might Also Like: