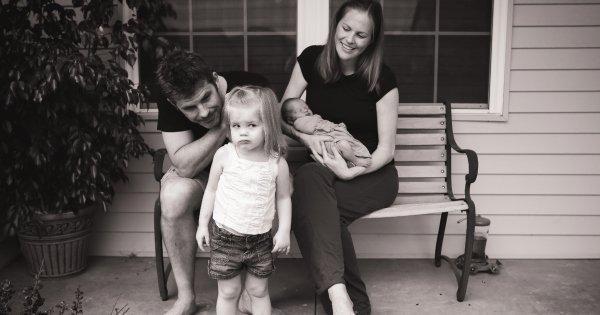 Photo courtesy of the author.
This article first appeared on The Good Men Project and has been republished with permission.
---
This is my favorite family photo.
You can tell by looking that it wasn't planned. The moment was genuine, and the fact it was captured made me giddy.
My wife loves family photos; our walls are cluttered with pictures like a hoarder's house is with newspapers from the 1980s.
(They'll be useful again someday, really!)
The photos that adorn our walls are mostly quirky. Which is good, because I've never liked posed photos. The "Sears Family Portrait" is the worst thing I've ever seen.
I'm a fan of the in-between moments.
That's what this photo is.
We were getting ready for a "perfect" picture, where we'd all sit and look at the camera, plaster on our best Tom Cruise smile, and appear like a textbook family.
But then this happened, and the photographer nabbed it.
I like a photographer who is forever clicking away; capturing the events between the static moments. Those moments are pure. Real. I'm forever looking for honesty, and I think this picture represents it.
I've seen articles aplenty that discuss "How to capture the perfect family photo," and tell you "What formation your family should pose in."
They're all crap.
Staged shots occasionally look good, but those pictures are few and far between. Staged shots are cheesy. They scream "Fake!" and look like a group of people trying too hard. Everyone knows the camera is on them, so they're in their head, thinking, "Does this look right? Am I smiling correctly?" and their eyes show it every time.
Photography is supposed to capture your essence; to steal your soul, in superstitious speak.
No staged family photo looks natural; no family actually looks like they do in those Holden Caulfield moments. No essence is being captured, only awkwardness. Forced smiles and tense body language doesn't look good.
I'm not saying that a family running around like stray cats and asking a photographer to grab all those "real moments" is a good idea. A shot of dad in his underpants or mom shouting at the kids might be "honest," but it's not what anyone wants to see. You have to put your ducks in a row for family pictures. Gather everyone up, dress them nice… but after that, don't sit static and pose. Meander. Move around, interact with one another and see what happens.
Tell the photographer to snap shots when the subject isn't aware the camera is on them; when their guard is down.
People are aware of cameras. Their defenses go up, and they try to be "perfect." But "perfect" is what you capture when everyone is relaxed.
---