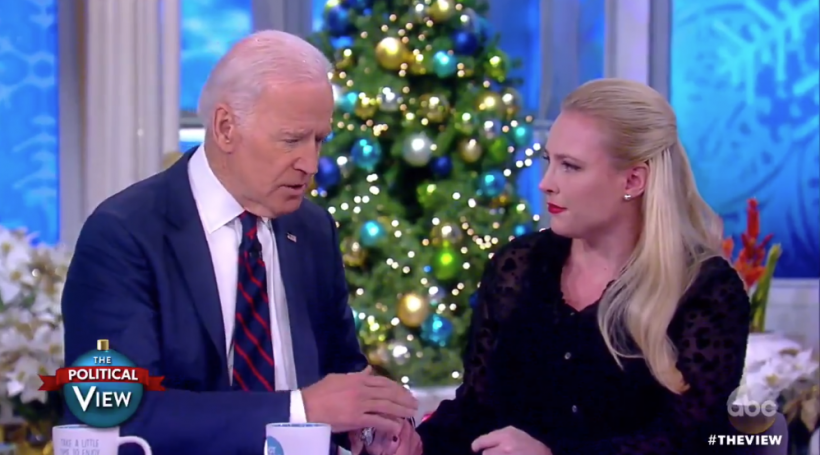 Joe Biden and Meghan McCain on The View
Someone told me last week that good old Uncle Joe Biden is as creepy as the next creeper. I can't believe it. I refuse. I so vehemently refuse that I'm not even going to Google "Joe Biden sexual assault."
(Okay I actually did and all that came up was this video he did with Lady Gaga and this time he told the men of his generation to get a grip.)
Since I don't have any proof that Joe is a creeper, I'm going to allow my heart to fill with joy at the sight of Joe comforting Meghan McCain on The View yesterday.
Here is the moment:
In an emotional moment, Joe Biden consoles Meghan McCain, whose father was diagnosed with the same cancer as Biden's late son Beau: "There is hope. And if anybody can make it, your dad [can]." pic.twitter.com/Jdr9KzrL83

— The View (@TheView) December 14, 2017
Meghan's dad, John McCain, is dealing with the same cancer that Joe's son died of, glioblastoma.
Joe refers to glio as "about as bad as it gets" and he's not lying. His new book, Promise Me, Dad, is about his son and his struggle with this almost always fatal type of cancer. Today he and Meghan happened to be sharing the stage on The View — which I think was good for both of them (and for us,too).
I haven't written lots about my time as a hospice RN, but I will write this, glio is not the cancer you want. I mean there is no GOOD cancer, but let me tell you from personal experience that glio is one of the worst.
I don't know why I stayed up until midnight to write about Joe Biden holding Meghan McCain's hand; I was supposed to be in bed at 10.
The thing is, there is so much garbage in the world right now.
Every day something new and more terrible than yesterday is happening. Every morning I open a new tab on Google Chrome and hold my breath while I wait for the day's news to reveal itself. Every night I lay awake wondering what sad thing will happen the next day.
I start my day digging through the trending section, looking for things that aren't terrible. But at the top I see abusive cops and our lunatic President and climate change and poverty and I have to scroll and scroll for something that makes me feel like there is hope for humanity.
But today I saw this video of Joe and Meghan, and for a just a minute I remembered that life is shockingly fragile and people are better than we think.
And I thought you might like to see it, too.
---
Related: