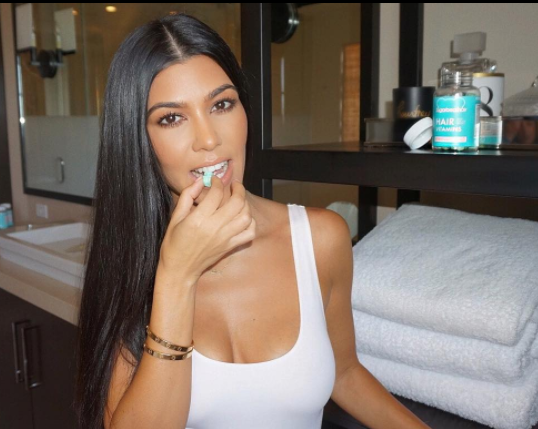 Kourtney's so-called detox plan sounds more like masochism than nutrition. (Image Credit: Instagram/kourtneykardash)
My guiltiest of all guilty pop culture pleasures is my affection for the Kardashian Klan. I will not apologize for this or attempt to explain it away. I am entertained by watching Kim, Khole, Kourtney and the rest kavort. They're amusing.
I do, however, take exception to some of their idiosnycrasies, specifically Kourtney's "wellness" habits. The eldest Kardashian sister has fully embraced the world of woo and engages in some dietary and lifestyle choices that are flat out weird.
Today, I saw an article about a detox diet she's doing because she allegedly has high levels of mercury and lead in her bloodstream. Now, far be it from me to question the diagnosis another person receives from her doctor. And it is certainly possible to have such things in your bloodstream. Just look at the kids in Flint, Michigan, a city that STILL does not have a reliable lead-free water supply.
But Kourtney's so-called detox plan sounds more like masochism than nutrition. First of all, she fasts for one day a week, consuming nothing but water and bone broth. On days when she allows herself food, she eats basically no carbs. Her main sustenance comes from meals of chicken or fish for protein — which is bizarre, since fish can be a significant source of…wait for it…mercury.
Now, the big question whenever anyone talks about a detox diet is "Will this diet actually detox me?" The answer is no. The answer is always no.
The whole concept behind "detoxing" is the misguided idea that harmful chemicals build up in the liver and kidneys or other organs. Only that doesn't happen because properly working livers and kidneys expel unwanted substances from your body all day, every day. That's what livers and kidneys do.
Now, if you're having health problems related to liver or kidney disease, that's an entirely different story and requires a medical specialist, not a Kardashian. You cannot cure liver or kidney disease with a diet your heard about from a reality TV star's app.
So to sum up, Kourtney Kardashian is a good source of entertainment and style inspiration. However, her detox diet sounds stupid and probably bad for you and also won't detox you because you are not toxic.
Go forth and eat what you like. Oh, and feel free to get involved in helping the people of Flint detox their truly toxic water.