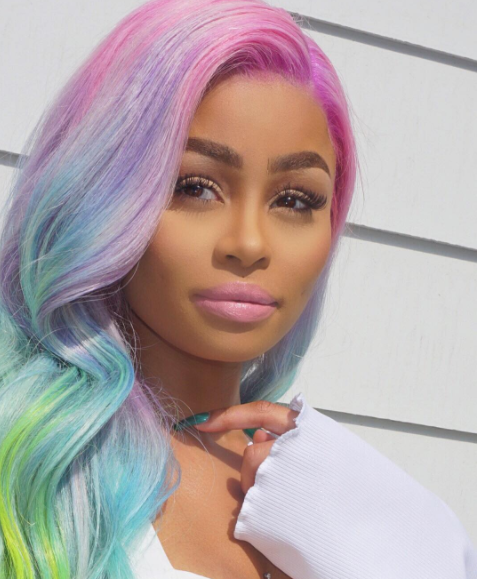 I can't help but speculate that if Blac Chyna were a white celebrity, feminists on social media would be up in arms at the mere suggestion of domestic violence. (Image Credit: Instagram/blacchyna)
I am scared for Blac Chyna.
Black women in abusive relationships are disproportionately killed by domestic violence, and if what Rob Kardashian is doing right now is any indication of his temper and inability to control his rage, then there is no telling what he will do next or what it would take to stop him.
On Wednesday, Robert Kardashian went on a tirade about Angela Renee White, AKA Blac Chyna, who is the mother of his child. He posted on Instagram a series of intimate photographs of Chyna with other men, claiming that she has been cheating on him, as well as photos of personal text messages, including nude pictures Chyna had previously sent him. Kardashian also alleged that he had paid for several hundred dollars worth of cosmetic procedures as an anniversary gift.
This entire meltdown captured the attention of anyone with a WiFi connection as it quickly went viral. However, opinions from people on the outside looking in seemed to be depressingly divided about who the victim in this situation actually is.
Commentary surrounding this situation paint Rob Kardashian as the victim, despite the fact that Chyna posted a now-deleted Snapchat in response to Rob describing physical abuse. "Rob u did all this but u beat me up and try act it never happen !!!!! U put hand on me I swear on god !!!!! On my kids but I'm supposed to be quiet because you're a Kardashian."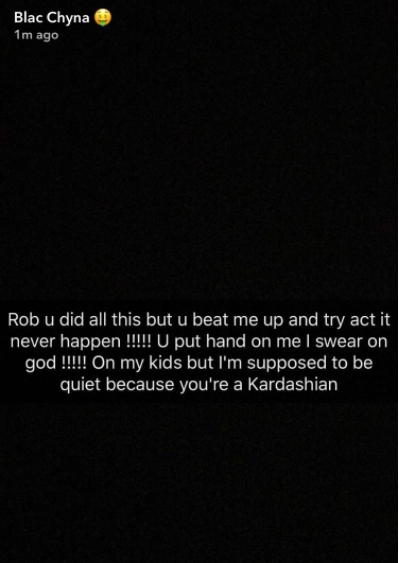 I've seen very few people stop to really assess why Chyna is being portrayed as a scammer, as opposed to someone who is trying to move on with her life after leaving a manipulative, abusive relationship.
During this internet commotion, there has been an underlying current of victim-blaming and slut-shaming.
Blac Chyna is a Black woman who has never wavered in her unapologetic independence and owning of her sexuality. For anyone who tunes into her Snapchat channel, Chyna consistently wows us with her charisma and entrepreneurial spirit. She is an attentive single mother and seems to adore her family life.
But I can't help but speculate that if she were a white celebrity, feminists on social media would be up in arms at the mere suggestion of domestic violence. And that if she were a white celebrity, she'd be praised, not vilified, for her behavior. After all, Kim Kardashian launched her entire career off the steam of a sex tape. She was able to completely reinvent herself and construct a multimillion dollar enterprise on the back of her sexuality.
But unlike Kardashian, Chyna's past as a sex worker yields her nothing more than a scarlet letter, as thousands of news outlets and opinions speculate that her time as a stripper influenced the relationship between her and Rob. That same past also seems to be wielded when people justify the blatant and visible abuse she is suffering at his hands.
Right now, the overwhelming response from people of all genders and ethnic backgrounds is that Chyna is simply a ho and that Rob's erratic "behavior" is to be expected.  
These reactions to Chyna on social media feel rooted in misogynoir: the people perpetuating them seem to believe that Chyna's only objective has been to "trap" Rob with a baby, out of spite. This narrative continues to vilify Black women; it suggests that Chyna couldn't possibly have been capable of a loving relationship. As a Black woman, she was merely an angry and vindictive Jezebel so hellbent on her own revenge that she needed to create a human life with an abusive partner.
It's also worth noting that Rob's leak of Chyna's nude photos is not only profoundly immoral, it's also illegal.
In 2013, a law was passed prohibiting the abuse known as "revenge porn," or "non-consensual pornography." The act of leaking nudes to spite someone is now prohibited under California Penal Code 647. The legal definition of revenge porn/nonconsensual pornography is as follows:
You have an image of the intimate body part of another identifiable person, or an image of that person engaged in sexual intercourse, sodomy, oral copulation or masturbation;
1. You intentionally distribute that image;
2. There was an understanding between you and that person that the image would remain private;
3. You know or should know that the distribution of the image will cause the person serious emotional distress; and
4. The person depicted suffers serious emotional distress.
It is clear that Rob wished to inflict harm in all of the ways this law prohibits. This isn't the first time Rob Kardashian has degraded women he has been hurt by; he appears to be in the pattern of an abusive man. In the case of Rita Ora and Adrienne Bailon, the narratives from Rob's skewed reality are almost identical: in both instances, he accused these women of cheating on him and being promiscuous with several other men, and his response to these allegations was wildly inappropriate. There's a video of Rob slapping Adrienne across the face in an early episode of Keeping Up with the Kardashians. In the confrontation, we witness his family standing by in feigned shock that he has just assaulted a woman before them. It was allegedly a "prank," but I find very little about domestic abuse amusing.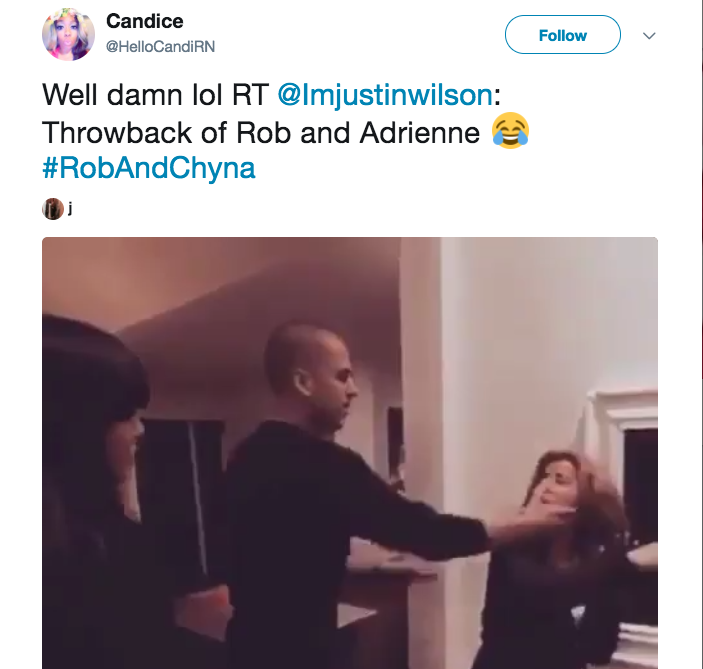 There is also the question of Rob's money. For some reason, Kardashian allegedly purchasing gifts for Chyna has given him a free pass to play the role of the wounded, scorned lover on social media and celebrity news outlets, despite allegations of abuse. Despite the fact that Rob appears to be the least successful Kardashian (how much sock money can there be?), social media has been riddled with accusations that Chyna is a some kind of sex-thirsty Sapphire seeking the Kardashian pot of gold.
Personally, I'm pleased to see some reparations from the Kardashian clan, who are notorious for pillaging Black culture and appropriating Black art for their own financial gain. But tons of people have chimed in on Rob's side, including celebrities like Snoop Dogg, who advised followers not to be a "sucker" like Rob and get "licked."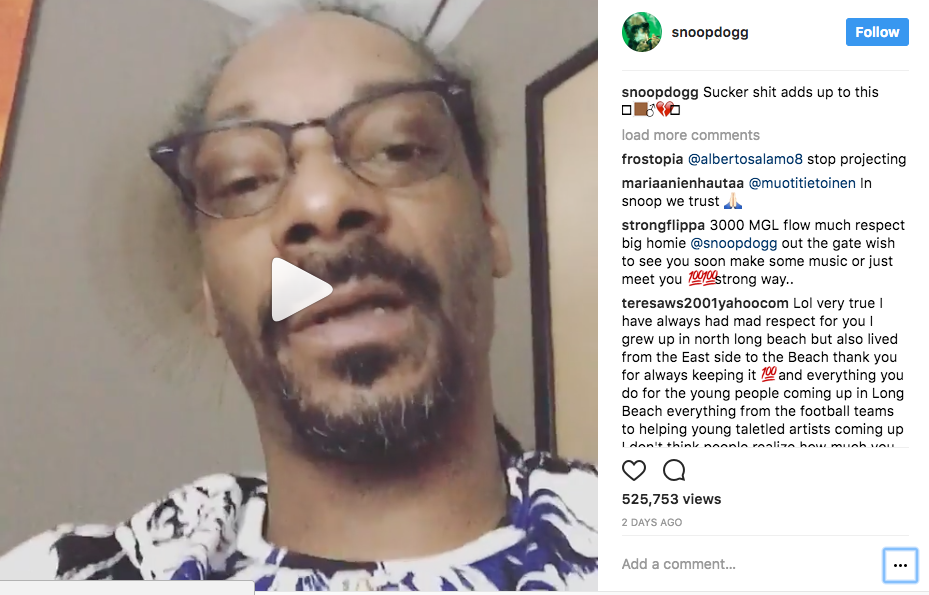 Although reality television has made it easy to dissociate from whatever real issues may be going on between the feuding couple, it's clear that Rob Kardashian is appearing more and more unstable, which means he could be a genuine threat to Blac Chyna. Kardashian appears to be unchecked — after his Instagram account was shut down because his messages were volatile and pornographic, he didn't take that as a warning sign that he should slow down. Rather, he moved right onto Twitter to continue his tirade.
In the very beginning of their relationship, these two seemed to have finally found love, and it appeared really healthy: Chyna had lured Rob out of a year-plus long hiatus, encouraged him to work out, and made him smile again. But now that things have turned toxic, we can only hope for the best and dream that it works out for their family. Perhaps the scariest factor at play here is the ease with which Kardashian uses his and Chyna's child together as a tool for manipulation.
Chyna seems to be choosing to move on, resolutely unbothered by the drama. She just debuted a flawless rainbow wig. 
Only time will tell what's in store for them both, but in the meantime, Chyna has filed for a restraining order.