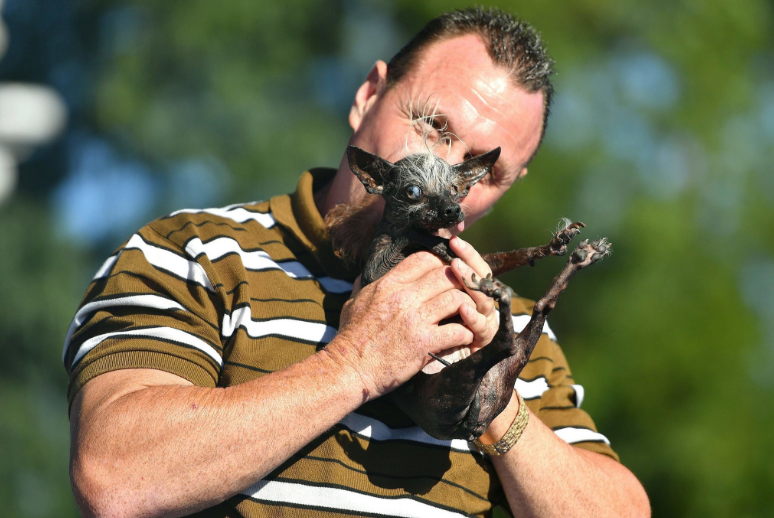 Image: The New York TImes
Most dog owners will go on at length about how cute their dogs are. Not so, Jason Wurtz of Encinco, CA. Mr. Wurtz, in fact, went the polar opposite route by leading his dog to victory in the 2016 World's Ugliest Dog contest.
The contest is part of the Sonoma-Marin Fair in Petaluma, CA. Mr. Wurtz's dog, a 17-year-old Chinese crested Chihuahua called Sweepee Rambo, is the 28th winner of the annual anti-beauty contest for dogs, beating out 16 opponents.
Sweepee is blind in both eyes and weighs in at a lap-friendly four pounds. Photographs show her with crazed-looking blue eyes, a shock of white hair, ears like a house elf, and a protruding tongue. Had I been judging this contest, I would have raced to the stage, scooped her up, and showered her ridiculous widdle face with kisses!
Other dogs in the contest boasted bulgy eyes and under-slung jaws with visible teeth; one little dog even had a pouf of Trump-like red hair dipping over his eyes.
Sweepee was a fan favorite, prompting chants of "Sweepee for President!" when she took the stage. She and her owner will take home a trophy that's far larger than Sweepee herself and a check for $1500.
And our love. Sweepee gets all our love.