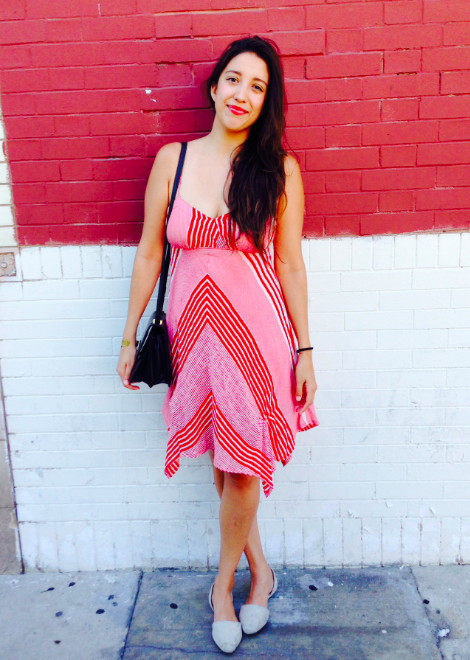 Spotted at: Sage Vegan Café in LA's Echo Park neighborhood
Occupation: Actress and sales associate at a vintage clothing store
Did you just have lunch?
Yes, I just meant my friend for lunch at Sage and now I'm going to my improv class.
You do improve?
Yeah I go to Upright Citizen's Brigade. It's very fun.
Are you an actress?
I am, a comedic actress.
What is your favorite part of class?
My teacher. He's hysterical, a real character. He's an unsuspecting gay guy. He's kind of like a bro, he wears cargo shorts, but then will say things like "Bye-zies." He's hysterical, I just love him.
Your dress is super cute.
Thanks! I got it at a boutique I used to work at in Brooklyn. Not sure what brand it is, though. It's just a cheapo dress.
This is your it's-hot-as-hell-in-LA dress?
Exactly. This is the only non-black-and-white dress I own, I think.  
And it looks like you have a vintage Fendi bag?
I love vintage and I work in a vintage store. This is the one thing that makes the outfit not be a complete disaster.
That's not true! You have a red lip.
I do have a red lip, always with a red lip.