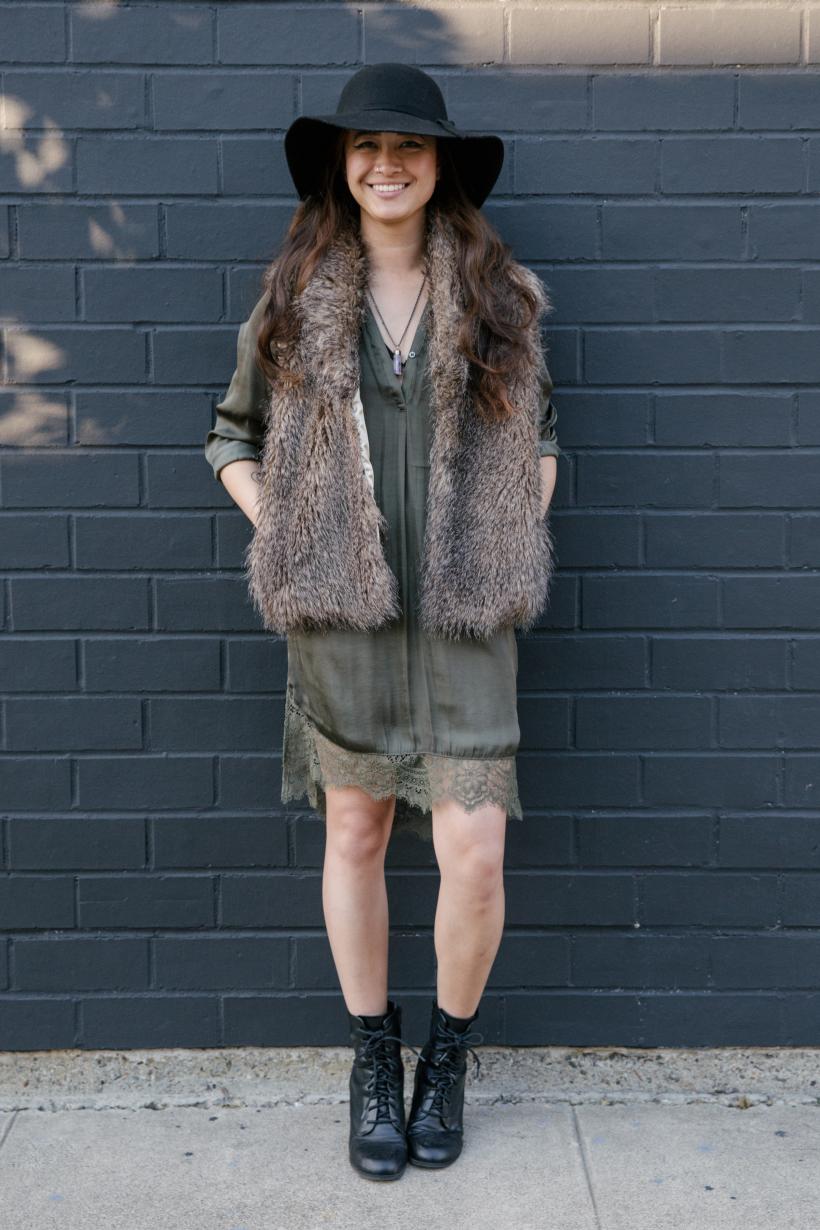 Spotted in: The Mission, SF
Occupation: Stylist Assistant
What is your occupation?
I'm a stylist assistant for Charlotte Russe headquarters.
How did you become interested in styling?
When I graduated I thought I was going to do physical therapy. I graduated with a degree in Kinesiology, and then my last year of college I was like, yeah this isn't for me. So I ended up just going on Craigslist trying to find something different and I ended up finding a job at a small fashion startup just down the block. I was walking to work one day and this woman stopped me to ask about my purse and then she said, oh yeah I work at Charlotte Russe a couple blocks down. We exchanged information and a couple months later, when I was looking for a job, I reached out to her and she was the sweetest thing—she sent my resume over to HR and they called me the same day and here I am!
What inspired you to make the switch?
Just the last couple years in school I could feel myself teetering. And I was like, well, I've come so far, I might as well finish it! And then immediately after college I was working in a doctor's office and I hated every single second of it. I decided, I had to try something else. I've always been interested in fashion and art and anything where I get to be creative. So I started looking around and I'm never going to look back again!
Who are your current inspirations?
My inspirations are always my friends. A lot of my friends are really creative, and even though a lot of them don't work in a creative field, they love having their own style and I love to see everyone's different tastes and how it fits their personalities. I get a lot of inspiration from other fashion websites too. I check out competitor websites, and I pick a little bit from each.
What's surprised you most about working in the fashion industry?
It was so different from working retail in a store! Working in corporate is really different and I absolutely love it. It's much more fun—you get to be creative all the time. Versus coming from retail where it was very customer service based and really stressful as you're working with people all the time and not everyone is super friendly. It's just a different job. So with what I'm doing now, I work with people who get to be really creative all the time, and then I'm fueled by their creativity. It's much more fun!
What would you be doing if you weren't styling?
Gosh, what would I want to be doing? Maybe something in photography, or in an ideal world I would have some kind of amazing skill in painting or drawing. Maybe graphic design. I'd stay in the creative field, ideally.
What are you up to today?
Getting ready for Christmas! Working, and finishing last minute shopping. Trying not to eat everything in sight! [laughs]
Have you gotten any good advice lately?
I haven't gotten any particularly good advice from somebody, but I peruse a lot of blogs and I'm
obsessed with quotes. There was a quote I saw recently that, going into 2015, seemed like a good thing to keep in mind. It basically just said you don't need to rush into anything—nothing good gets away. So I'm trying to pursue my goals but also trusting in my life and what the universe has in store for me.
Tell me about what you're wearing today! And some of your tattoos—I noticed you have a few. What's this one?
This one says meliora. It means "better things" or "always better" in Latin. It's part of one of my favorite words—ameliorate—which means to keep bettering yourself.
What inspired your first tattoo?
Well, my first tattoo is actually on my foot. It's a little Hawaiian turtle with a plumeria inside. My best friend and I graduated from high school and we went on our senior trip to Hawaii. She and I were like, we're gonna do this! It's honestly not as meaningful as the other ones, but because it's my first one and I did it with her it means a lot. And I love the design . . . it has a little pop of color in there. From there I couldn't stop! I was just looking the other day for more ideas.
Which one is your favorite?
I think my favorite is the rose one on my arm. I got it for my grandpa, because I spent a lot of time with him in his garden. He used to tend to his garden a lot. And he would teach me about all the different types of flowers—it's one of my favorite memories that I have of him. I just wanted to do something simple.
Oh so back to telling me about your outfit!
The vest is actually thrifted. Occasionally I get out and go thrifting; I like to dig through the stuff— it's fun! The little shirt dress is from H&M. It was super cheap! I saw it on their photo in the front of the store, in the campaign, and I was like where is that? I went into the store, saw that they had three left, and I was like yesss! I don't have much in this color either, everything I have is black. The hat and shoes are from Charlotte Russe.