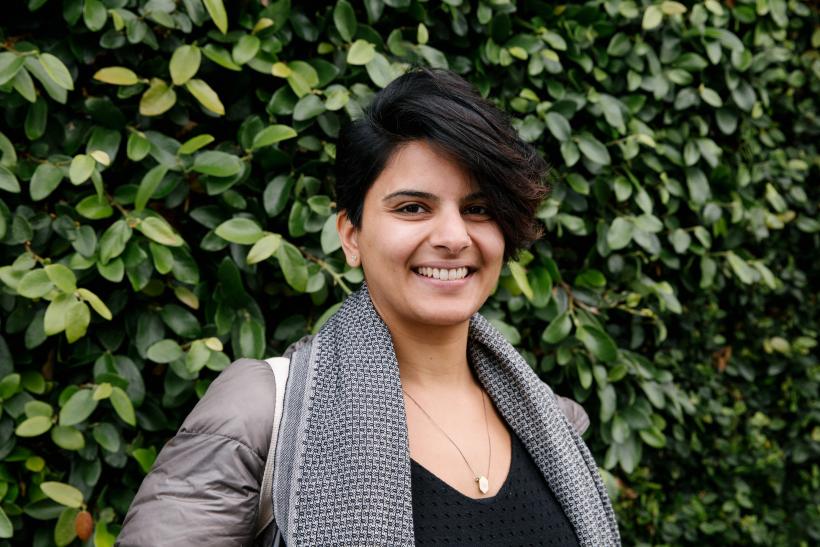 Spotted in: The Mission, SF
Occupation: Advocate Against Climate Change
What are you up to today?
I'm heading into work.
What do you do?
I work as an advocate against climate change specifically by helping commercial buildings manage their energy better and save real money while doing it.
How long have you been doing that?
For the last eight years.
What drew you to that field?
I've always wanted to work on international development and human rights. In high school, I was really passionate about those things. I started an Amnesty International chapter, and then in university I took a class on corporate social responsibility and how companies have the power to actually make change. So as much as large corporations can be seen as having a negative influence, if you can steer them in a different direction, they have the influence to make lasting, positive change on the eacnvironment and the world. I've always wanted to work on these issues at the systems level. I've been working at the Environmental Defense Fund for the last five years, and I'm actually joining a new company called Lucid Design Group. Lucid creates software to optimize buildings so that building managers and tenants can reduce their energy usage in a meaningful way, backed up by data.
In the time that you've worked in this field, what are some interesting developments you've seen?
Sometimes it feels like we live in a bubble in the Bay Area, so environmental advocacy is not necessarily new for people. On a national level, it's different. The recent agreement between the U.S. and China, which are not really committing to big goals just yet, are headed in the right direction. This demonstrates how on a policy level things are moving in the right direction. Recently, Obama has made some great progress as well, enabling the EPA to implement standards to curb carbon emissions from power plants— it's a big deal. 
What's even more exciting are the new companies and technologies and business models that are tackling problems of climate change head on—and they're getting more and more play. Clean tech is an exciting place to be right now.
And lastly, the utilities—little by little—are starting to be more receptive to thinking about new ways of doing business that include more of a two-way grid. So houses can place solar energy onto the grid and maybe we don't have to build huge new power plants and create environmental justice issues by having a certain subset of the population bear the brunt of the negative effects of power plants while everyone else gets power, that kind of thing. I think there's a lot of really good stuff!
What do you do when you're doing working and doing environmental advocacy?
I like to travel. I haven't done a lot of that recently, but I love to travel all over the world. Beaches are potentially my favorite thing in the world. I love to hang in the Mission and many of my friends live around the corner. Cooking, dancing and listening to music.
What are your favorite destinations when you're traveling?
I love mountains and trekking. I just visited my family in India, you know, lots of stuff. But . . . I wish I lived on a beach.
Did you move to the area recently?
I've been in the Bay Area for about 15 years.
Is your family out here as well?
Yeah, my dad is here in the south bay and my mom's on the east coast.
What's a challenge you've overcome recently?
I think changing careers is really big thing. And sort of shifting from being an NGO advocate into working for a company has been a really welcome and exciting change. But I think it took a lot of personal, internal soul-searching and thinking about not just moving to a company, but thinking about leaving a place and people I love for new opportunities and actually making that jump—which I'm literally right in the middle of.
So tell me about what you're wearing today!
The scarf is new, I was just in Austin and a friend of a friend owns a shop called Sunroom which has amazing stuff. She brings in stuff from all over the world so I understand this is from Turkey, and I love it. The boots are my daily wear—I have intentions to buy new boots but I just put these on every day. Another part of my outfit is Smartwool socks—for summer, winter, fall. I just love them! They're warm, cozy they're perfect. And I love just wearing skirts, I find them really comfortable. I'm excited right now there's lots of these stretchy skirts out there. My jacket is from Uniqlo, and I'm going to a holiday dinner so I'm trying to look a little nice with this top!
I wanted to ask about your hair as well—it's an interesting cut!
I had really long hair down to my mid-back, and I wanted to take it short. I have a really nice relationship with my hairdresser and so he was really hesitant. He's like, you can't cut it. But then he found a hairstyle that kind of allowed both the flowiness and then sort of the shortness. So, it took us a little while to get here but usually I have it kind of more shaved around the edges, with a pouf here and then the flowiness on the side. I can wear it up in a bouffant, I can wear it on either side. Then I think he did a little bit I think of ombré, actually I don't know what he did here! [laughs] His name is Hunter Treadwell and he's at Salon Basinger in Union Square. He's awesome.
Your necklace is really interesting too.
Thank you! This necklace is DryLake. I got it from a store down Valencia St, but they also have a website.