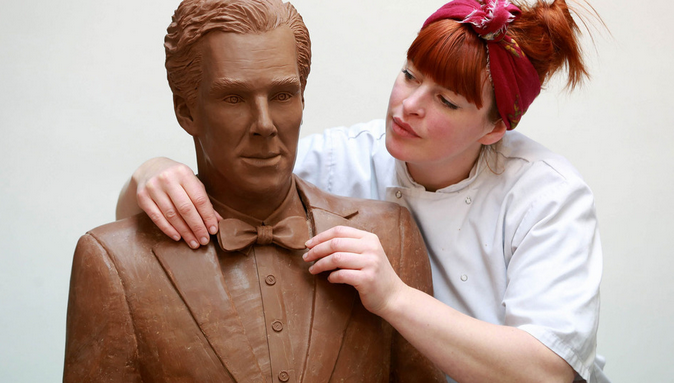 Like any red-blooded Benedict Cumberbatch fangirl, I've totally fantasized about cuddling with him, nibbling on his ear, or maybe breaking off a chunk of his hair and letting its sweet strands melt in my mouth.
Wait, no. That last part wasn't about Benedict Cumberbatch the human. It was about Benedict Cumberbatch the life-size chocolate sculpture, which is actually a real thing and has been dominating my erotic imagination for the past few days. I mean, chocolate and Benedict Cumberbatch? Does a more perfect combination exist on Earth? Until someone crafts a replica of Timothy Olyphant out of cheese straws, the answer is no.
Chocolate Benedict was erected to commemorate the launch of a new U.K. TV station called "Drama" (spoiler alert: it's a station dedicated to dramatic programming). At 6 feet tall, he's truly life size, and chocolatiers used 88 pounds of luscious Belgian chocolate to bring him to life. He's also wearing a bow tie, which just brings the whole thing to the next level of gorgeous perfection.
Now here's a sentence I never thought I'd have the privilege of typing: What part of Benedict Cumberbatch would you eat first? Personally, I'd probably start with a finger or two, then move onto some shirt buttons and see where that took me. Is this getting really creepy? Yes? Sorry.
[Via the AV Club]