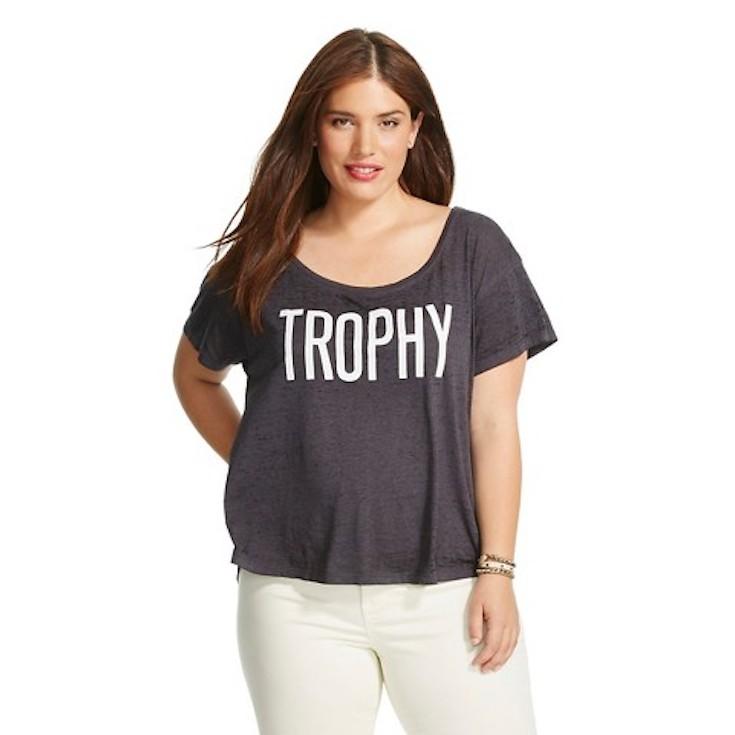 Target is in hot water.
The famous, usually beloved corporation is selling a women's T-shirt that reads "TROPHY." Now, a petition created by Milwaukee resident Amanda R. demands the tee's removal. 
"Labeling any person as a 'Trophy' is demeaning their humanity and objectifying them as a tangible object that can be bought, used, and disposed of," Amanda R. wrote on her Change.org petition. "What's worse is that the use of the word, when referring to women, encourages a rape culture where women are merely objects, not humans, to be used for men's pleasure."
The petition has gained over 700 signatures. Amanda R. further criticizes Target's history of gender bias and sexism: 
"It seems their prior offense taught them nothing about how corporate responsibility begins within their own stores . . . dozens of people approved this shirt before it hit store shelves, and THAT is a problem," she continued. "The fact that no one at Target had the judgment to see this as demeaning and objectifying shows their ignorance to their own female market."
Target responded in an interview with the Huffington Post. 
"It is never our intention to offend anyone, and we always appreciate receiving feedback from our guests. The shirt . . . is part of a collection of engagement and wedding shirts that are available in our women's and plus size departments," the statement read. "The collection also included shirts that say 'Team Bride,' 'Mrs.' and 'Bride.' These shirts are intended as a fun wink and we have received an overwhelmingly positive response from our guests."  
It's worth noting that there is no "TROPHY" tee in the men's department. 
What do you think? Do you think it's a joke gone awry, or is this a sinister example of rape culture's economic influence?