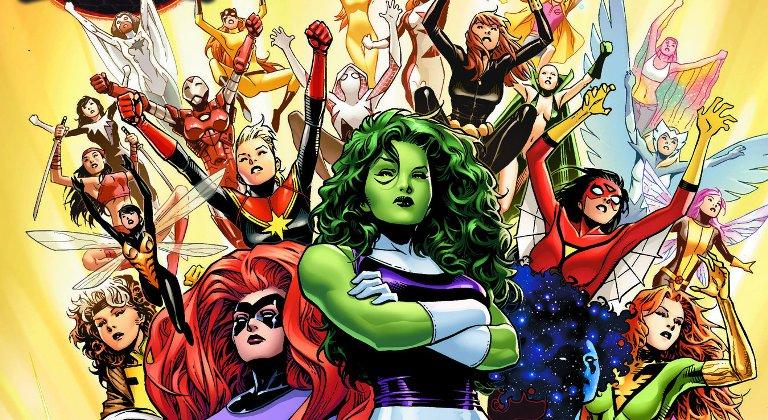 It's a dream come true for any comic book fan who wanted a team of all female superheroes growing up: After the success of an all-female X-Men team, Marvel Comics has released a miniseries consisting of an all-female version of the Avengers team: A-Force #1
The book is headed up by female comic book writers G. Willow Wilson and Marguerite Bennett, with illustrations by Jorge Molina and Craig Yeung. While some comic storylines can be convoluted and not always inviting, A-Force does the opposite: Within a newly-formed planet, each continent is led by a different baron with Doctor Doom as the ultimate ruler (how very Game of Thrones of them!).She-Hulk is the baroness of a Mediterranean-esque island called Arcadia and leads the A-Force, an all-female superhero protection squad that includes Marvel characters Dazzler, Sister Grimm, and Ms. America. While there are many cameos (you'll see Jean Grey, Storm, and female Loki), the issue focuses on A-Force and how they ended up losing one of their ranks.
In addition to just being a great read, the issue succeeds at promoting a sense of sisterhood: these women don't leave their members behind (rules be damned!).
With its easy-to-follow premise and all-star lineup of female badasses, the first issue of A-Force has the potential to increase anyone's interest the entire miniseries, and hopefully comics in general. If nothing else, you should check out the first issue for its lovely and dynamic art.