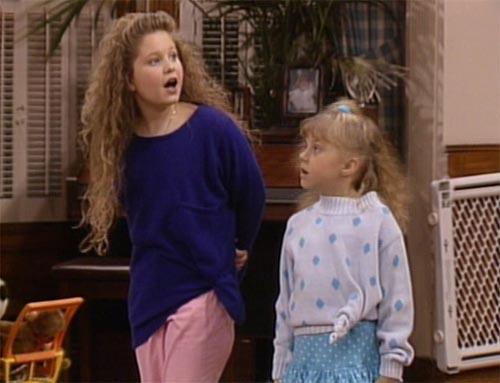 As Uncle Joey would say, "Cut . . . it . . . out!" After a long 20-year wait, Full House is officially coming back—but with only half the house.
John Stamos, who played dreamboat Uncle Jesse on the sitcom, confirmed earlier this week on Jimmy Kimmel Live that 13 episodes of a spinoff dubbed Fuller House will debut on Netflix in 2016. However, the "fuller" part of the title doesn't imply more people, as Netflix only made deals with a few members of the cast.
The good news is that Candace Cameron-Bure (who played D.J.), Jodie Sweetin (Stephanie), and Andrea Barber (neighbor-sidekick Kimmy Gibbler) all have deals, while John Stamos will guest star and produce the series. Netflix, however, is still negotiating with Bob Saget (who played Danny), the Olsen twins (who shared the role of Michelle), Dave Coulier (Uncle Joey), and Lori Loughlin (Aunt Becky). In fact, the Olsen twins weren't even aware of the new series until this week's announcement, reported Women's Wear Daily earlier today.
Whether or not the whole cast joins, viewers can expect another family sitcom plotline strikingly similar to the original. D.J. was married but is now widowed (like Danny in the original show). She has two boys and is pregnant with her third when her husband passes away, so she asks her sister, Stephanie, and best friend, Kimmy, to come help her raise the boys in San Francisco.
While the cheesy pep talks from Danny Tanner and Bullwinkle impersonations from Uncle Joey may not make an appearance, let's hope there will be plenty of new iconic catchphrases that can be used for years to come.
Or do we think Stephanie can still pull off "How rude!" We'll have to watch to find out . . .