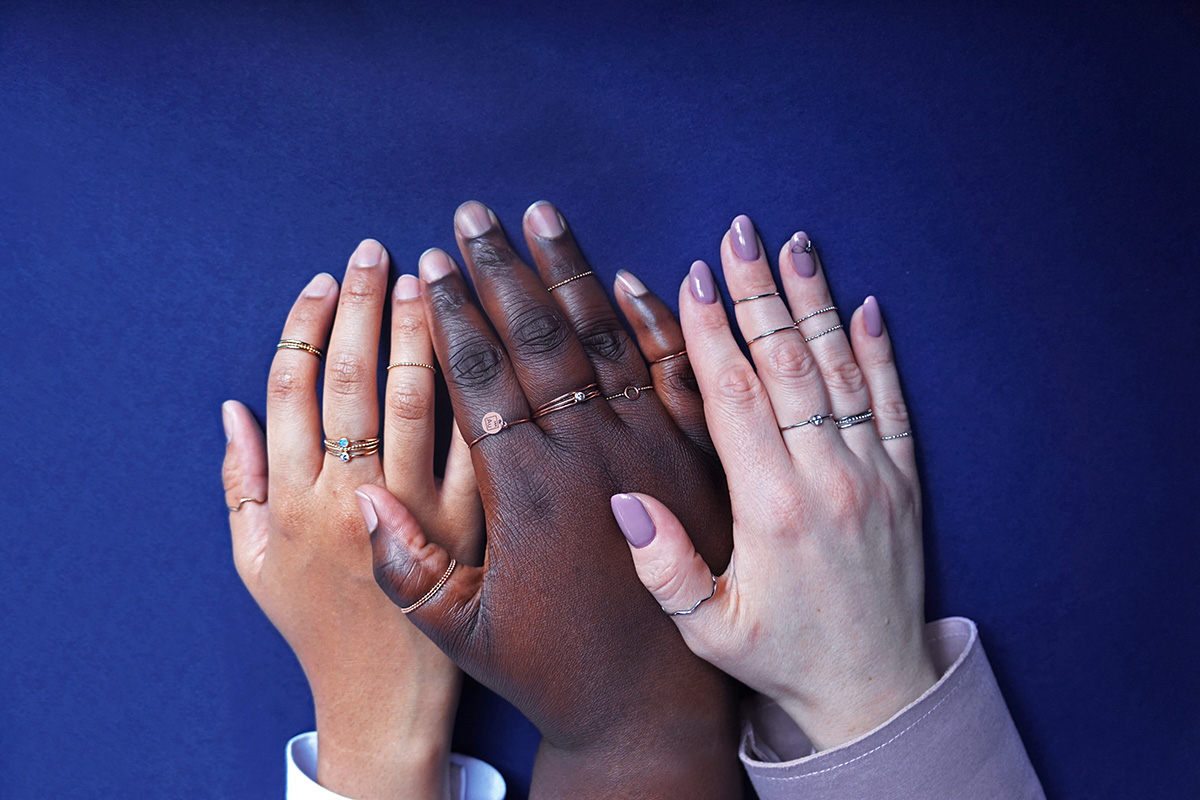 Photo courtesy of Automic Gold
Most of us want to support businesses that align with our values, whether that's advocating for immigrant rights, gender equity, or a company culture that treats employees well. Brands trying to attract conscious consumers have jumped on the bandwagon of corporate social responsibility, marketing progressive values of sustainability, ethical sourcing, etc. However, many corporations with CSR departments champion only a handful of causes, and their policies seldom translate in the way they compensate employees. These enterprises are afraid of turning off consumers with more conservative values or losing profit by paying workers livable wages.  
Automic Gold, a fine jewelry brand, seeks to challenge this trend, hoping to prove that activism, inclusivity, and kindness can build successful companies. 
AL*, a trans activist, is the Founder and Designer of Atomic Gold. From the inception of their company, they put their activism front and center in the way they hire talent, produce their jewelry, and market the luxury goods. The jeweler only uses gold that is 100 percent reclaimed and Made in the USA. The decision to be radically ethical grew out of AL's own experiences of being oppressed based on their intersecting identities. As they expressed on Instagram, "I am non-binary, queer, I am a dyke and a butch. I am on (the) autism spectrum. I am (a) refugee, I am an immigrant, I am American. I am biracial. And these things make me who I am and make me great." 
According to a 2016 report by the National Gay and Lesbian Chamber of Commerce, only 909 of the 28 million small businesses in the U.S. are certified as LGBT Business Enterprises by the NGLCC. To be considered an LGBTBE, a company must be owned at least 51 percent by an LGBTQAI+ person, along with other criteria. The 909 figure is a fraction of the 1.4 million number of queer-owned businesses in America. The disparity is in part because many LGBTQAI+ business owners don't report their gender identity or sexual preference in fear of facing discrimination. Of the 909 certified LGBTBEs, less than two percent are trans-owned. These stark figures are another reason Automic Gold celebrates queerness by sharing its trans, bisexual, and lesbian roots and highlighting other queer-owned brands. Additionally, they feature LGBTQAI+ models all year long — not just during Pride Month like other companies.
The corporation's activism caught the eyes of TIME'S UP, which approached the jewelry brand to create a collection of earrings to benefit TIME'S UP Now in its efforts to fight sexual harassment and discrimination at work. 
AL's attempts to run the company in a radically ethical manner includes being transparent about salaries. The Economic Policy Institute reports that the average CEO salary is 271 times higher than the average employee compensation. AL's salary is about twice as much as the lowest-paid employee — $38 versus $20 per hour. 
"Automic Gold's mission is to make fine jewelry accessible for everyone – not just white or thin consumers," said AL. It's the only luxury jewelry brand to carry plus sizes for rings, bracelets, chokers, necklaces, and anklets. Other companies carry plus sizes only for specific collections. This inclusive philosophy means hiring models of all sizes, skin colors, and genders and never Photoshopping their images. It's a radical move for a brand that is selling luxury goods. 
There are plenty of businesses that make billions by exploiting their workers and the planet.
When Amazon employees asked consumers to support worker rights by refraining from purchasing its products on Amazon Prime Day, the retail giant extended the annual sales event to two days and offered huge discounts to make 2019 Prime Day the single most profitable promotion in the conglomerate's history. 
But there are also examples of megacorps who had to change policies following public outrage. For instance, Volkswagen lost billions after the U.S. Environmental Protection Agency fined the international enterprise for installing software to cheat emission testing. The "defeat device" allowed VW cars to emit nitrogen oxide pollutants up to 40 times above EPA codes. What ensued was a 37 percent loss in market share for the German automaker, as well as lawsuits from investors asking for billions. VW responded by launching an internal inquiry, while the CEO resigned over the scandal. Clearly, where exploitative practices are concerned, a pitfall can lurk beneath every apparent reward.
Meanwhile, Automic Gold's unconventional approach has helped, rather than harmed, the profits of the luxury brand. The corporation has loyal customers and influencers who express gratitude for its activism by becoming repeat clients and referring others to the company.
"I … wanted to showcase a ring ... by the brand @automicgold, which is not only #queer owned, but their whole goal is to have a business that is inclusive and accessible," said Casey Snow, an Instagram influencer. "I'm proud to support such a wonderful brand." 
One customer, Christopher Almanzar, loved his experience so much that he started working for the jeweler.
It remains to be seen how many more corporations boost their bottom line by following Automic Gold's example, but if profits are anything to go by, there's more than one kind of value in the radically ethical philosophy.
* A gender nonconforming individual, AL does not like to use their last name.
---
You Might Also Like: