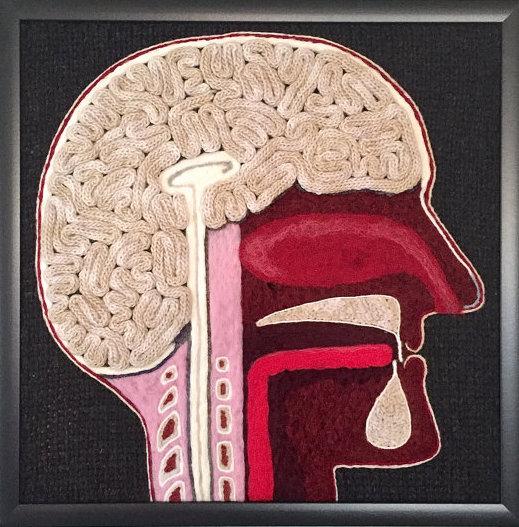 available at: https://www.etsy.com/shop/aKNITomy?ref=l2-shopheader-name
October is now officially kaput and we are all starting to get the stench of burning pumpkin out of all those newly unpacked sweaters. It also means that if you're stealthy, you can snag a sparkly skeleton pillow or eyeball smattered t-shirt on clearance. Lucky duck! 
Call me Wednesday Adams, it's my belief that there's no better way to show you have a brain in your head than to hang one on your wall, or that you have a big heart than to literally wear it on your sleeve, no matter what month the calendar page is turned to. It's even ridiculously on trend right now to decorate your home or body or life with all things anatomical. There are no bones about it! (Ok, clearly I'm running out of terrible puns, so you must be relieved!) 
If you still have a hankering for a body-part related gift item and your store is all out of 75% off skull leggings, Etsy to the rescue with creepy goodies that are (dare I say!) charming! Narrowing it down to 10 was rough, so here are 11 of my favorite gothically gorgeous things unearthed from the Etsy graveyard!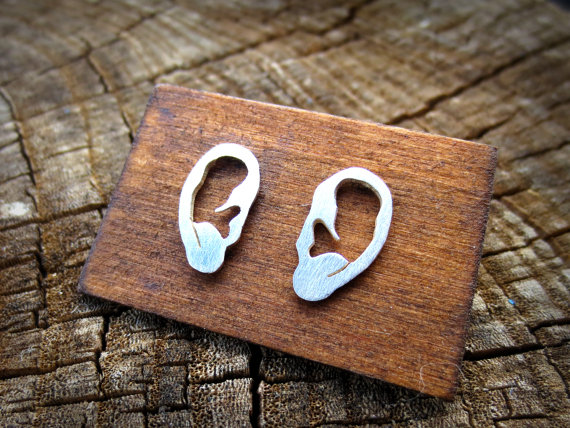 Tiny Sterling Silver EARrings — $45    
Congrats to Anatomical Element for crafting the most meta pair of earrings you will ever purchase. These are literally ears and will be sure to catch looks and render jealousy in the hearts of strangers. That shop is FULLY stocked with other goodies, too, that will excite your guts… with well exciting guts.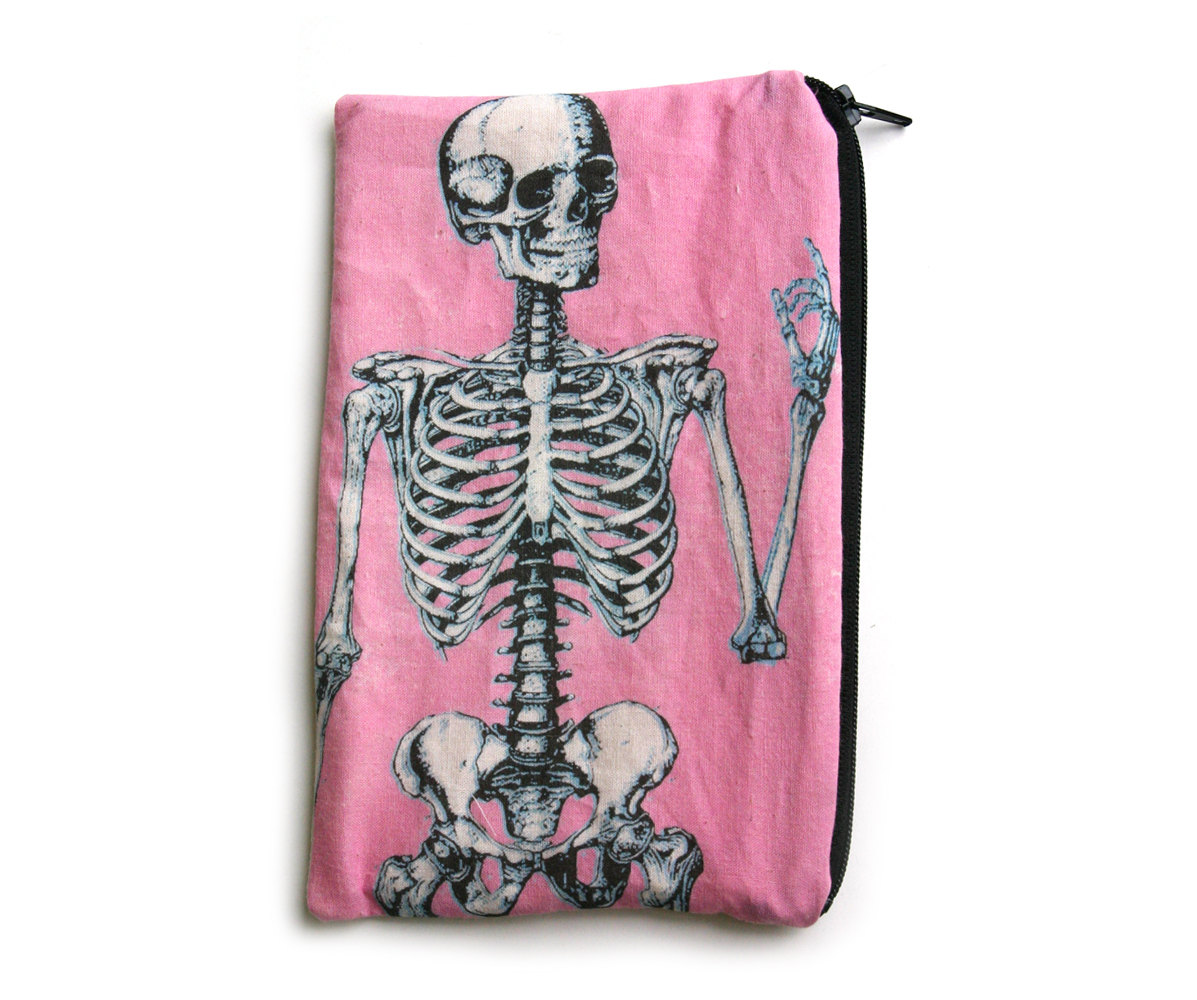 Anatomical Skeleton Makeup Bag — $18
The reigning Etsy stop for all things delightfully creepy is Olivia Frankenstein and I'm incredibly smitten with their versatile pouches, perfect for makeup, pencils, tampons, jewelry... whatevs. Who doesn't love a smirky skeleton to remind them of their slow march toward death or as a not-so-subtle reminder that it's what's inside that counts. I guess your perspective on that is contingent on your level of depravity. (Oh, they also do custom orders so you can emblazon a pouch with anything that tickles your fancy!)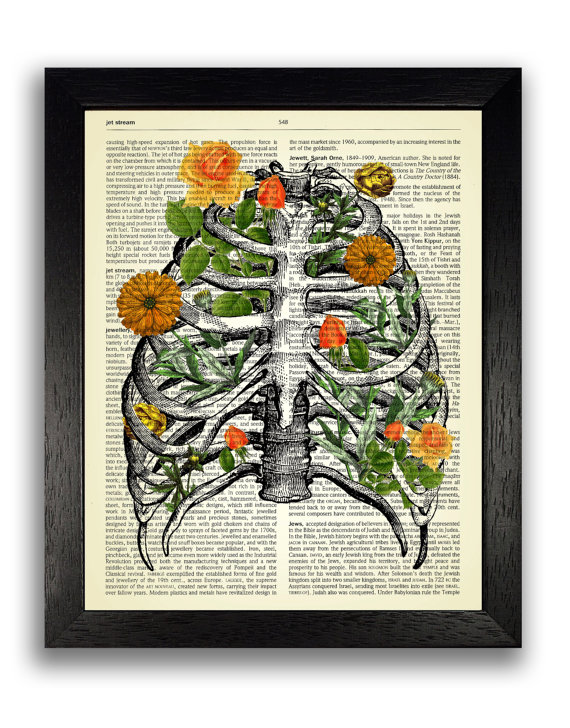 Vintage Rib Print with Orange Blossoms — $10.01
Who knew floral bone vignettes could be so lovely? Well, besides Georgia O'Keefe, Etsy seller Top London Prints had an inkling. The prints available use vintage dictionary pages as a backdrop for their eye-catching and extremely quirky images.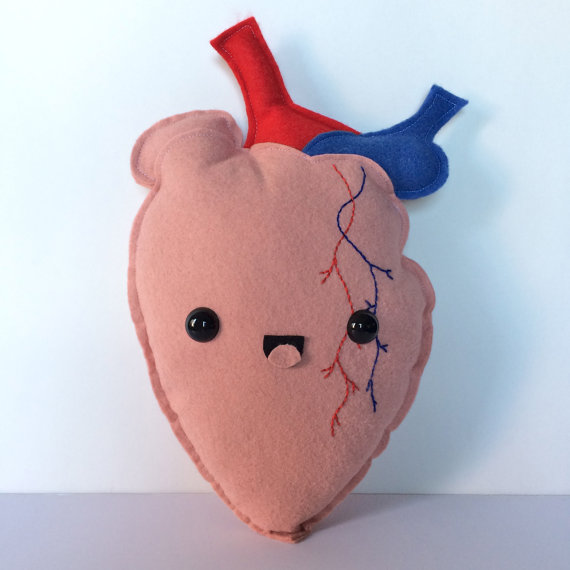 Smiling Heart Plush — $25
So giving someone your heart, literally, is frowned upon in modern society. Ugh, some people are so touchy! Luckily, an adorable heart plush like this one from A Plush Life makes it cute and fun and decidedly less bloody. And don't worry if you would rather have a smiling pancreas or kidney, the shop owner does custom stuffed pieces for nearly anything that could reside under your skin. They also make the perfect gift for someone in the hospital. Give your friend who had a recent hysterectomy a new uterus to squeeze!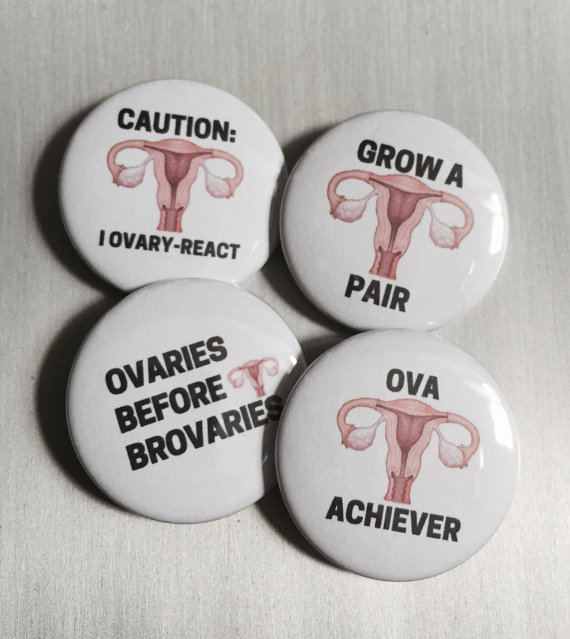 Ovary Buttons — $5
Speaking of the female reproductive system, this button pack is a steal from Badge That!, a brand whose tagline is "wear your period with pride!" These pinbacks are the most boss accessory for your denim jacket reminding people- "maybe don't eff with me today!" They also have t-shirts, so really you could bedeck yourself with internal lady organs from head to toe-vary!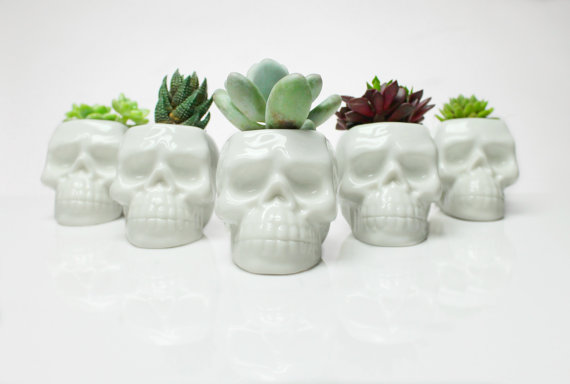 Skull Planter — $13.99
Nothing will make you look more like an amazingly hipster mad scientist than these slick ceramic skulls from The Happy Planters, makers of modern and minimal homes for plants. You can fill them with succulents or air plants and see something come alive out of something that is long deceased. Isn't that the circle of life?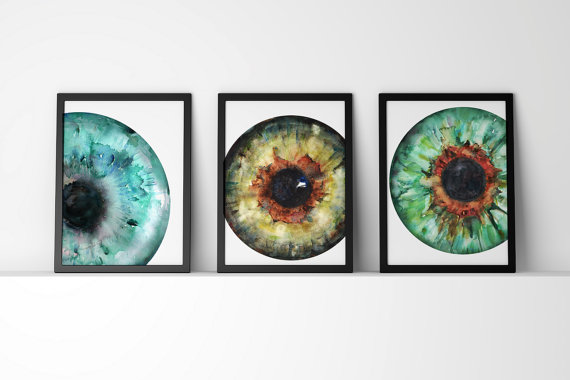 Set of 3 Iris Prints — $63.75
You don't have to be an ophthalmology enthusiast to love these watercolor prints from Lyon Road… you just need eyes. They are stunningly abstract, so won't read too kitschy if that's not your style. This shop that boasts "the beauty and intricacy of the human body" doesn't stop with peepers; you can pick up colorful prints emblazoned with teeth, spinal cord cross-sections, and lymphatic systems that are anything but off-putting; they are enchanting.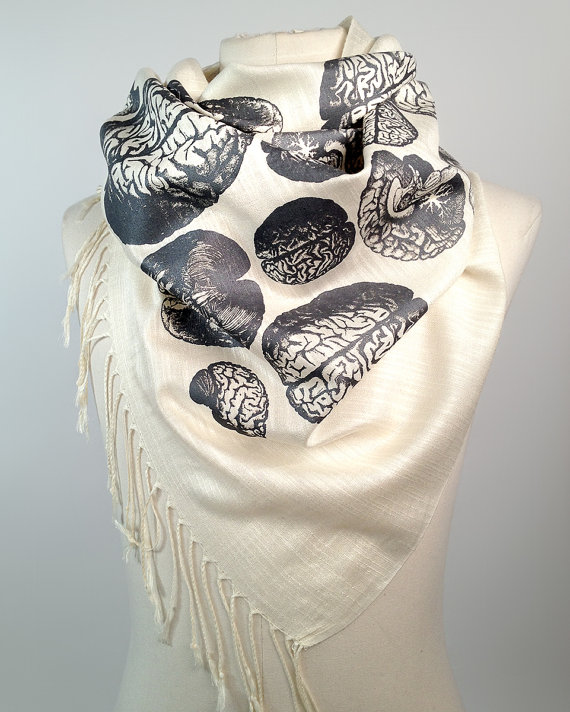 Cream Linen Brainstorm Scarf — $44
This is kinda the perfect fall accessory to show pride in your sexiest organ- your brain! This neck-cessory from Cyberoptix is available in a variety of color combos and how perfect would it be to give the grad student or neurologist in your life. (Although I am neither, and would rock this proudly on any chilly day.) So really anyone that loves their lobes can appreciate it.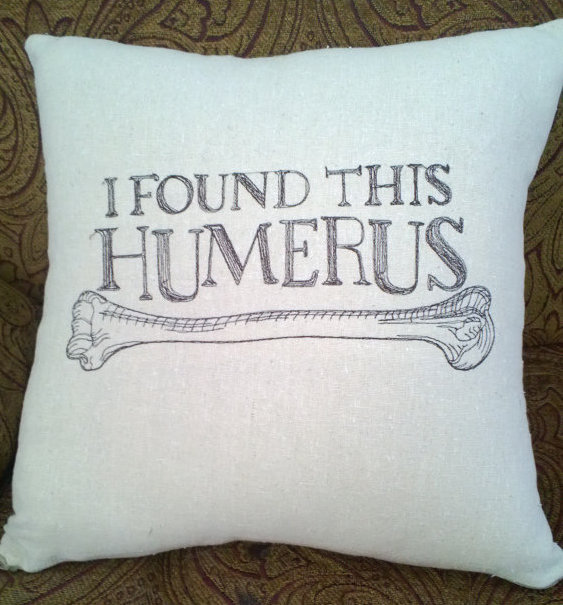 'I Found This Humerus' Pillow — $28
This pillow from September Embroidery is multifunctional — it's decorative, it's a conversation piece, and it's educational! Besides, WHO DOESN'T LOVE A PUN!?  Don't answer, because frankly if you say "I don't" you're dead to me.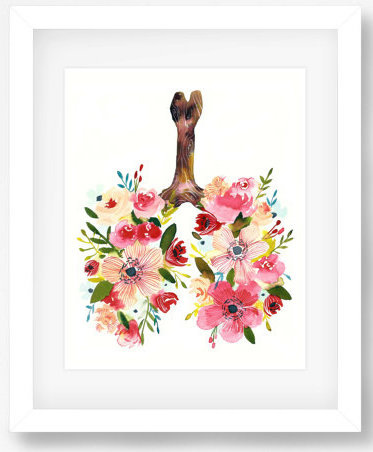 Floral Lung Print — $18
At some point in every day, all of us need a little reminder to take a deep breath. This whimsical colorful print from Dandelion Paper Company can be your visual prompt to see the beautiful in the seemingly mundane. 
Knitted Lab Rat (in an actual dissection tray) — $105
OK. So this may be pushing your weirdo level to the point of no return — but if human anatomy is a little too close to home, maybe rat anatomy (rat-natomy?) is your scene. This piece by Etsy mad scientist aKNITomy is so horribly adorable. Just prop it on your mantle and admire the craftsmanship on those teensy wool intestines. And fear not, you can also get this kind of autopsy art in bat, frog, and alien. 
Sure — to some, incorporating things that are a little on the grim side into your life may reek of weirdo, but I think there are a lot of like-minded souls out there, yearning to fly their freak flag with some anatomical accessories. Who says those things are only appropriate 1/12 of the year? Not this girl.