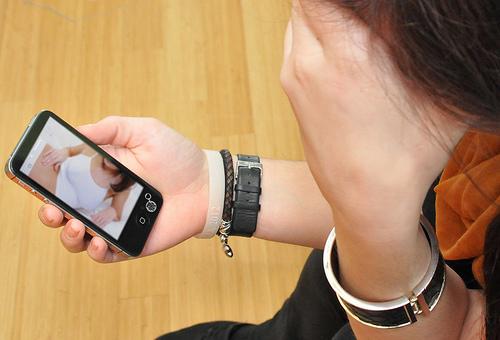 According to new research, sexting is on the rise, with nearly half of singles currently admitting they've received naughty messages on their smartphones.
For anyone who's sexted (yes that's you), this breaking news probably doesn't seem all that breaking. But for some, it represents the end of sexual chastity and moral decency as we know it. Consider the following cautionary tales:
This Lifetime television movie tackles the very real issue of cyberbullying with typical Lifetime nuance and subtlety, complete with twisted harassment tactics, an evil school board, child pornography and, eventually, death. The poster features a tombstone with the words "A Harmless Text Turned Deadly." Be worried, parents of America. Be very worried.
Poor Ludacris! In this 2010 tune, the rapper laments his addiction to sexting and how it ruins all his relationships. "So I'm just sitting in this rehab class/trying to get myself unhooked on ass..." begins this tragic story of extreme horniness.
Sexting the Musical
Dubbed "an intervention for our social networking trend," this grassroots musical tackles the sexting trend with songs such as "Boner Exploder" and "Sexting [Explicit]." Buy it on Amazon today!
Image: Pro Juventute/Flickr