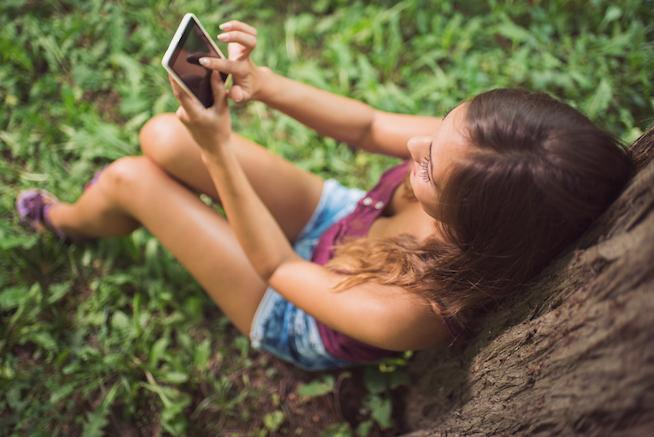 If you are 18 or over, dating online and or using apps, sexting might be something you participate in for fun and flirtation. While we hear horror stories about sexting paving the way for revenge porn, we often forget that sexting can be fun and liberating. But there are ways to do it that will make you feel not only like a sexting goddess, but also safe and in control.
Here are 4 tips to becoming a steamy — and safe — sexting goddess:
1. Set some rules for yourself and stick to them.
It's no fun succumbing to every demand your sexting partner has of you — be it a photo or not — setting some personal guidelines is a must. One of my rules is that I only send nudes to people I've already had sex with and trust. Another is that I don't sext anything that I wouldn't want to read myself. Having rules and sticking to them gives you a sense of control and allows you to really grab your textual sexuality by the reins and guide it at your own pace.
2. Follow your intuition.
If you've started getting steamy via text and the person on the other end is starting to make you uncomfortable for any reason, you have absolutely no obligation to continue. If your sexting partner is pushy and won't take "no" for an answer that is a form of harassment. Just remember that you do not owe anyone anything and even if you have started sexting, you can stop sexting whenever you want and without explanation to your partner.
3. Do it for yourself!
Go ahead and embrace positive body image days by snapping a couple of sexy photos of yourself, if you feel like it. These photos are not only for sharing but save them to remind yourself what a babe you are, especially on the days you find it hardest to remember. Zone out the hater chatter in your head and try embracing your inner goddess!
4. Read erotica.
You know how they say that reading a lot makes you a better writer? Well, that applies to sexting as well. Read books or stories or whatever you find titillating and use what you like in your own sexts. Let your sexual imagination run free and borrow from the stories and movies that thrill you most. 
Sexting can be a fun way to spice up your relationship but remember be safe and conscious about who you are trusting with your sexy self!