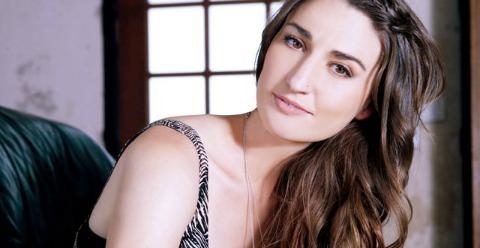 Jimmy Fallon is basically living the dream. As the host of The Tonight Show he's all dolled up, gets into all sorts of escapades with beautiful (brilliant!) people in front of a live audience all in the name of making people laugh. Pretty much the coolest. job. ever. 
Last week, he had Sara Bareilles on The Tonight Show to play her song, "I Choose You," from her Grammy nominated album, The Blessed Unrest—which is totally worth a listen even though she lost the title of "Best Album" to Daft Punk. And after the show—jerks!—she graced the staff with an acoustic version of the song and they shared it with fans.
So yeah. First world problems. We're having a hard time choosing which of the two versions to love more. Bareilles' voice shines through on both, but the acoustic version really brings out that raw emotion while the plugged-in version is a bit bouncier and more toosh-shaking. So which do you like better?
Bareilles with The Roots on Jimmy Fallon:

Sara Bareilles ~ The Tonight Show Starring... by HumanSlinky

Bareilles Backstage after the show: