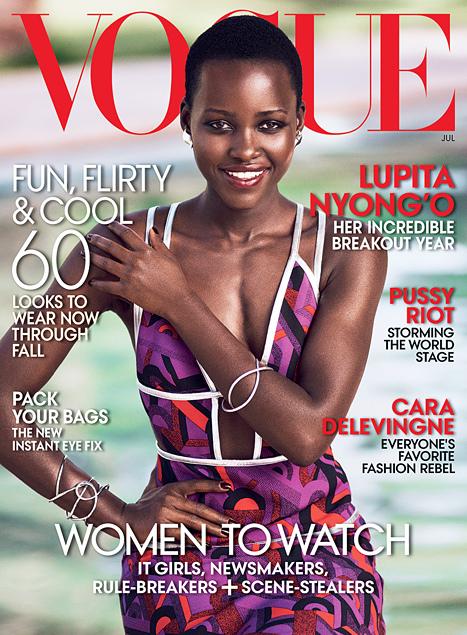 A couple of days ago we all woke up to a better world—a world with Lupita Nayong'o's Vogue magazine cover in it. As the young start of 12 Years a Slave was gaining traction on the runway earlier this year, many wished she's grace the cover of America's most influential magazine, and many feared it might not happen. (The mind of Anna Wintour is a mystery to most human peons—Kim and Kanye were recently granted their own cover-shoot after all.)
But, boom! It's happening people. Lupita is July's cover girl, or in her own adorable words on Twitter: "This summer, I am totally CVERED". Indeed. We decided to break down the arresting result into teeny tiny bits so we can properly savor and analyze Lupita's victory over fashion's largely white-washed world.
The pose. It's a common claim that half-body shots are the manifest destiny of the fit and toned, while portraits are meant for the frumpier, dumpier and decidedly less slender. Some covers—like Emma Stone's in May, defy this notion (and what the hell is that hat about), while others—like Charlize Theron's in June, fully confirm it. Lupita's cover certainly falls into the first category, although Vogue was smart enough not to immortalize her in an uber-sexy pose. We do have to admit her body language is bit awkward however. The left-arm draped over her chest is a little hide-my-boob-ish and overly stance-y. But hey, it's way better than being draped over a white sofa. 
The dress. This printed cutout Prada number is very much in the line of Lupita's now-signature red carpet style—whimsical, architectural, colorful and fun. What could have been come-hither cleavage—just look at that plunging neckline!—looks pretty demure instead. 
The make-up. Sigh. Lupita's face is undoubtedly gorgeous and hard to ruin anyway, but Vogue did a really good job here. Compared to Dazed cover, which basically makes the actress look like a depressed, futuristic panda, Vogue's cover boasts Lupita's natural beauty and utterly devoid of fashion's penchant for semi-racist "exotic" frills. 
The atmosphere. Happiness and energy—these are words eblazoned across Nyong'o's face. Good for Vogue for not trying to stage her as some dramatic, pondering muse. Lupita is a hardworking, tenacious woman with huge things on the horizon (we hear she just bought the film rights to Chimamanda Ngozi Adichie's book Americanah—so gird your loins for that!) and as such, she must be chock full of glee. And Lupita looks the part.
Images: Courtesy of Vogue