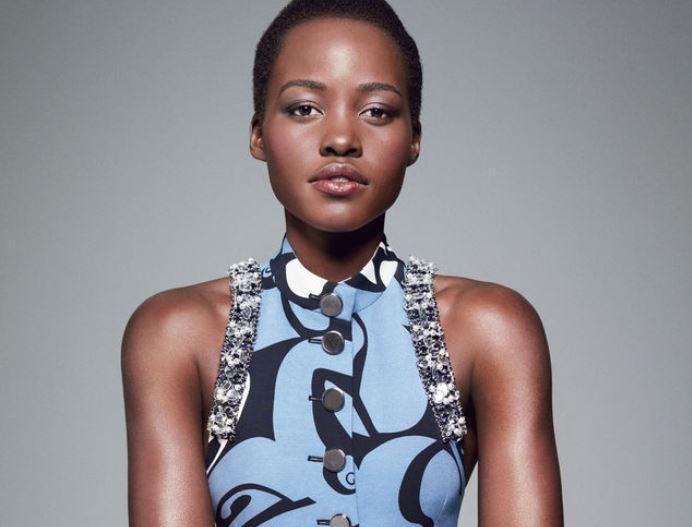 Lupita Nyong'o . . . sweetheart of the world.
Lupita—who earlier this year joined Lancôme as the beauty company's first black ambassador badass, and was named People Magazine's Most Beautiful Woman In The World—has now received further accolades for her stunning looks. Glamour's "Women of the Year" cover girl for 2014 is . . . Lupita!
For us, Lupita has always been a knockout—we didn't need the validation of a predominantly homogenous race magazine to alert us to her appeal. But her cover is still significant—for a lot of reasons.
Quick recap: For most of the 400 years of Africans in America, night-sky and plum-shaded men and women have been, shall we say, disregarded. The evolution of acceptance began as being treated less than human, then to second-class citizens and more recently as the exception to the standard beauty principle. Despite the changing times, super-dark skinned beauties are still always being compared alongside the light-skinned norm of the women who dominate media.
The acknowledgment of Lupita's international charm, her shimmering elegance and very dark (in relation to more ambiguously brown celebrities) skin is the beginning of a process to alleviate any future need to add a "for a . . . " at the end of "You're beautiful."
There is a world filled with mauve-kissed ebony girls hoping, wishing and praying to be lighter; women who will use bleach and adhere to skin lightening products just to take away some of the darkness. Why? Well, there just aren't any fucking role models for these girls!
As a multiracial woman, my role model situation as a young person held it's own unique set of tangled struggles. In my world, I never felt like the exception to the rule until other kids pointed it out to me. Nonetheless, when playing princesses, pop stars or Sailor Moon, there were always comments like . . . "You can't be her—she's white!"
I had no difficulty identifying with bookish Belle, courageous Nala or thrill-seeking Ariel despite their skin (or species). Even so, when I was little, as far as I was concerned? It was all about Princess Jasmine. Not only was she beautiful and brown, but also the only princess who got to wear pants—and save her man as many times as he saved her.
Perhaps I was corralled into loving the Middle Eastern princess because of our similar skin tones. (OK, maybe it was because she had a tiger as a pet.) But I like to think that I chose to identify with her for more than her fashion choices and exotic animals. She was a strong, smart, beautiful feminist ("I am not a prize to be won!") of a princess, and yes—when I looked at her, I could see myself as brown princess reflected in her big dark eyes and tan skin.
But really and truly, until extraordinarily recently (I still remember when I first saw a black person on a GAP commercial in the '90s), dark beauties have been conspicuously absent from mainstream media. And while Disney princesses may seem like a far cry from a viable role model for little girls, their influence on youth's perception of beauty, strength and bravery is undeniable. In short, these female protagnosits of celluloid, ink and mega-pixels are a way to promote role models of all shape, color and class; not just peaches and cream princesses.
Lupita herself has told a heart-wrenched world about her crushing girlhood desire to become a lighter skinned girl:
"I remember a time when I too felt unbeautiful. I put on the TV and only saw pale skin. I got teased and taunted about my night-shaded skin. And my one prayer to God, the miracle worker, was that I would wake up lighter-skinned . . . And every day I experienced the same disappointment of being just as dark as I had been the day before. I tried to negotiate with God . . . But I guess God was unimpressed with my bargaining chips because He never listened."
Later in her speech, given at the Black Women In Hollywood Luncheon last February, she talked about her own role model growing up, Sudanese supermodel Alek Wek. "Even Oprah called her beautiful and that made it a fact," Lupita told the audience, once again confirming the widespread effect of the media and moreover, the influence of the all knowing and all powerful O.
Lupita, Lupita: A woman who has managed—so far!—to hurtle along on a meteoric rise to stardom without a speck of internet backlash or negativity. Although the actress herself is all-too-aware that everything comes with a price.
"It doesn't escape me for one moment that so much joy in my life is thanks to so much pain in someone else's," Lupita remarked in her Oscar acceptance speech. Perhaps this is why we've collectively "left her alone"—no one is jonesing for her drunken collapse or illegitimate pregnancy. There's too much pride and progress resting on her shoulders. 
So far, she's bearing the weight with remarkable aplomb.