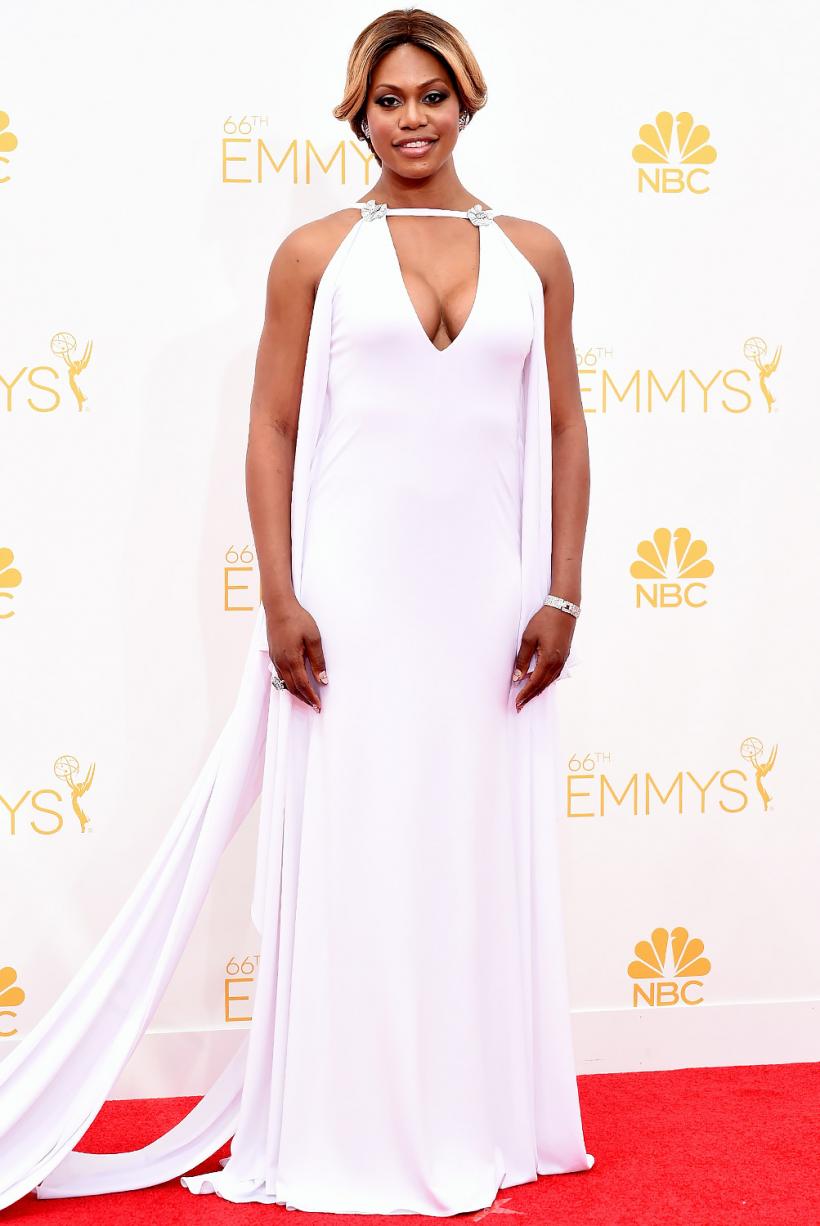 The undeniable Laverne Cox of "Orange is the New Black"
While red seemed to be the overarching color trend of last night's Emmy Awards, we couldn't help but notice the large number of glinting white dresses. Sure, we're used to seeing shades of white on the red carpet—nude, mother of pearl, cream—but very rarely do we see true white. Why? Because it can often read way too bridal-y, especially when celebs are all dressed to the nines and tens with full hair, make-up and look-at-me poise.
But last night, celebs dared to wear white (there's just a few days left until Labor Day after all) and you know what? We loved what we saw. For our reader brides still looking for the perfect big day ensemble, let us indulge in our favorite Emmy gowns that would look just a chic walking down the aisle as they do on the red carpet.
Quintessential Bride: Julianne Hough in DSquared
A giant architectural bow screams modern bridal. For your big day however, may we recommend honing a less creepy smile.
Jersey Bride: Sofia Vergara in Roberto Cavalli
This dress would feel quite at home at The Brownstone amid all those golden chandeliers, opulent fountains and sweeping staircases.
Fashion Bride: Kate Mara in J.Mendel
Awkwardly-placed cut-outs? Check. Center part and texturalized bob? Check. Smoky eye and a nude lip? Check. This look is ready for Vogue's wedding pages.
Conservative Bride: Michelle Monaghan in Reem Acra  
With its simple silhouette, gentle drapes, and utterly restrained detailing we would have never guessed this dress could be the work of beadwork master Reem Acra. Choose this dress if you want to look back on your wedding pictures in 40 years and say, "I would still wear that."
Modern Bride: Kristen Wiig in Vera Wang
Our favorite of all the Emmy bridal dresses, Kristen Wiig never looks like she's trying too hard. We love the roughed-up bob (this is what yours should have looked like, Kate Mara) and the black shoe makes the outfit feel really chic and contemporary. Like an updated Grecian goddess.