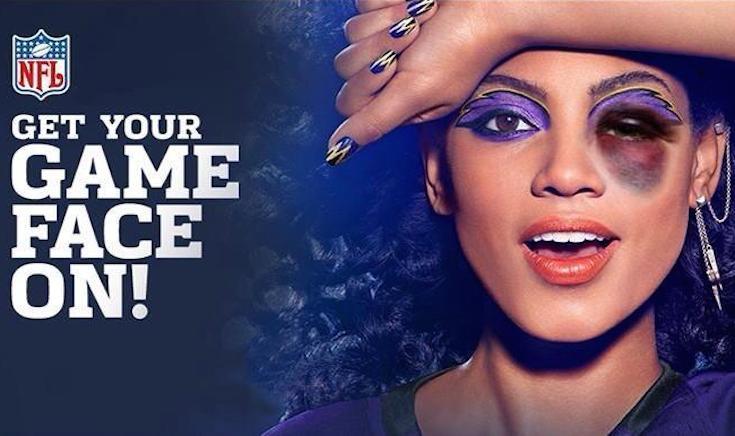 Credit: Twitter
Let's start off with some positivity before we delve into the depths of "UGH, really?!" The general public being largely outraged about domestic violence in the NFL and conversations now swirling surrounding this epidemic? All a step in the right direction. Perhaps sometime soon the world might even start referring to white ribbed tank tops as something other than a "wife beater." We can only hope . . . 
But now for the "ugh" section. 
Domestic Violence In The NFL
As you assuredly know, now ex-Ravens player Ray Rice abused his wife, Janay Palmer, and it was caught on an elevator security camera. Rice was suspended for two games until a second video of the incident was leaked and public outcry forced the Ravens—and the NFL—to cut Rice altogether.
We're angry because 1. it shouldn't take a video—much less two—to make the public angry about an NFL player knocking his wife unconscious 2. the Ravens should have cut Rice because his actions were wrong—not because their fans got pissed. 

Compared to the general public, NFL players are arrested for violence (or threats, stalking etc.) against women at a far lower rate. Before you shake your finger at women involved with these players for being too afraid to report these crimes (a gross act also known as "victim blaming"), recall that domestic violence is one of the most underreported crimes in our country—both in and outside the NFL. But when a professional athlete abuses someone, there's an added layer of atrocity, given the NFL's incredible influence on our society. So Raven and NFL leadership not acting immediately concerning Ray Rice beating his wife? It definitely sends a pretty strong signal concerning the acceptability of domestic violence.
A Creative Response To CoverGirl's NFL Campaign
In this Internet-tastic modern age, people have taken to the great soapbox that is social media as an outlet for their anger. And there was a particularly clever response concerning CoverGirl.
CoverGirl, the "official beauty partner of the NFL," recently kicked off a football-themed ad series, promoting eyeshadows and other makeup products to mimic various NFL teams' color schemes. In response, people have doctored an image of their model wearing Ravens colors (seen above) so that she's now sporting a black eye. The campaign's tagline "get your game face on" is sinister now.
CoverGirl, a brand owned by Procter & Gamble, hasn't pulled their NFL beauty sponsorship . . . yet. Needless to say, there's a lot of public outcry. CoverGirl did release a statement saying that they have "always supported women and stood for female empowerment" and that such violence is "completely unacceptable." Furthermore, they have (supposedly) "encouraged the NFL to take swift action."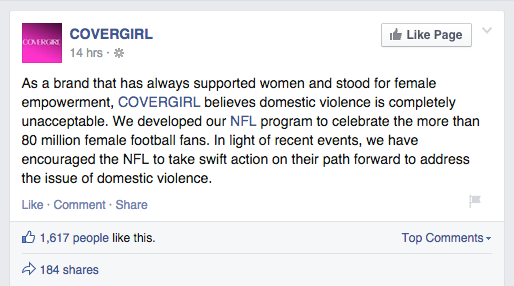 CoverGirl Copping Out?
To me, this does sound like a bit of a cop-out. There are, of course, complexities behind closed doors. How much control does CoverGirl have over such sponsorships when compared to their parent company? Procter & Gamble is worth an estimated $217.84 billion. Out of the 32 NFL teams, average worth of each is $1.43 billion (the Cowboys come in at the top, worth a mindboggling $3.2 billion). Clearly, Procter & Gamble doesn't need the NFL to survive. And the brand CoverGirl is pretty well-established. So I'm left posing the question: What, what, what?? 

As an eternal optimist, I'm hoping that Procter & Gamble takes more serious action. Until then, feel free to abstain from using their products.