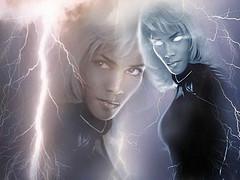 Comic book heroes are part of an American tradition that spans across age, community, and social subcultures. But let's be real. Comic book characters, their creators (and often their readers) are usually white men. Really, how many ethnic female characters can you think of? OK. Storm. Sure, Storm from the X-Men franchise is basically the only character popular enough — a result of the popularity of comic book-based films — to be a household name.
Now with the introduction of Kamala Khan, the 16-year-old, Muslim-American Ms. Marvel (who is the product of three accomplished creators, two of which are women), a door has been kicked open and the speech bubble bursting reads: "Girls can do it just as well!" From heroine to heralded talent, women in the comic book industry are stepping out into the spotlight and soaring.
Afua Richardson is a self-taught comic book illustrater who has worked with big name companies like DC Comics and Marvel. The New York-based comicgirl was recently asked by NPR to create several panels depicting her interpretation of Langston Hughes' "The Negro Speaks Of Rivers" in honor of Black (American) History Month. Her style is vibrantly expressive and detailed, but retains a gritty darkness that makes her work all the more enticing.
Perhaps it's the stereotype of the pale, nerdy guy with glasses reading comic books in his basement that has discouraged ladies from joining the industry. Then again, maybe it is because of this much overused generalization that female comic book characters, artists, and fans have pushed the momentum forward and show what they can do.
Although featuring a woman of color as a comic book heroine still seems too far off, it could should become a reality sometime this decade. When it does, it will be with with the driving force of Kamala Khan and artists like Afua Richardson (who ironically said that her dream project would be to illustrate The X-Men,) behind it.
Image: Flickr.com