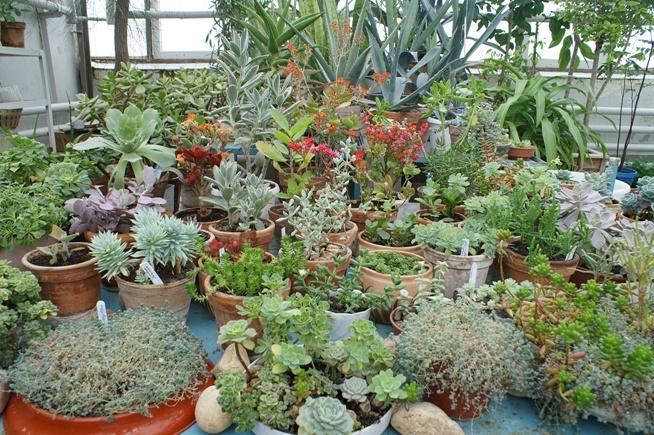 Succulents galore! Image: <a href="https://upload.wikimedia.org/wikipedia/commons/7/7e/5-bio-bsu-botany.jpg">Wikipedia</a>
The holidays are...well, here. Your wallet is empty and your list of people to buy presents for is extensive. There is hope, though! Just because you're broke doesn't mean that you have to show up to parties and home gatherings empty-handed. Below are some fabulous ideas that range in price:
Movie Tickets
You can buy gift cards for these at just about any drug or grocery store, or you can swing by a theater and pick a pair out if you have a time and date in mind. Yeah, movies are expensive these days, but you only have to put as much as you can afford on the card. PS: The gift of Star Wars is all the rage right now...just sayin'.
Succulents
I know, I know...succulents are ultra trendy, but they do add a bit of greenery to a room and are the easiest things to take care of. Best of all, you can purchase a succulent for less than $10 at your local nursery or home improvement store. Purchase some cactus soil and a few cute pots from Ikea, slap a sticky bow on the side, and boom...instant holiday gifts!
A Medley Of Cozy Socks
I'm of the opinion that you can never have too many, and if you live in a climate that is painfully frigid this time of year, this gift will be much appreciated. Socks can be purchased virtually anywhere, but Target, ModCloth, Old Navy, and Uniqlo have the best selection of fun, funky, not-your-average gym socks.
Pajama Pants
Cotton is to summer as flannel is to winter (and wool is well-loved too); there is nothing more glorious than pulling on a pair of brand new of cozy PJ bottoms. You can never go wrong with classic plaid. If you have a few extra bucks, you can also throw in a thermal shirt for optimal winter Netflixing sessions.
DIY Skincare Goodies
If you're a craft queen or a Pinterest fiend, then consider making friends and family some fresh spa-worthy goodies. You could stick to making classics like sugar scrubs and hand soap, or you could go for something a little less conventional like shaving cream, whipped body butter, or bath melts.
Homemade Snack Box
This my favorite option for friends and family who have moved cross country or beyond. Create a box filled with your loved one's favorite candies, chips, canned fare, hot sauces, and other snack-worthy treats. Giving them a little piece of home for the holidays will undoubtedly go over well. Make sure to include a note telling them how much they are missed.
Framed Photograph
Printing photos is still very much a thing, and it is dirt-cheap to have some done. Print out a family photo of you and mom or dear old dad, a derpy photo of you and your siblings, or a goal-worthy pic of you with your better half. Find a photo frame that tickles your fancy (IKEA kills in the frame game). White and silver are really contemporary-looking but you can never go wrong with classic black.
Baked Goodies
If you have a favorite recipe that others will appreciate, consider baking! It's super-affordable to do in bulk, and you can easily tweak just about any recipe to cater to a group size. Jet even sells darling little pastry boxes, perfect for presenting your cute confections.
And there you have it! Remember there is no right or wrong way to gift, and with the right amount of effort and thought, your presents will be a hit — no matter how much or how little you ultimately end up spending.