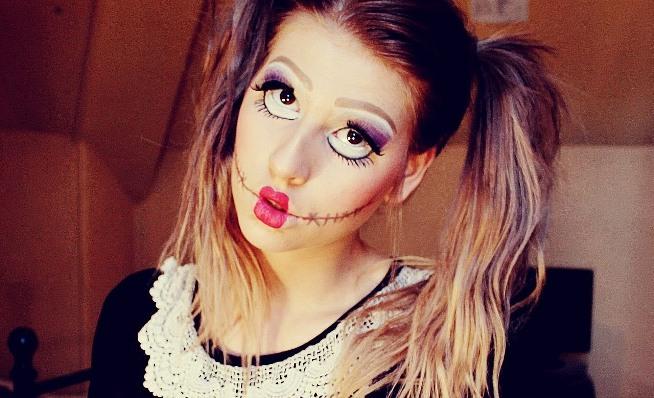 A creepy doll is always a good place to start. Image: <a href="https://www.youtube.com/watch?v=SWP8Ag8n5Lo">YouTube</a>
3. Waldo. Red and white striped sweater, blue jeans, circle glasses, and your favorite pair of shoes...bam. Done.
So it's the week of Halloween and you still don't have a costume. Sure, you could reuse last year's costume, but the last thing anyone wants at a Halloween party is to seem unoriginal (we all have that one friend who reuses the same cat ears every year), and you definitely don't want to buy a costume-in-a-bag from the local Spirit store.
For Halloween, you want something comfortable and creative, but you probably don't want to spend a fortune, either. Below are seven ideas for all you last-minute ladies out there who want to make sure your October 31st attire is memorable and ready to go at a moment's notice.
1. Creepy Doll
One of the best things about being a doll is the fact that the outfit possibilities are endless. Old prom dresses, babydoll-style dresses, and '70s peasant dresses are all appropriate. If your dresses are all too pristine and new, hit up your local thrift store. Make sure to sprinkle on eyeliner freckles, plenty of blush, white eyeliner, and the biggest fake lashes you can pick up. Add white contacts or incorporate fake blood to take the creep factor up a level.
2. Any Of The Characters From Inside Out
Inside Out was a smashing success this year — get in touch with your inner emotions and dress up like your favorite character (if you don't mind a little face and body paint). Sadness is perfect for chilly autumn since she's in a turtleneck and skinny jeans, and if you've got a pixie cut, Joy will do just fine.
3. Waldo
Red and white striped sweater, blue jeans, circle glasses, and your favorite pair of shoes...bam. Done. (You can save the sweater for your next night in with Netflix or an ugly sweater holiday party.)
4. Carrie At The Prom
This is perfect for all the horror vixens out there — purchase an old white or silver prom-style dress and look up your favorite fake blood recipe. Don't forget a sparkling tiara and a bouquet of blood-speckled roses to really bring the look to life.
5. Freddy Kruger
This is another job for the thrift store! Toss on an old red and olive striped sweater and toss on a brown fedora. You can purchase Freddy's signature razor glove here. Black jeans and combat-style boots complete this ensemble.
6. A Pinata
The more ambitious crafters among us may find this look appealing! Carefully wrap and fabric glue crepe paper around an old dress. Feel free to stick to one uniform color or mix it up for a more festive-looking costume. Carry around a wooden stick and a handful of candy as props.
7. Have Fun With Special Effects Or Face Painting
If you're feeling utterly uncreative this year but still want to get into the spirit, try doing just your face. Decorative skeleton face paint, latex scratches/impaled objects, or even emulating SnapChat's popular rainbow mouth filter are a quick way to get into the Halloween spirit from the neck up! YouTube is an excellent resource on how to create some of these ideas — just make sure to do a trial run a few days before Halloween so that you aren't scrambling the morning of. (The best part of this one? You can wear your comfiest clothes!)