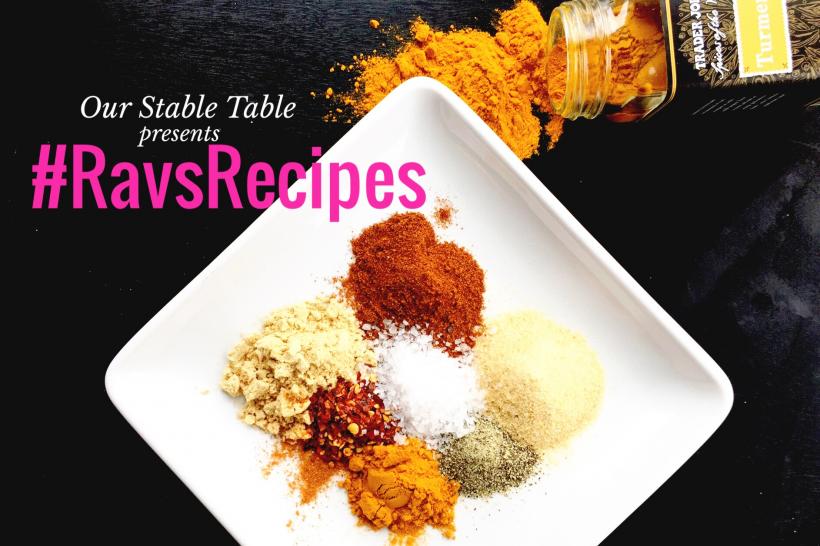 #RavsRecipes: Ginger Garlic Spice Rub
Am I the only one who gets pumped about using a crockpot during the colder months? There is something legitimately magical about putting ingredients in a pot and coming home to a full, ready-to-eat meal. All that effort that I didn't have to put forth and still, I reap the great rewards and back pats of a tasty meal well done.
One of my favorite cold weather meals is pulled pork. Pork shoulder is my go-to protein for the crockpot because it's incredibly easy and almost impossible to overcook. So, if I get held up in traffic or at a work, an extra 30 minutes or an hour won't really do anything to it. Plus, I can afford the humanely raised, local brand because it's still a fairly inexpensive cut of meat.
The most important thing, however, is getting the seasoning just right. I've experimented over the years, but one homemade blend seems to be a consistent crowd-pleaser, and is versatile enough to allow the pork to be used in several dishes. 
It's always tender and juicy, and I crave it every week. I use it for Taco Tuesday, quesadillas, nachos, burrito bowls, and sandwiches. 
I've also tried this rub on chicken thighs in the crockpot with excellent results, too. So fear not if you are adverse to eating pork! Chicken is a great option as well. 
Ingredients:
2 tsp ground ginger
2 tsp granulated garlic
1 scant tbsp sea salt
1 tsp black pepper
1 tsp turmeric
1 tsp red pepper flakes (optional for more heat)
1 small dash cayenne pepper
Directions:
Stir the spices together until well blended in a medium-sized mixing bowl. Press each side of pork shoulder or chicken thighs into the spice rub. Rub a little more into the protein and make sure it's well covered. 
Place protein in crockpot on low. For the pork shoulder, cook 8 hours. For the chicken thighs, cook 4-6 hours, depending on the amount of chicken you're dealing with. 
When finished cooking, shred with two forks and serve with rice, veggies, or whatever your little heart desires. This is a fast meal to heat up later in the week when you inevitably don't feel like cooking. 
Also, you can make a larger quantity of the rub using the above ratios and store for future use. You can also purchase your spices in bulk at the grocery store for a fraction of the price of prepackaged spices.