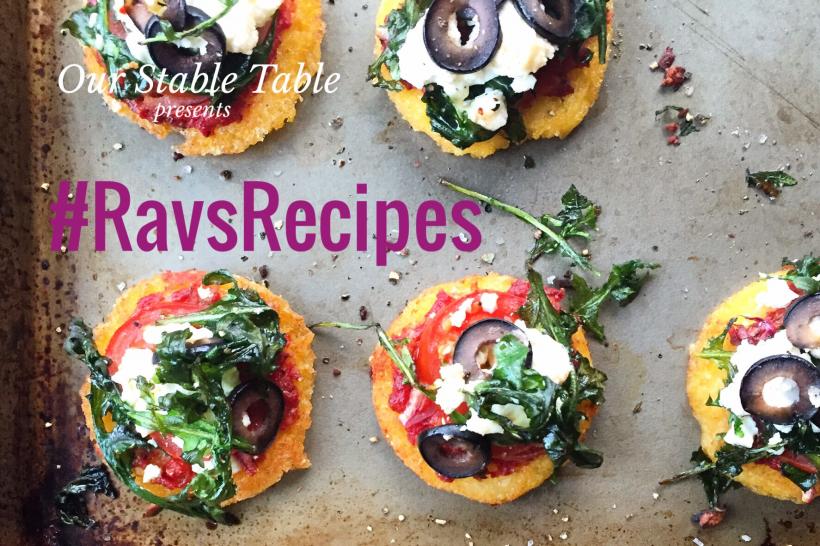 Bless the Greek.
I love polenta because it is so easy to prepare and versatile. For these madly delicious polenta bites, I use prepared polenta from a tube because I'm lazy and it's cheap. 
Once upon a time, I went to Greece.  Then I went to a tiny island and didn't tell anyone. And then I ate a lot of amazing Greek food, hung out with the Australian water polo team who had just competed in the Olympics, and drank Heineken all day from a can.
It. Was. EPIC.
One day, as I stopped at my favorite little restaurant to drink a canned Heineken before beginning the very steep ascent to my hotel, a beautiful Greek orthodox family was celebrating a baby's christening.  They waved me over to their table, asked me questions, fed me the best cookies I've ever had and pushed platters of fire-seared meats and fresh veggies and pita made by the Greek grandma who would smile shyly when I waved and thanked her. The family asked me for a blessing for their baby daughter, and I was too touched and buzzed from the ouzo they kept refilling to say no.
I smiled broadly, thanked them for including me in their celebration, wished peace and a joyful life for this new little soul, and then I cried all over that baby because it was the most beautiful moment of my life and I knew it.
The family, as you can imagine, was slightly perplexed by my heightened emotional state, barely understood what I said, but gave me hugs and more cookies and we all toasted to our collective health and happiness just the same.
Many years later, I still favor those traditional Greek flavors, and if I'm honest, tiny babies in white christening gowns. Although I could never do that christening feast justice, I enjoy using these traditional flavors in new ways to bring on the nostalgia and keep food fun.
I love polenta because it is so easy to prepare and versatile. For these madly delicious polenta bites, I use prepared polenta from a tube because I'm lazy and it's cheap.  It crisps up beautifully on the outside and edges while staying soft in the middle. Adding a few cloves of roasted garlic and Mediterranean flavors make these a mouthful of Greek-flavored joy.
Ingredients:
1 tube pre-made polenta, sliced ¾ inch thick
3 tbsp olive oil
4 oz tomato paste
6 cloves roasted garlic (To roast: Slice the top pointy part of the garlic off to expose the coves. Slather in olive oil and roast for 30 min at 350 degrees. Remove from husk and use immediately or store for a couple of weeks in the fridge.)
1 tsp Greek or Italian seasoning
1 tsp salt
½ tsp ground pepper
4 oz crumbled feta
10 large olives, sliced
¼ red onion, thinly sliced
2 small campari tomatoes, sliced
one handful of baby arugula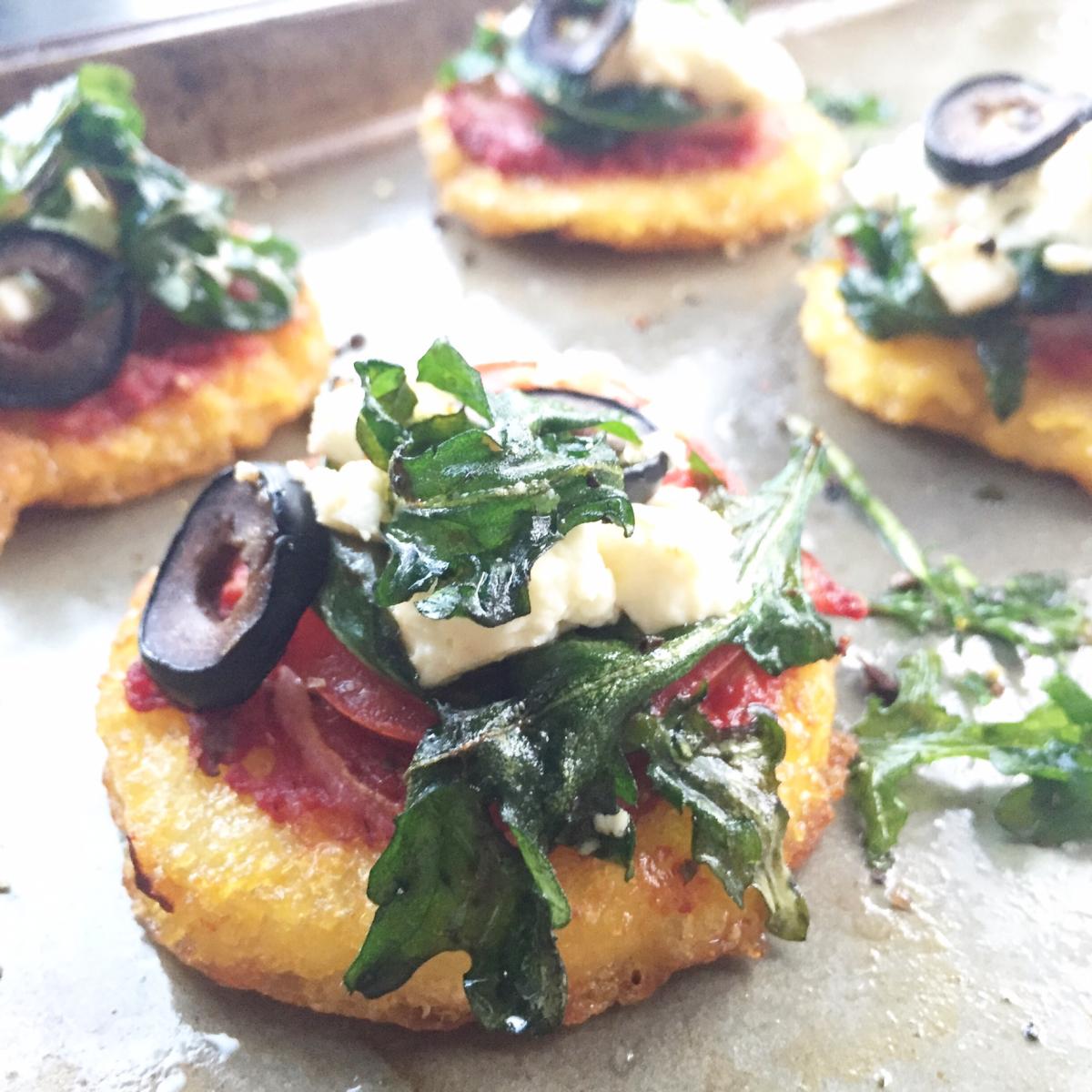 Directions:
Heat olive oil in a skillet on medium high heat. Once it's hot, gingerly place slices of polenta in the pan and brown each side. Resist the urge to turn them too soon. Remove from pan and transfer to a plate and allow to cool slightly.
While your polenta is transforming into mouth-watering magic, mix together the following ingredients: tomato paste, seasoning, salt, roasted garlic, and pepper. Mix until well combined.
In a small bowl, mix a teaspoon of olive oil with a little salt with the arugula. Make sure it's coated well.
Spread tomato paste mixture over fried polenta. Layer a little onion, a tomato slice, arugula, feta, and olives on each polenta slice. Finish with a sprinkle of kosher salt and bake at 350 degrees for 10-15 minutes. Remove from oven and serve immediately.
If you can't do dairy, no problem. These are great vegan treats and hold their own without the feta. Now, go forth and find your people and toast to their health and yours. And maybe eat all the Greek cookies, too.