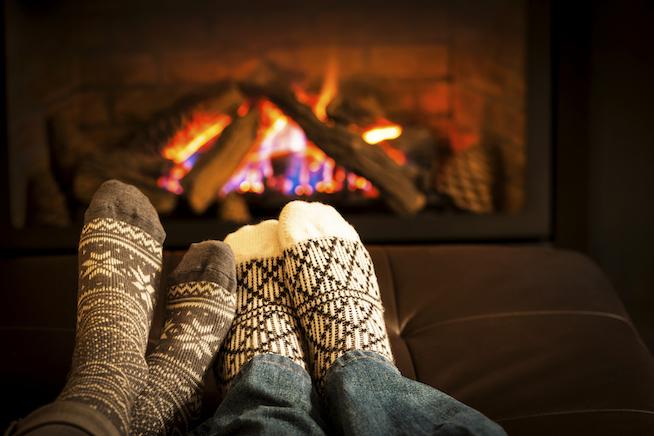 Just add socks and fire. Boom: hygge.
Pronounced hoo-ga, hygge is a Danish term for creating a warm atmosphere and enjoying the good things in life with good people. The Danes are a happy lot. I think this hygge is why. Here's what you can do to bring hygge into your life in 13 easy steps.
1. Start a fire. Don't have a fireplace? Light some candles. Bonus if they smell like balsam fir and/or apple cinnamon.
2. Invite friends over. They should be attractive, but don't have to be. They must laugh with large open mouths so that, should someone be walking by, the merriment will be obvious in your snug diorama.
3. If your windows are not frosted in the corners, feel free to purchase that fake snow stuff you spray onto windows. Now, you don't want to cover the entire window. See above: People outside should be able to see inside and want to be there. With you. Having fun. And generally being happy with life.
4. While we're at it, we don't believe in The Bible. We are a secular sort, despite the Christmas tree. The J.Crew catalog is The Book. (Apocryphal works like the L.L. Bean and Garnet Hill catalogs will not be tolerated.)
5. String lights. Indoors. Outdoors. Shadows and yellowish lighting works wonders for making you feel intimacy with that co-worker who cuts his toenails while debriefing meetings in your shared cube. 
6. Marled socks. The thicker the better. Have you seen page 31 of The Book? 
7. Hold your hot beverage in both hands. Glance over the top of your mug, so that your eyelashes meet your eyebrows.
8. Alcohol will grease the wheels of this bonhomie wagon. Toddies, warm rum, mulled wine (the Danes call it glogg, so we will do so moving forward as well). This is not a place for margaritas and martinis.
9. Tell long-winded stories of bears and wooden skis and ghosts. Speak softly so listeners have to lean in closer.
10. A retriever must sit at your feet. Labrador or Golden, it doesn't matter, but he has to wear a red or tartan plaid bow at his neck.
11. If you take photos of your hygge, be sure to use a filter that contains bokeh. Nothing is more inviting than blurriness. Maybe that was the glogg, or maybe love. Oh, glogg? That's mulled wine, remember? Doesn't it sound more medieval and cozy if you say "glogg?" 
12. Acceptable gifts to bring to a hygge party: cable knit anything, cloves, matches, firewood, things in jars tied with ribbon, a partridge.
13. No technology (except for the smart phone you use to photograph said event and put on Instagram. #hyggehomies.).