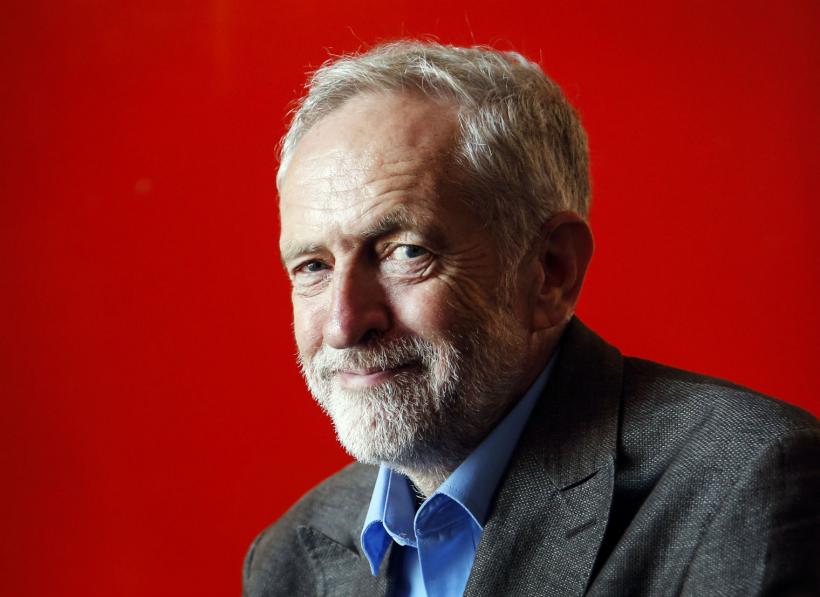 Sex work is not a crime.
With a history of activism and opposition to the status quo, this bloke is considered principled and authentic.
Jeremy Corbyn, you're the mutt's nuts!
This past Thursday, the British politician made a statement in support of the decriminalization of sex work. Where it wasn't a surprise Corbyn took this position, it was his first public confirmation of this view since he was elected Labour Party leader. More than that, Corbyn has become one of very few politicians to publicly support sex worker rights. Blimey! 
First, a brief tutorial for the American audience who doesn't know who Corbyn is. Jeremy Corbyn has been the Member of Parliament since 1983 and was elected Labour Leader in 2015. Ideologically, he identifies as a democratic socialist.
According to Time, Corbyn's resume has always been more of a left-wing activist than a traditional politician. He's a member of the Palestine Solidarity Campaign, the Campaign for Nuclear Disarmament and the Stop the War Coalition. Basically, my British boyfriend tells me, Corbyn is the Bernie Sanders of British politics. With a history of activism and opposition to the status quo, this bloke is considered principled and authentic. Sanders and Corbyn even garner similar praise for their "mad professor" appearance — Sanders for refusing to brush his hair, Corbyn for dressing like he DGAF. 
So, what does Corbyn's public position on sex work mean in the context of UK politics? A lot, actually. As in the United States, the subject of the law around prostitution in the UK is controversial, with strongly felt divisions within political parties. Some on the left perceive all sex work as violence against women, and favor the criminalization of buying sex (called the Nordic Model). In spite of this, Amnesty International came out in support for decriminalization following extensive research and consultation with experts, including sex workers who testified for themselves that criminalization makes them less safe.
The fact that Corbyn's come out on one side over the other is quite bold, and has opened him up to attack. People from Corbyn's own party who support the Nordic Model have taken to twitter to express their disappointment. He's taken heat from prominent female Labour MPs and other influential members of his party, including deputy editor of the New Statesman Helen Lewis, who went so far as to publicly accuse Corbyn of being someone who buys sex. 
 It's a sad fact that very few men — politicians, actors or otherwise public figures — have come forward and stood up for the decriminalization of sex work. 
Those of us familiar with the issue find it's no surprise that Corbyn is being punished for his position. "If you believe in the decriminalisation of sex work," Ian Dunt rightfully points out, "you will instantly come under a sustained and highly emotive attack on your morality and your identity." In this vein, when a man comes out in favor of sex worker's rights, he becomes "a betrayer of women, a gender Judas encouraging violence against them." 
This last line is a reference to an article by anti-sex work feminist Julie Bindel, who published a piece on the Guardian that described Corbyn as misinformed, and said that his position summed up the male left's betrayal of women. Bindel and her ilk are feeling a mere taste of what current and former sex workers, and our allies, experience constantly. It's a sad fact that very few men — politicians, actors or otherwise public figures — have come forward and stood up for the decriminalization of sex work. 
There was a DC council member who publicly supports decriminalization. I also found a Rolling Stone interview with Louis CK talking about where he corrects someone for using the phrase "crack whore." Sure, George Carlin famously talked in favor of the decriminalization of prostitution, but he wasn't exactly an advocate for women's fights. 
The best example of a male ally in favor of sex work is probably sex advice columnist Dan Savage, who talks and writes about issues that affect sex workers regularly. Other than this, when it comes to self-proclaimed male feminists speaking on the issue of sex work, there are a lot more example of men who get it wrong.
Take Ashton Kutcher's "Real Men Don't Buy Girls" campaign, for example. So bullheaded, it inspired a whole blog called "Ashton Kutcher Is A Sex Trafficking Idiot," which is dedicating to aggregating opposition.
Then there's "feminist" porn star James Deen, whose crossover success into mainstream media as an actor and a spokesman for sex positivity came to an abrupt halt when he was accused of rape and multiple sexual assaults. And let's not forget pro-porn male feminist Hugo Schwyzer, who it was subsequently discovered was actually having an affair with a porn actress and lying about it (how cheeky!).  
With allies this daft, who needs enemies?
But seriously, I get why men don't want to find themselves in this company. My guess is that most men stay quiet on the issue for fear of being called a john (as has happened to Corbyn) — as if that's necessarily a bad thing (as a former sex worker, I've argued that it isn't).
Maybe some men think of sex work as a "women's issue" — one that men shouldn't involve themselves with. But as long as men hold the majority of elected positions— and are subsequently responsible for laws that victimize sex workers rather than protect them— men who believe in sex workers rights ought to speak up.
When you do, we've got your back.