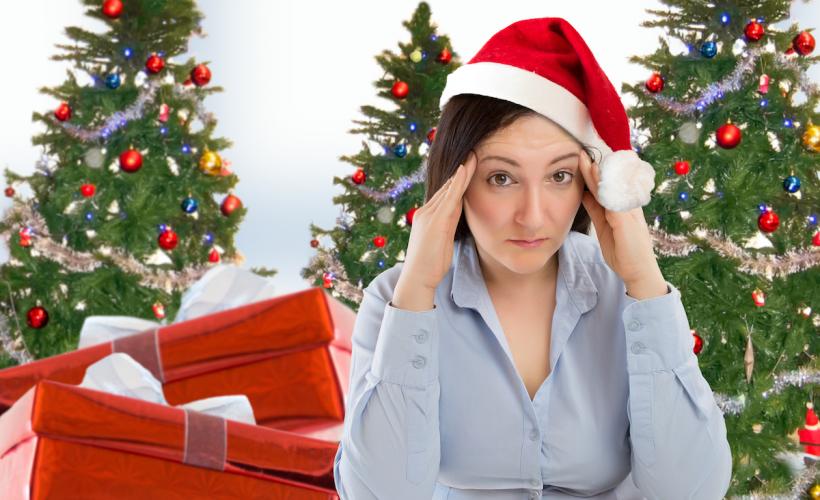 When you're juggling so many baubles at once, it's only human to drop one. Or two. Or maybe even seven.
This article originally appeared on Mamamia and has been republished with permission. 
---
When you're a kid, the 'magic of Christmas' is very, very real. From the palpable excitement of hanging up your stocking on December 24th, to having an excuse to eat an insane amount of treats all day, it's nothing but joy and fun and new toys to play with.
Then you hit adulthood, and the reality of exactly how much time and effort and stress is required to conjure that "Christmas magic" comes as a rather rude shock. 
When you're juggling so many baubles at once, it's only human to drop one. Or two. Or maybe even seven. 
Arguably, nobody knows the extent of this better than moms.
For moms, December 25th — and the weeks leading up to it — becomes a juggling act infinitely more precarious and complex than anything you'd find at the circus. 
As if navigating the many practicalities of Christmas (present shopping, food shopping, packing for holidays, trying to remember exactly where you stored the Santa stockings last year…) isn't enough, there's also the weight of expectation to contend with. Kids' expectations. Partners' expectations. Extended families. In-laws. (Are we sweating yet?)
Even the best-laid holiday plans can descend into chaos, but if it's any consolation, just about everyone has a 'Christmas fail' story to share. Here are some from the mothers of the Mamamia office… and a few staff who wanted to add their moms in.
Way-too-Secret Santa.
"We had an extended family Kris Kringle where you had to buy one gift for $25. I did this, and thought the same was happening for all the kids (one gift per child for $25). But on the day it turned out we were buying for each child — I had three nieces empty-handed."
Mom vs. turkey.
"I came out one Christmas morning to my mom defrosting the turkey in the kitchen sink with hot water bottles and a hairdryer. She was just swearing."
The ultimate last-minute gift.
"I have three siblings, and Mom is such a stickler for the fact that she needs to give us the same number of presents every year. One year she counted at the last minute and realized I was down one present, so she threw in shampoo from her bathroom cupboard to make it even." 
Christmas on lock.
"Once, when I was a little kid, my family came home late on Christmas Eve and realized we'd forgotten our house keys and were locked out. My sister and I were bawling hysterically because we thought if we weren't asleep in our beds, Santa wouldn't come. We told Mom she had ruined Christmas."
D.I.-why?
"I can get a bit Pinterest-mad at Christmas, and while the end results are normally delicious or thoughtful handmade gifts, they leave me a frazzled mess with a combination of flour and glitter in my hair. At 1am last Christmas Day, having sat up late to make gifts for everyone, I found myself with a giant birdseed wreath stuck in my bundt tin that I needed to use to make monkey bread so it was fresh first thing in the morning."
A lesson in re-gifting.
"Mum's a teacher and as such, at the end of every year her class gives her a whole range of pressies — some great, some awful. She always stored them in the 'present' drawer, and sometimes, after snooping through the drawer, I noticed some of those crappy student presents turning up in our Santa sacks."
At the time, these little errors might feel catastrophic, and only add to the stress of organizing a magical day. But as one Mamamia mom explains, they also tend to make for the best memories.
"As a mom, you try so hard with Christmas and there are always little failures (stress of feeding big groups, the wrong colored swimsuits, long lost family members you talk to once a year), but I find those small mistakes are forgiven (because of the whole love thing). They also make Christmas and are something to bond over every year."
Something to keep in mind when you're faced with a burnt turkey/forgotten present/lost Santa stocking this year.
What has been your biggest Christmas fail?
---
More from Mamamia: