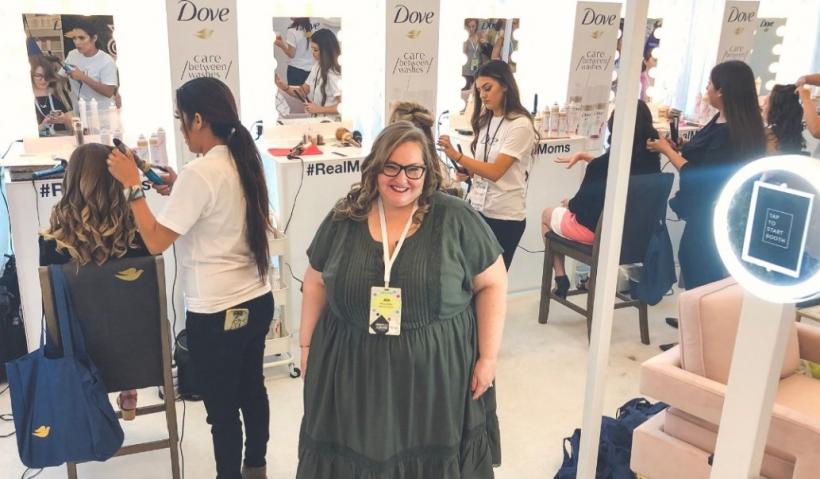 Photo courtesy of Plus Mommy.
This article first appeared on Plus Mommy and has been republished with permission.
---
The first thing that stood out to me, as I walked into the #RealMoms Dove Pampering Room, was the carpet. Plush carpet! This carpet made my sore feet happy after hours of networking as I attended my first day at the Mom2.0 blogging conference in Austin, Texas.
Before I had time to really scope everything out, I was handed a glass of champagne and a branded bag full of Dove products.
As I got in line with all the other mommy bloggers excited to have our hair done, my heart sank.
I saw four beautifully designed hair pampering stations with "director chairs" as the only seating option. You know the kind, the high-top chairs with arms and a canopy-style seat that's designed with only thin people in mind!
Dove clearly thought of everything they wanted conference attendees to see, touch, smell, and feel in this exclusive Pampering Room — but they didn't do something as simple as making sure their seating options were size inclusive. 
This billion-dollar brand didn't realize how the chairs they provided conveyed a powerful message to a percentage of conference attendees — that fat moms aren't #RealMoms. Sadly, that's a message we've been conditioned to believe for all of our lives.
I kept my feet planted on the soft carpet and pulled out my phone to share with my lovely readers how I was feeling. I wasn't going to allow my weight to hold me back from this experience even if that meant I had to stand while getting my hair curled as everyone else got to sit. But that didn't mean I wasn't having big feelings about the whole thing…
I tried to play it cool — what a great opportunity to share with my community how we can speak up for ourselves. I knew I was being given a great opportunity to advocate for countless women everywhere who are left out or overlooked because of their size.
Yet, I have to be honest and say I wanted to cry.
I wanted to run.
It was my community that gave me the strength to step forward and say something as it was my turn to get pampered.
The stylist called me up next, and I took a deep breath.
I explained how I wouldn't fit in the chair and she smiled and offered for me to stand. Thankfully (remember my feet were tired!), I noticed a few armless chairs in the corner and asked to have one brought over.
The Dove team immediately acted! They offered to pull over a standard chair or even rearrange their seating options in another section of the room so I could have a big cushioned pale pink chair brought over.
While this was kind, they clearly didn't understand how I didn't want to stand out in a big pink chair in a room filled with sleek, branded seats. I wanted to be like all the other moms — not a fat mom needing to have the whole room rearranged so I could get my hair curled too.
I opted for the standard conference chair without arms.
As I sat down, I could hardly see myself in the mirror because I was so low to the ground. Yet, I smiled, as all good fat girls smile because we finally get to feel included.
I didn't dare look behind me to see the reactions of a dozen or so other mommy bloggers in line to have their own hair curled after me. I was mildly mortified and disappointed and grateful all at the same time.
When my hair was done I didn't opt to have my photo taken in the fancy photo opt area. I snapped a quick selfie and left.
My hair looked pretty, but I felt embarrassed.
About an hour later, the completely unexpected happened!
I received an e-mail from a Dove Branding Senior Account Supervisor.
"Reaching out on behalf of the Dove Hair team, as I saw your Instagram Stories about the set-up of the event. We are so glad that you brought this to our attention, and because of your feedback, we WILL change how we approach our events moving forward."
Then, as I was racing to the ballroom to see Brene Brown, the keynote for the conference, I was stopped by Carly, a Dove representative. Carly apologized for what happened and wanted to make sure I received the e-mail. She told me her team would be going out that evening to buy stools to make the experience more inclusive for everyone the next day.
I was so appreciative!
While I listened to Brene speak about holding true to our message and the work we do, I had tears streaming down my face.
"Vulnerability is not knowing victory or defeat, it's understanding the necessity of both; it's engaging. It's being all in." — Brene Brown
I never could've imagined that by being vulnerable myself, I'd change an experience for more than just me but for so many.
The next day of the conference I walked into the Dove Pampering Room again and saw they had replaced every single one of the chairs to be size inclusive.
They even added their Dove branding to each chair so it looked as if it had always belonged there.
Somehow I held my tears back as I saw moms of all sizes seated getting pampered. The feeling in the room was one of inclusivity!
It felt indescribable to sit in a chair, just like every other chair, and get my hair done just like all the other #RealMoms.
I'm thankful Dove acted immediately and confirmed that their branding isn't just a brilliant marketing campaign. I'm excited for all the future events featuring Dove, destined to be size inclusive as well!
Be brave. Speak up! We all deserve to feel welcome in spaces and something as simple as chairs without arms conveys such a big message.
By speaking up for ourselves we create change for others!
I am so insanely proud of my friend Jen – for advocating relentlessly, even when it's exhausting. And I'm in awe of Dove for their immediate response and swift action when Jen spoke up. You see the commercials and the marketing about inclusive culture and REAL women, but seeing it up close – in real time – with your closest friends… it was a little breathtaking. After this past week, I will ALWAYS support Dove. — Bethanie Garcia, The Garcia Diaries 
There are so many brands out there who claim to be inclusive as a marketing tactic, so I think many of us have low expectations when it comes to seeing these brands actually stand for something. On the same note, there are also plenty of individuals, especially influencers, who claim the same but take little or no action. What happened at Mom 2.0 is incredible and special, because it was a meeting of the brand and the individual collectively standing together for inclusion. — Emily McAllister, Chasing McAllisters
Dive into this experience even deeper by listening to episode 52 of the Plus Mommy Podcast. I not only share everything that unfolded but tips for self-advocacy and how others can be size inclusive.
---