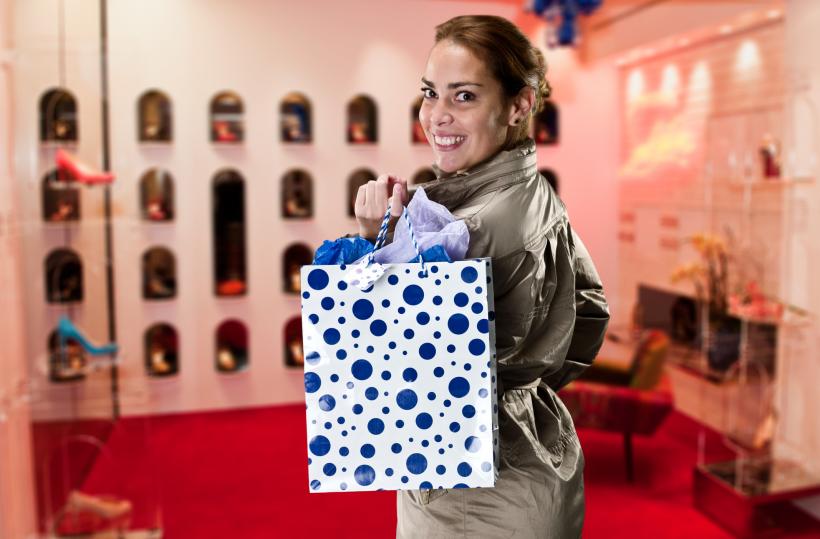 There's a tradition of Mexican-American women fashioning identity through vintage clothing.
Perhaps my grandmother already knew she was dying when she initiated our weekend shopping trips. Sometimes she drove us to the Goodwill herself. As her health deteriorated, the job often fell to my cousin. I remember how patient he looked in his white muscle shirt and chain necklace, gently guiding my grandmother's shaking steps as she greeted the store clerk in her native Spanish.
I hardly ever heard her speak Spanish before. It was the first of many sides of her personality I only glimpsed at the Goodwill while my grandmother scavenged for vintage dresses. 
"One day, you'll drive the boys crazy in this, mi hija." She flashed a mischievous grin, holding up a little red dress. 
My jaw hit the floor. We hail from a Mexican-American family, so sexuality is a pretty taboo topic. And coming from my soft-spoken Nana? Shocking. 
I wondered why my grandmother kept buying me clothes I'd need to grow into. I didn't understand her rush to make sure that someday I'd know how to dress like a lady and not merely a woman.
It would be years until I could appreciate how our trips to the Goodwill followed a tradition of Mexican-American women fashioning identity through vintage clothing.
When I spoke to Michelle Habell-Pallán, Associate Professor of Gender, Women, and Sexuality Studies at the University of Washington, she explained how "women are putting these garments and pieces together, fashion that represents power and dignity." 
Habell-Pallán is a Chicana from Downey, California, the same town my grandmother once lived in. She is the author of several books about Latinas in pop culture. In her youth, Habell-Pallán would also scour local thrift stores for unique clothes. This type of shopping isn't merely about neat racks, matching accessories, and sales — it's a hunt that requires skill and creativity. 
"The friends I went shopping with, they learned that skill from their moms. In defiance of assimilation, this fashion armor was a survival tool for me, which I could find at thrift stores at the prices I could afford," Habell-Pallán said during our conversation. Especially in the vanity-stricken culture of southern California, she added, women of color often use fashion to resist social hierarchies. 
My grandmother isn't the only one who felt more comfortable speaking Spanish and letting the kids roam free at the local discount watering hole. For first-generation Californian Noemi Perez, who has Mexican family from Puebla, shopping at thrift and discount stores was a completely different experience than shopping at local malls. "There's a behavioral change, no doubt about it," she says. "There are stores where you go and know you're being looked at and being judged." 
Mexican-American fashion is often oversimplified as either indigenous regalia or urban Chola aesthetics like hoop earrings and dramatic makeup. Chola fashion, itself a diverse subculture defined by an ethos of boldness and pride, is routinely appropriated by celebrities like the Kardashians, Gwen Stefani, and New York Fashion Week models who associate that swagger with a "gangster" attitude. However, Chola style means so much more.
Manuel Basabe, who hosts the Chucas y Cholas group art exhibition, told the San Diego Reader how "these women from our Chicano past were very strong and politicized, and they were a subject of oppression not only from their own culture, which has a Catholic misogynistic background but also from the white society who wants all immigrants to assimilate appropriately. They went against both cultures by [dressing in] the pachuca look and then later the chola look." In the 1940s, Los Angeles Chicanas wore tailored suits and coiffed hair as part of the notoriously political Pachuca subculture. Many aspects of their rebellious style trickled into Hollywood and eventually became a part of mainstream fashion.
The truth is, despite economic disenfranchisement, Chicanas have shaped California's stylish subcultures from pinup vintage trends to punk fashion. 
For Mexican-American women, vintage clothes aren't a sign of trendy exclusivity. The history of these strategically combined garments writes a unique story across their bodies. "It was a way to make a statement without having to speak," Habell-Pallán recalled. "Latinas, well I'll speak for Mexican-American culture, there's a kind of glamor even from the Pachuca look," Habell-Pallán said. "Glamour has always been a part of our culture, and there are certain ways you can signal independent style that is very feminine but didn't imply anything more [promiscuous]."
Latinas are often associated with red in pop culture, alongside words like "hot" and "spicy." Habell-Pallán theorizes this is, in part, thanks to the classic association with Spanish-speaking femme fatales like Carmen, who usually wears red in the namesake opera. Many people still see the sexy red dress as a wardrobe staple despite these stereotypes. "Instead of just signifying this sexualized woman who is going to die, because she's not a 'good girl'...the red dress can take that power in a different direction," Habell-Pallán suggests.  
I'd never heard my Nana talk about sexuality before we shopped for dresses. Yet at the Goodwill, she constantly mentioned womanly shapes and the power of knowing one's own body. Without ever saying the word "sex," she emphasized how important it was to see beauty as a tool for celebrating oneself — not just for attracting men.
She spoke about independence through a vocabulary of hemlines and silhouettes.
I still wear that little red dress my Nana bought me, the one with an elegant scoop neck and a skirt that swells in a circle like flower petals when I twirl. When I do, I think of her — and the style revolution Mexican-American women created.
---
Related: