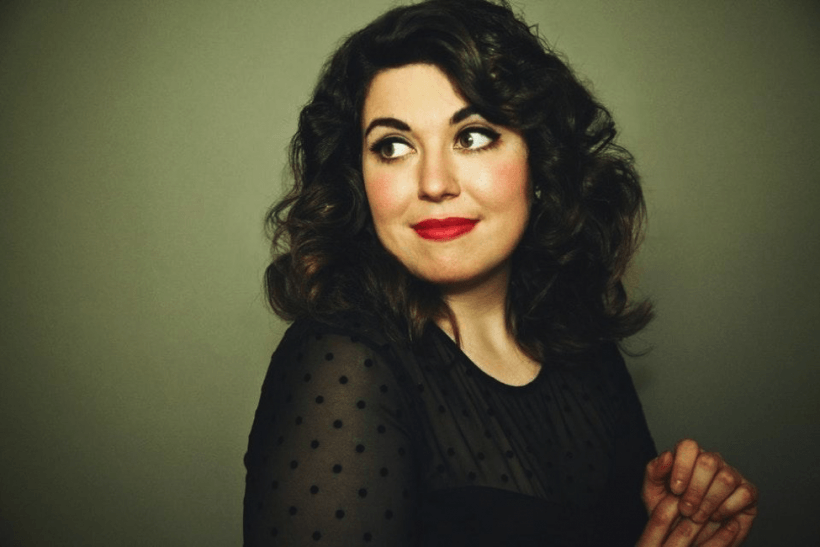 If you haven't fallen in love with rising star Jenny Zigrino yet, you're about to. The sharp-witted but truly sweet plus-size comedian is a mix of Midwest kindness, East Coast brazenness, and L.A. ambition. Having taken to the standup stage at the young age of 15, Jenny Z is the kind of babe who sees what she wants and makes it happen.
From her television debut on Conan to guest spots on @Midnight, MTV's Girl Code, and Adam Ruins Everything, Jenny has also hit the big screen in Bad Santa 2 and Fifty Shades of Black. This comedy badass recently released an IFC Web series with comedian pal Jen Saunderson called  "The Filling is Mutual," which you can catch on IFC Digital.
Ravishly got a chance to know this comedy queen so that you can, too. We talk about body-positivity, being plus-size in the entertainment industry, and an awkward run-in with British hipster king of sarcasm Russell Brand.
What made you fall in love with comedy? How did you get up the nerve to take your ideas to onstage?
I fell in love when I was really young. I remember being 5 and watching Monty Python on Comedy Central and loving it. Kids in the Hall, old stand up specials from Paula Poundstone, Sinbad... whatever was on that chanel, I was watching it.  The first time I did stand up was when I was 15. It was just something I wanted to do... so I did it!
Television and entertainment have come a long way, but they've still got so far to go. What do you feel like is really missing from comedy and television?
I always want there to be more female voices, more people of color, and more inclusivity. I feel like we are still getting stuck in old character tropes because it's easy and marketable. I'd like to see more characters bending perceptions — not getting stuck in stereotypes.
What do you want to put out into the world?  
I want my comedy to be relatable and to hopefully help. Either through breaking societal norms and perceptions or even giving one person the chance to not feel alone.
How does being a plus-size woman affect your work, both in its content and how you're treated within the industry?
It is something I always have to pay attention to. I call it out a lot because I want to break down walls that people might have in their minds about what it is to be plus-size or even in a body that isn't what the media shows us. If you told me at 12 you could be plus-size and have a happy life, I would have thought you were insane. I want to change that mindset.
What are some of the ups and downs of being plus-size in the comedy biz?
It hasn't had many downs besides finding clothes that fit when I'm on set. It might have stopped me from getting cast for certain roles, but that could also be my tiny insecure voice telling me I'm not good enough. I think what stops most people from finding real joy is the voice that tells them they can't because of x, y, z. I try not to listen.
What's the most mortifying thing that has happened to you on stage and how did you push through it… or did you?
Most things I've been able to maneuver my way out of. One time I did make a woman cry... I had to sneak out of the back of the club!
There's so much pressure to always be body-positive, but sometimes people just have days where they feel like crap and don't feel great about themselves. As a public plus-size figure, how do you keep that up on your "off" days?
I've been learning to accept those days. I think I felt a lot of guilt for not loving my body 24/7. When your whole life and identity has been about changing your body, it doesn't go away overnight. As a community we should be more accepting of that. On those days, I try to tell myself these feelings go away and my worth isn't based on how bloated I feel. Also I stay off social media!
Everyone's got some weird little thing that they're super obsessive over or excited about. What's your current obsession(s)?
I love wigs! I love the transformative feeling when you wear a wig or a new costume. I've always been obsessed with history and historical costumes. I just really enjoy taking on different personas! Also, I want to be like Beyonce. Always go for human hair wigs if you can and get lace fronts. If your synthetic wig is too "shiny" and wiggy looking, use baby powder to dull it up. I have a lot of time to research this stuff while my flights are delayed...
Last year a picture of your butt became the most popular of your photos on Instagram. How did that feel?
I thought it was a funny photo but others thought it was super sexy and wanted to do all kinds of things to it — it really brought out a lot of Prince Charmings in the comments section. You put yourself out on social media, you can't control how people are going to react. It just taught me I need more butt photos.
Who else are you really excited about? Why do you want the world to know about them?
I love Lizzo... she's one of my heroes. But I have been learning a lot about historical women. I am currently working on a project about unknown women in history. One of my favorites is a 19th century doctor by the name of James Barry. He was a decorated doctor in the UK and when he died it was discovered that he was actually a woman! She worked as a male doctor for over 40 years! She even killed a guy in a duel for saying she had a high voice. How badass is that?!
One of your biggest comedy heroes is Russell Brand, but you had kind of an awkward first meet with your hero. How was that?
I went to his first taping in NYC — if you watch his Comedy Central Special from 2009, I am in the audience SEVERAL times — and afterwards I waited to meet him. I had just started doing stand up and asked him if I could perform a few minutes and his eyes rolled so far in the back of his head I thought they were never coming back. He said "Tell the truth. Be truthful. The truth will set you free," and then made out with the girl next to me. Classic.
As I've progressed, I've realised that my heroes are just people. They're great, I respect them and I thank them for inspiring me, but they're flawed like the rest of us.  But on the whole, it's probably best to not meet your heroes — because they might make out with the girl next to you.
---
Related: