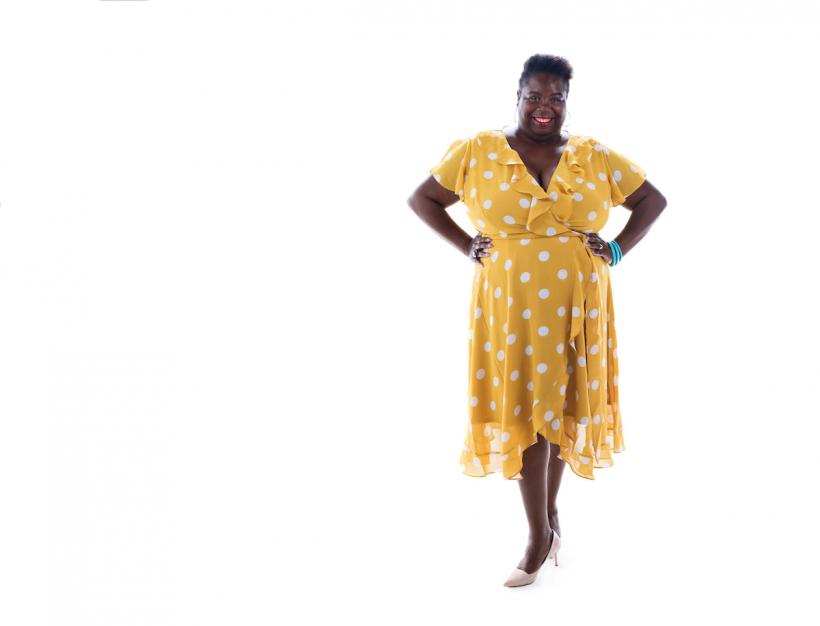 Malia Anderson of Style By Malia. Photo by Yvette Brackett Photography.
As a plus-size fashion writer, I get a lot of questions about clothing. One of the most frequent questions I get from other plus-size folks is "What do I wear to work during the summer?" As someone who has the privilege of working from home, this has not be an issue for me. In fact, working from a home without A/C often has me in some VERY unprofessional work attire that is sometimes even pushing it for laundry day. That's why I turned to plus-size stylists to the stars (no, REALLY) Malia Anderson of Style by Malia and Marcy Guevara-Prete of The Marcy Minute and co-owner of L.A.'s premiere plus-size consignment store, The Plus Bus. 
"The biggest difference in workwear throughout the season is not in the item itself, it's in the materials. Lightweight materials and blends make it easier to beat the summer heat," Anderson says.
If you're melting on your commute to work, it can be hard to feel professional when you arrive. If you're a woman or dress femininely, it's already an uphill battle to be taken seriously by many employers, even in 2018. It's even harder when you're melting beneath your polyester blazer and matching pants, trying to channel your inner Janelle Monae or Katharine Hepburn. 
"In the summer I ditch the blazers for cardigans — and not your grandma's cardigans. I love a long duster length cardigan over a sheath dress," Anderson continues. 
"It's important to invest in light layers during warm months. When blazers and cardigans seem way too heavy, a light vest, gorgeous scarf or flowy dress are just the pieces you will in your arsenal to lean on. Embrace silk and stay away from polyester for a cooler summer," Guevara-Prete advises. 
The pressure to look professional is never-ending while Ted in IT gets away with a polo and grubby cargo shorts. Meanwhile, you're getting the side-eye from your boss for questionable hem-lengths and necklines. When you're tall, every "reasonable" hemline is questioned, and if you're busty, you're frequently looked at as though you are showing too much cleavage — even though it comes up to your clavicle!
It's a sexist standard that isn't fair, and it has to change, but when you sign that employment contract, you agree to work within their boundaries. However, there's an art to finding that wiggle-room within boundaries. 
"Make sure that you have the right pieces for layering, so you're not stuck in a cami feeling awkward," Guevara-Prete tells Ravishly. "Now, bra straps may be fine at your work, but I err on the conservative side and make sure that any tanks or sleeveless dresses cover my straps, and I am a huge fan of the strapless bra. Fewer straps equal more polish, I promise."
A lot of the shift between seasons merely is within the details. Switching out polyblends for natural fabrics like cotton, modal, or silk is a simple rule of thumb. Ditching "skinny" cuts for relaxed, flowing statement pants allows more airflow and natural cooling. Many businesses allow sandals or at least peep-toe shoes, another way to get a bit more airflow.
"Since most businesses are business casual I love linen pants in the summer. I buy them in every color I can get. Paired with sleeveless button down blouse and sandals it's a great workday look," Anderson says of her faves.
"I think shoes make the outfit, so make sure that you leave flip flops reserved for the pool only.  I love a great wedge, espadrille or chunky heel.  Get creative with your shoes and let your toes breathe, but just make sure you do it in style- with a structured shoe that you wouldn't wear to the hot tub," Guevara-Prete explains. She adds, "If you are going to show your toes, and you should, make sure that pedi is on point! No one wants to see grown out polish or funky feet.  I love a fun color to brighten the mood and bring a little spice to the party."
You can up your fashion game and still stay cool while within the bounds of acceptability for HR. If you want to up your fashion game and stay cool, you can invest in some quality wardrobe staples that will get you through the heat.
Pairings as simple as a luxe t-shirt and midi-skirt are acceptable for the office and anywhere else in life. You can use that same luxe tee beneath a deconstructed linen blazer and matching pants for a business casual summer suit that is perfect for the office, happy hour, or weekend brunch. Want to really keep it cool? Choose a suit set which uses Bermuda-length shorts instead of full-length trousers 
Take your favorite maxi skirt and dress it up with a crisp short-sleeve or sleeveless button-up. You can even toss a crop top over a high-waisted maxi to play with proportions without exposing much (if any) skin. Monochromatic "co-ords" are still popular from last year, with a "maxi" length duster over even the skippiest of spaghetti strap dresses which can also be used to do double-time by layering over that luxe tee or, better yet, crop top so that the least amount of layers cover the least amount of body for maximum coolness. 
While it may seem daunting at first, you don't have to reinvent the wheel when it comes to reformatting your office wardrobe for the seasons. Keep your basic formula and switch out the fabrics and allow a bit more airflow by embracing breezier silhouettes. 
Building from these basic ideas and sticking with the classics will allow you to create a functional, stylish seasonal wardrobe which will be usable for many years to come. 
---
RELATED: