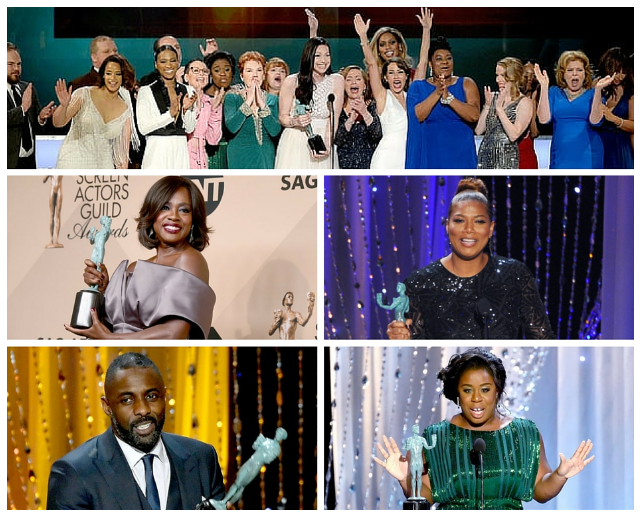 It seems to me that the members of the Academy of Motion Pictures Art and Sciences might want to take a page out of the SAG handbook when it comes to voting next year.
While this year's Oscar nominations were about as White as Blizzard Jonas that just took out the entire east coast, The SAG awards not only NOMINATED four minority actors and actresses for awards (Queen Latifah — Bessie, Viola Davis — How To Get Away With Murder, Idris Elba — Beasts of No Nation/Luther, and Uzo Aduba — Orange Is The New Black), they actually recognized the tremendous talent of these actors and awarded them in each category they were nominated in!
I KNOW!
Are you ready to really lose your mind?
The SAG awards decided to let the people know they mean business when it comes to diversity. They basically gave the Oscars the middle finger, and doubled down on diversity with one move.
Straight Outta Compton AND Beasts of No Nation were both nominated for Outstanding Performance By A Cast In A Motion Picture (though neither won), AND Orange Is The New Black was nominated for Outstanding Performance By An Ensemble In A Comedy Series — boasting the most diverse cast in that category (and possibly in history), not to mention it's ALL WOMEN!
Can we get a "what what!" for the ladies please, because yes honey, the sistas won it. Those girls took home that SAG award knowing they earned the hell out of it! And while I may not be thrilled with the particular roles they were awarded for (you'll see why tomorrow), I can't be 100% mad at SAG-AFTRA. It seems as though maybe, just maybe they are here for representing the diverse world we live in. And I'm here for that all day.
Plus Idris Elba. I am always here for anything that allows that fine man the opportunity to speak, and let that delicious British accent just fall out of his mouth. Yeah. Definitely here for that. And SAG. GO SAG!