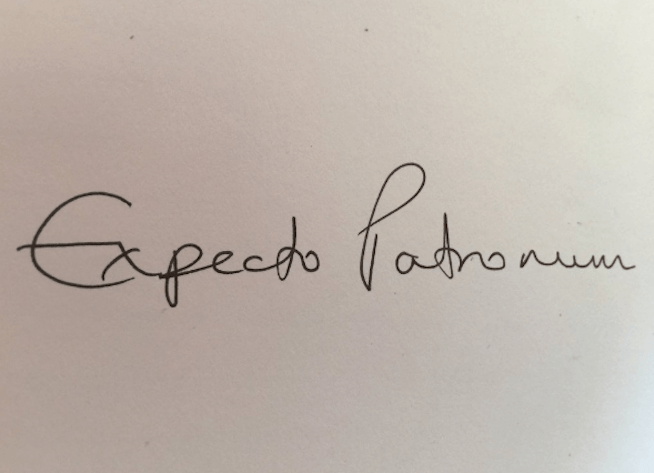 Image From JK Rowling's Twitter
In case there was ever any doubt, JK Rowling would be a good wizard, not a dark wizard.
The Harry Potter author is a prolific Twitter user, using the site as a way to connect with fans. According to Glamour magazine, last week, a fan reached out with a heartbreaking note detailing a life of struggles (Content notification: the note contains references to suicide, self-harm, and sexual abuse). She told the author that she wanted a tattoo to help her keep moving forward. Her idea was to get the phrase "Expecto Patronum," an incantation that elicits magical protection in the Potter-verse, tattooed on her wrist. But she didn't want just any font for the magical words. She wanted to have it in Rowling's own handwriting.
I'll pause for you to experience chills here.
Rowling, who knows a few things about struggling herself, responded to the fan with a lovely tweet and an image of the magical phrase in her handwriting. "You deserve this," she told the young woman.
Other Potterheads immediately tried asking the original poster if they too could use the handwritten spell for tattoos, and she's been cool with it. And I gotta tell you, I may not be up for another tattoo, but I'm considering printing out the image and framing it for my office. We all need a little magic sometimes. Bless JK Rowling for giving it to us.