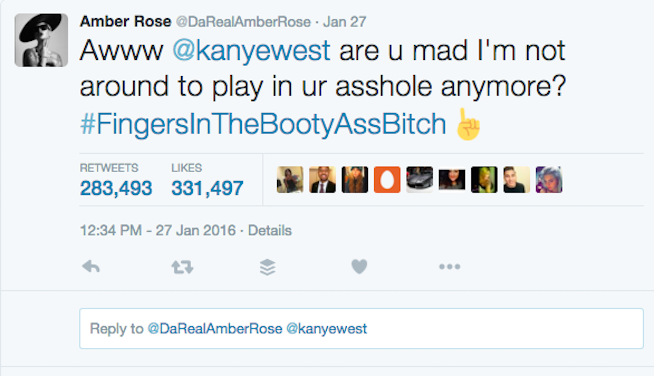 A few days ago, the Internet was mesmerized as Kanye West let fly a string of really angry tweets aimed at Wiz Khalifa. Well, mostly angry. Some of the tweets were about Wiz's pants, which Kanye seemed to like. I don't know what the pants look like because I was too lazy to Google "Wiz pants," but you go ahead if you're curious.
Anyway, the hip hop artist, fashion designer, and Kardashian aficionado was really mad at Wiz Khalifa, so he told the whole world about it. Then Amber Rose, ex-girlfriend of Kanye and ex-wife of Wiz, got in on the action and tweeted about fingering Kanye's butt.
There's more backstory to all of this, I'm certain, but I'm a 42 year old white lady who listens to show tunes on the treadmill, so hip hop beefs are a little over my head. If you were to tell me Patti LuPone were feuding with Bette Midler, I'd be right there with you but this has me sorta confused. I'm just pretty sure that Kanye saying he "owns" Wiz and Amber's son is a massively dickish thing to say.
Kanye later deleted his tweets but Amber Rose did not so Kanye's butt has been a matter of some speculation since the whole event. In the wee hours of this morning, Kanye attempted to put the matter to rest by tweeting: "Exes can be mad but just know   I never let them play with my ass…    I don't do that… I stay away from that area all together" (Weird spacing and punctuation Kanye's, not mine.)
I think it's safe to say that no one believes Kanye. He probably does like having his butt fingered. And that's ok, Yeezy. It really is.