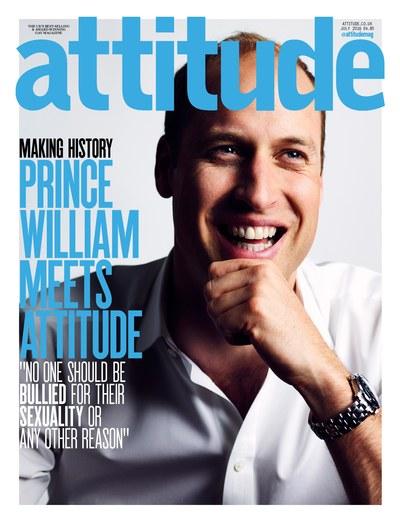 Image Credit: Attitude Magazine
As if you needed another reason to love England's Prince William, he just became the first member of the Royal Family to appear on the cover of an LGBT publication!
The Prince of Wales can be seen on the cover of Attitude, a British LGBT lifestyle magazine.
The cover is a follow-up to a meeting the Prince had back in March, with Attitude editor Matthew Todd and nine other LGBT men and women. The Prince invited all of them to his home to discuss "their own experiences with homophobic bullying, and explain how it had caused low self-esteem, drug addiction, depression, eating disorders, and even attempted suicide."
Not to take away from the historic nature of this meeting and the Prince's excellent work on anti-bullying campaigns, but —
OH MY GOD. Can you imagine being invited to be so close to Kate Middleton's closet? Do you think they got a tour and got to see her gorgeous collection of shoes and hats?!?!
Anyway.
After the meeting, the Prince released a statement where he said, "No one should be bullied for their sexuality or any other reason and no one should have to put up with the kind of hate that these young people have endured in their lives. The young gay, lesbian and transgender individuals I met through Attitude are truly brave to speak out and to give hope to people who are going through terrible bullying right now."
Seeing the Prince's smiling face on an LGBT publication is especially poignant this week, when many in the LGBTQ community are reeling after the horrific attacks in Orlando. I know the Prince speaks for me when he tells LGBTQ youth, "You should be proud of the person you are and you have nothing to be ashamed of."
Thank you, Your Majesty.