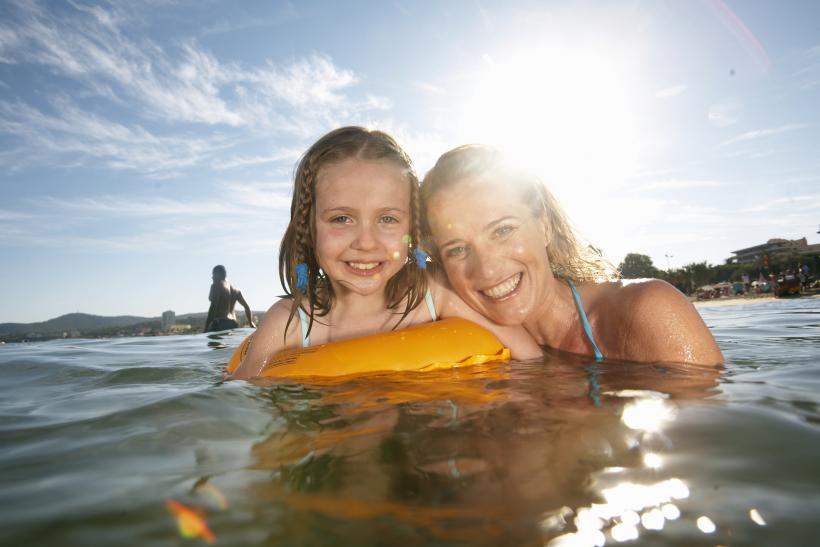 Here are some slightly adulty but not at all boring things to occupy your very own Spring Break.
The words "Spring Break" don't often bring up memories of very adult-like activities. Either we begin to reminisce sweetly about childhood vacations as the weather began to warm or we get a little nauseous about that one time in college, or maybe some of both (*cough*right here*cough*).
The thing is, whether you're young or old, Spring Break has the potential to be quite awesome. It happens around this time of year that many of us who are regularly adulting (i.e. paying all the bills, doing all the chores, keeping all the kids alive) could use a break. So why not reinvent the classic? Here are some slightly adulty but not at all boring things to occupy your very own Spring Break.
Staycation
Ahhh, the sweet staycation! It's all good in theory, but what usually happens when we plan to relax and recharge at home is we find ourselves knee-deep in home repairs, laundry, and staying up too late binge-watching Netflix. My suggestion to avoid this less-than-rejuvenating style Spring Break is to create some structure around your time off.
Begin with a list of chores or home repairs that simply must be completed. These should be things that will make you feel accomplished when you cross them off that list, by the way. If you've been able to set aside the whole week for your personal Spring Break, a list of three to five tasks is plenty.
Next, create a list of pampering self-care activities you'd like to do. This may mean bubble baths, sleeping in, lunch with your sibling, manicures, a local hike, yoga class, picking up (and enjoying) your favorite tea, or a long, leisurely stroll through Target (or all of the above!).
Finally, you'll need a third list of the not-so-glam self-care strategies you need to work this week. This means setting a bedtime, doing a load of laundry so all your loungewear is ready to go, and checking your credit card balances to see if there's room in the budget for that massage/fancy dinner/meditation class/stroll through Target that you have planned. This is a Spring Break for grown-ups, after all!
With your lists in hand, create a gameplan for your week. Maybe each day starts with some pleasurable self-care before you transition into get shit done mode, after which you get a little more fun in before you go back to adulting with more mature self-care, like tucking yourself into bed early after just one glass of wine.
Trust me, by the end of this week, you'll feel accomplished, recharged, and impressed with your ability to balance it all!
Vacation
Now, if you get to actually go somewhere for your Spring Break, you may find yourself looking forward to an entirely different experience from the Spring Breaks of your past. But how does one know where to go when you're a grown-up trying to enjoy Spring Break? If your days of Girls Gone Wild in Cancun are over and you're not interested in shakin' it on one of those MTV shows, where do you go on Spring Break?
The good news is, despite international tension and an increase in some travel cautions, there's a great deal of incredible options for Spring Break for adults. The key to choosing your destination will be to decide what type of break from all the things you're looking for. After all, you're a grown-up now, you have options! Consider your travel companions — will you be bringing along a loved one, or are you looking forward to some time all by yourself? In search of a change in climate or simply some new fun? Go deep into your heart of hearts and soul-search until your ideal Spring Break comes to mind…
Want Somewhere Warm?
Colorado's wintery season has shifted over the last decade or two so our worst snows don't happen until late March. This means, by the time Spring Break rolls around, we're dying for a tropical trip. Tulum, Mexico could be a great option with beaches and historic ruins that are surrounded by resorts. Tulum is nearby some of the popular-with-coed spots, but it offers a more sophisticated experience than Cancun or Cabo. Alternatively, Austin, Texas is a great place to find warmer weather along with music and fun food.
Thinking Outside the Box
If you're looking for a more interesting cultural or learning experience, consider traveling overseas! While Ireland's tourism may pick up around Saint Patrick's Day, there's no such cultural phenomenon as Spring Break there, so the crowds are gone by the time that last week of March hits. There's castles and countryside to explore and an array of cuisine to sample, of course.
New York City may not be what you think of when Spring Break comes to mind, but it's certainly an option! Take in a Broadway show, support the Art Museum, explore the Statue of Liberty, and take in the energy of Time Square. Prepare for a whole host of new Spring Break memories in the Big Apple.
I'd never forgive myself if I didn't give my home state a shout-out on this list. Colorado can be an incredible place to visit over Spring Break, especially if you love the snow! You can stay in a ski resort are like Aspen or Vail or hang your hat in nearby Boulder to enjoy Colorado sunshine, snow and scrumptious food.
As for me, I'll be home with the kids while the husband works in the morning, and then I'm headed into the office each afternoon when he gets home — so I hope you'll go out into the world and have some amazing adventures in my place! Perhaps I should have mentioned that integral to having a great Spring Break as a grown-up is hiring or trading for a sitter if you've got kids and taking time off of work. I will certainly have mastered these details eventually… maybe next year.
Enjoy your break!
---
Related: