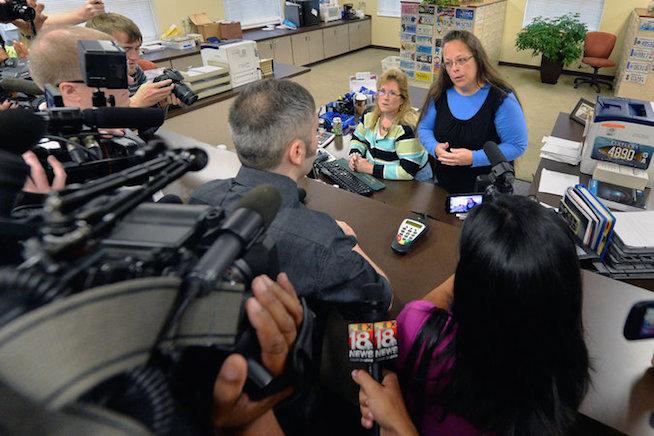 The SCOTUS wasted no time in denying the petition of Kentucky woman Kim Davis, who claimed that her "religious freedom" was violated by issuing marriage licenses to same-sex couples.
The Court ruled Monday that personal religious beliefs don't trump the law, or give you the right to enforce your own brand of discrimination against same-sex couples. The ruling came after Davis filed a petition Friday requesting a stay on the Court's ruling in Oberfell v. Hodges, which lifted the federal ban on same-sex marriage in June. 
Despite the ruling, Davis has been refusing to issue marriage licenses to same-sex couples ever since, claiming that her deeply-held religious beliefs would be violated by having to issue marriage licenses to gay couples. These religious beliefs were not, however, violated enough to find a new job, or to consider delving into the merits of each heterosexual couple requesting a license. 
In Kentucky, it is legal to get married at 16-years-old with parental consent, but Davis didn't have a problem with that, either. Her religious beliefs kicked into high-gear only when she was told to do the unthinkable –– issue marriage licenses to everyone legally entitled to them, gay or straight, whether she personally agreed with their life choices or not. The horrors.
The ACLU of Kentucky has already filed a motion for contempt against Davis because even after the SCOTUS told her to start issuing marriage licenses, she was back at work the next morning, stonily turning away gay couples. It is clear that Davis is determined to martyr herself to this cause and may face jail time as a result. What is less clear is why she STILL HAS A JOB, even after defying a direct order by the highest court in America. Is it really THAT hard to find someone to issue marriage licenses in Kentucky? 
The contempt hearing for Davis has been set for Thursday. For now, the clerk's office is shuttered and Davis is refusing to issue any marriage licenses. No word yet on a GoFundMe for Davis, but I guarantee it's coming.