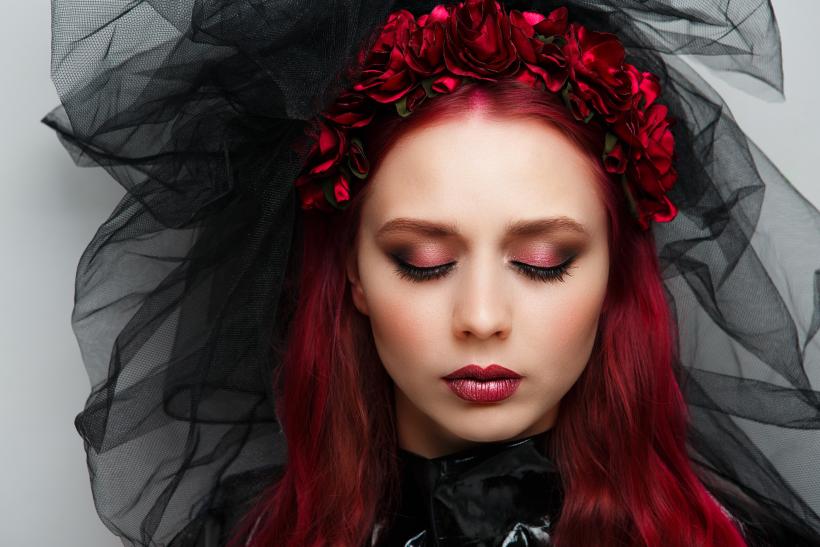 Ways to dress like every day is Halloween!
The best part about Halloween is having free rein to dress a little whimsically and spooky all month (or season!) long, right? That's one of the things I love most about fall. You can easily add a cat ear headband or witchy tarot dress to any outfit and either be dressed up in costume or just seasonally appropriate.
If you're like me, you already embrace authentically strange fashion all year long, but that still doesn't stop me from enjoying Halloween season to the fullest — whether it's wearing my cat-and-pumpkins dress more often than I would in May or pulling out my full Luna Lovegood aesthetic on a daily basis. Here are some easy ways to incorporate Halloween into your everyday attire:
1. Give your look a witchy vibe.
Witchy means different things to everyone, but you can create this aesthetic with subtle touches of black, lace, tarot patterns, witchy art, roses, pointed or wide brimmed hats, and flowing skirts. Take inspiration from Charmed, Practical Magic, Hocus Pocus, Buffy the Vampire Slayer, American Horror Story: Coven, and Luna Luna.
2. When in doubt, be a mermaid!
I know mermaids may not seem Halloween-y compared to witches and goblins, but trust me, mermaids are the pinnacle of the season. Because who wouldn't trade their land legs for a fin any day of the week? Get your mint hair, seashell bras, and ocean accessories back out from the summer wardrobe, because they're still in season!
3. Embrace full skirts.
There's something about full skirts that feels like dressing up — especially because people always tell me I look so nice when I have one on, even if I put in zero effort. Tulle skirts and petticoats are the ultimate in autumn, and if you pair them with something orange or covered in skeletons, it's the perfect Halloween style.
4. Don't be afraid of color.
Just like mermaids, unicorns are definitely Halloween. If you've been waiting all year to embrace your inner unicorn, now is the time. Also, buy lots of Lisa Frank, even if it's not unicorns. Lisa Frank is pure Halloween. (And people think the 90s and early 2000s are ancient history now, so you'll look vintage, too!)
5. Add spooky symbols to everything!
Your outfit doesn't need to be complicated. Just throw some moons, tarot cards, black cats, ghosts, or witches on it and you're good to go! It helps if you already have badass hair, because people will think that was intentional.
6. Re-use parts of your costume in literally any outfit.
I don't recommend masks unless you want to freak yourself out in the mirror, but there really are no limits. You didn't spend $60 on those custom vampire fangs to only use them once!
7. Silver (or colorful) hair goes a long way.
Silver and white hair speaks for itself because you'll always look dressed for an occult occasion. But any fun color will help you get the look you're going for with half the usual effort. My lavender hair always looks on-brand during Halloween to people who don't know it's a year-round situation.
8. Dress like you're in a fairytale.
If you're not really into the spooky look and can't quite commit to throwing your costume on when it's not a Halloween-themed event, you can always wear an outfit that looks like it came out of a fairy tale. Bonus points if you bring a book of fairy tales with you wherever you go, like my partner is doing right now with Leigh Bardugo's The Language of Thorns.
9. Bring out your inner goth.
If you were ever a goth in your teen years, this one's for you. But even if you weren't and all you did was look admirably at the Hot Topic store windows when you walked around the mall with your friends, there's still time to embrace it. And Halloween is that time!
10. Incorporate eccentric accessories into your outfit.
I have a Betsey Johnson camera purse that I wear every day, and I'm pretty sure around Halloween people think it's part of my costume. Cat ear headbands, unicorn statement necklaces, witch hat fascinators, and tiny top hats are all kitschy accessories that you can re-up all season long — and beyond!
11. Make use of Halloween and autumn-centric patterns.
My girlfriend says that my cats-and-pumpkins print dress is "seasonal" (and I disagree!), but it's at least even more festive this season. If people give you a weird look for wearing bat leggings or jack o'lantern sweaters in July, then you should definitely take advantage of fall as the perfect time to pull out all the stops. If you name it, there's a print of it — mermaids, ghosts, tarot cards, astrological signs, haunted houses.
12. Don't be afraid to use enamel pins.
I haven't gone down the rabbit hole of enamel pin collecting yet (I know, I'm a queer woman — what am I doing with my life?!) because I know that it'll get out of hand basically as soon as I start, but pins are the easiest way to add a little spooky glamour to your everyday look. You can find witchy ones all over Etsy!
13. Own your DIY skills.
If the aesthetic or item you're looking for doesn't exist, create it! There are plenty of DIY options for everyone from beginners to pros, and you don't need a sewing machine to make something magical (because fabric tape is already basically wizardry!).
14. Simple outfits say a lot!
You don't need to wear zombies from head-to-toe to capture the spirit of Halloween. Even a fairly simple outfit with just a touch of magic or mischief can transport the mood of your look.
15. Dress like your favorite character.
There's always one of my favorite options — let your favorite characters, books, television shows, and movies inspire you. If you're looking to get in the spooky mood but you don't want to wear a bunch of orange, black, and lace, you can always be Luna Lovegood, Kiki from Kiki's Delivery Service, or even Blair from Gossip Girl. The character you're taking on doesn't even need to be from a Halloween movie, because the entire point of the holiday is dressing like whoever you want!
---
Related: