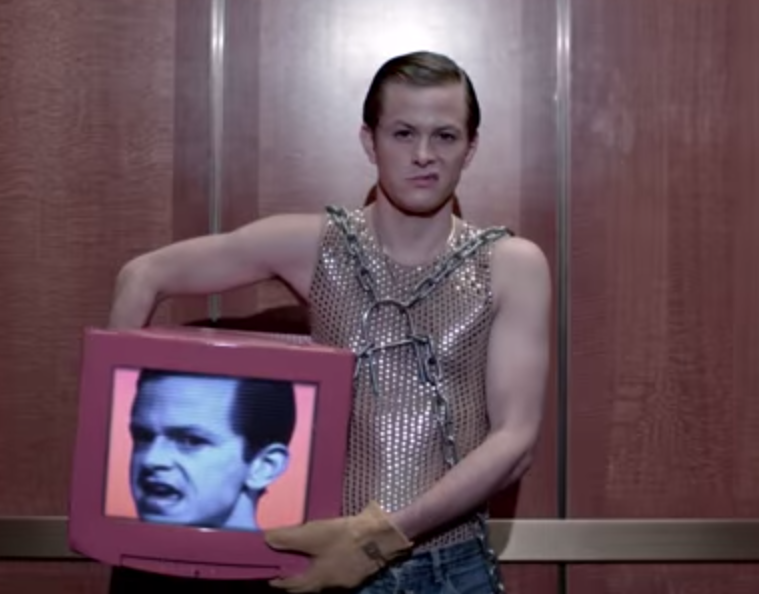 The enigmatic Perfume Genius courtesy of Youtube
When we think of classic "gay icons," Madonna, Lady Gaga, Cher, Joan Rivers, Beyonce, and other highly choreographed, sequined, and Versace-draped idols typically spring to mind. While it may seem like gay pop-culture icons have been around since pretty much forever, the full-bodied bedazzled juggernaut clad in one part flamboyance and all part show tune-beltin'—the very first universally acknowledged gay icon that took mainstream culture by storm, was indeed Judy Garland. As Garland rose to fame, she successfully established the uber glamorous, and now long-running tradition of gay sparkle-worship, a glittering, unitard wearing, tap dancing diva to lead us all. 
Let me be clear. I fucking love Lady Gaga, I had this weird psychosexual obsession with Liza Minnelli in Cabaret as a teenager (which makes so much sense to me now), I knew Rocky Horror Picture Show by heart, and committed every lyric from Cats to memory. 
All this makes we wonder if I'm actually a gay man, but that's another post altogether.
Obviously, there's nothing inherently wrong with gay idol-worship. Nicki Minaj is my queen forever and always and I will shout my feelings for her from the rooftops (or atop a sofa a la Tom Cruise) until the end of time. 
There's also nothing inherently wrong with nurturing an affinity for performers in glittery unitards. However, as Flavorwire's Shane Barnes points out, "it's disconcerting when you realize that the traditional idea of a gay icon centers on non-queer pop stars making a living off . . . the gay community".  
While Cher, Dolly Parton, and Beyonce draw a sizeable portion of their fanbase from the gay community, these gay icons don't actually identify as gay. Which is fine. Despite my personal belief that everyone is kind of gay, I get that not everyone is, and some people never will be (*sigh*). Barnes argues that this disconnect isn't necessarily problematic, but the "glitzy aesthetic" generally associated with "gay icons" is certainly outdated, and we non-hetero/non-conforming/non-binary/fluid have since collectively outgrown it and moved towards queer identification.
As fabulous as the Madonnas and Iggy Azaleas of the world may be, we need gay icons who aren't just "gay icons," but rather queer-identifying artists and personalities who, as Barnes says, "not only live a certain lifestyle, but create art that reflects and highlights that lifestyle." 
Luckily, I'm here to tell you there ain't any shortage of kickass queer artists, celebrities, comedians and personalities to choose from. So get out your sequined skivvies and the pedestal cause here we go. 
Angel Haze
This minx is a pansexual rapper, epic lyric-rewriter and goddess.  
Mykki B

lanco
Tackling racism and homophobia through high-art, high-concept music and videos, Mykki Blanco is a totally queer badass. 
Hannah Hart
This B is the bona fide Queen of Queer YouTube.
Perfume Genius
The undeniably arty-yet-catchy songs trick you into thinking you're just having a good time, when he's actually serving you with elevated, fearless, taboo-shattering truth about what it's like to be queer. All wrapped up in brutal honesty.
Laverne Cox
The icon of queer icons. 
Kate McKinnon
She's the first openly gay member of SNL and queen of my heart.
Mary Lambert
She's here, she's queer, she's adorable, and she's everywhere.
Azealia Banks
Openly bisexual badass. Icon level: 100%