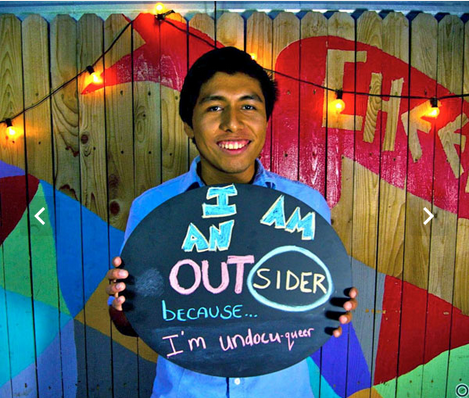 There's a brand-new queer arts festival coming in to Austin, Texas in February 2015, and it needs your help to become a reality. OUTsider Film and Arts Festival is a fledgling, non-profit multi-arts queer festival and conference showcasing LGBTQIA arts and film. The first of its kind in the U.S., OUTsider aims to educate and entertain as as foster community and establish a new home for queer creatives.
According to OUTsider.org, the festival and OFF-Topic conference will bring together queer artists, audiences and scholars from around the globe to exchange ideas and engage through imagination and discovery, celebrating the "bold originality and creative nonconformity of the LGBTQIA and Ally communities through the presentation of provocative, overlooked and out-of-the-box film, performances, music, writing and visual art." OUTsider aims to break from the more traditional, one-medium arts festival model, providing a multi-faceted platform for artists and attendees alike.
The name "OUTsider" is a reference to living "out," refusing the stigma and shame often associated with the production of work forged outside of mainstream channels. OUTsider "stands in solidarity with all outsiders everywhere[...]outsider people—queers who take risks and dare to be different, as well as all marginalized folks who live and think outside the status quo." 
Despite the popularity of mainstream series like Modern Family, The New Normal, Glee, and Orange Is The New Black on TV—all of which feature gay characters and storylines—queer artists need a creative space to call home that celebrates the full spectrum of queerness, not just the kind that is deemed palatable enough to show up on TV.
With the release of shows like Transparent, it may seem that queerness has "made it" in Hollywood and popular media, but the characters we see on TV only represent a mere fraction of the various expressions of queer identity. The opportunities for queer, nonconforming actors and artists to showcase their range of abilities can be scarce, but the OUTsider festival seeks to change that.
Check out OUTsider's Indiegogo campaign page to see what you can do to make this festival possible.