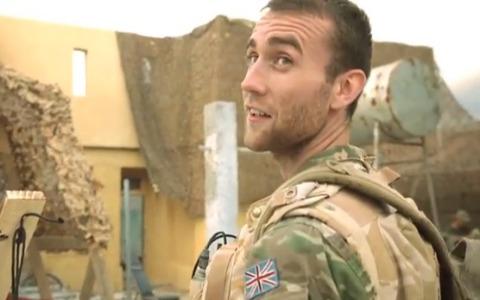 In case you didn't know, Neville Longbottom is allllll grown up.
Matthew Lewis, who plays the lovable rube Neville in the Harry Potter movies, got hot. Like, buh-bye buckteeth, hello six pack hot. What?! No, really! Here, look at these gifs of him dancing shirtless: if that's not a way to start your Monday right then we don't know what is.
Fandom say what?
The scenes come from the second season of BBC's Bluestone 42, a comedy framed in the drama of war, where Lewis plays a British soldier in a bomb disposal squad stationed in Afghanistan.
Here's what Lewis had to say about the new role:
I'm really excited to be joining the cast of Bluestone 42. I watched the first series and remember thinking that I'd love to be part of a show like that. It's a comedy and it aims to make people laugh but it's not trivialised. The issues that are dealt with are serious issues.

"I'm playing Corporal Gordon House who is effectively Captain Medhurst's number two. He's a Yorkshireman with a bit of a class chip on his shoulder, but he's a great bloke and a very good soldier. He's a lad and loves getting stuck in with the banter — especially giving Medhurst stick for being a posh public schoolboy.
So there you have it. All comments about abs and YMCA aside, season two the dramedy is definitely worth a watch. The former Hogwarts student has moved on and we couldn't be happier that the guy who helped kill Voldemort is still a success on the screen.
Image courtesy of YouTube