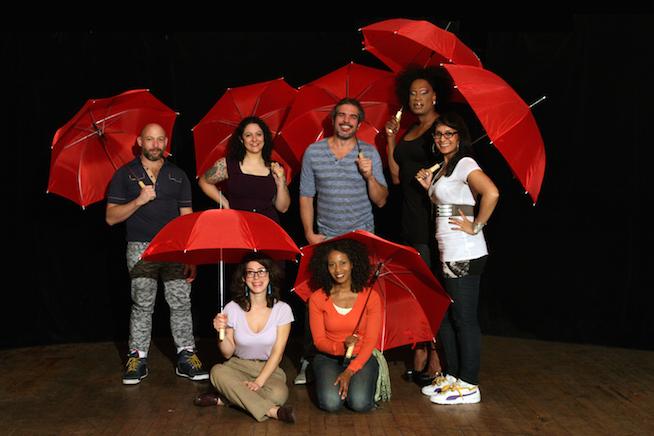 The Cast of The Red Umbrella Diaries.
The mainstream media has always been fascinated by sex workers, and in doing so tend to sensationalize us and tell our stories for us
—
 most of the time in a very stereotypical, sensationalized, and preconceived way.
Audacia Ray has had a vision of bringing real-life sex worker narratives to the public since she started co-editing $pread magazine, the first magazine by and for sex workers, in 2005. Ray now runs a nonprofit called the Red Umbrella Project (RedUP), and has been arranging storytelling events by sex workers, publishing several literary anthologies about sex workers' experiences, and finally teamed up with an Emmy-winning documentary crew to feature the stories of seven diverse cast members (including herself) to film the groundbreaking documentary that has its NYC IFC premiere on November 16: The Red Umbrella Diaries.
Ray says it wasn't until she sought out storytelling and sex work activism that she started meeting people with vastly different experiences than her own. She said finding the commonalities within these experiences were that sex workers are all linked by stigma and discrimination.
We are at an important moment in history where sex workers are speaking out: From Margaret Cho publicly outing herself as a former sex worker and lending her support to current sex workers, to a lawsuit that could potentially decriminalize sex work in California, to the momentous policy drafted by Amnesty International after two years of research that seeks to decriminalize sex work worldwide. Amnesty's letter stated something to the public that all sex workers know and feel, which is that "Sex workers are one of the most marginalized groups in the world." We have taken some steps forward, but still have a long fight ahead of us.
This is where folks like RedUP's cast comes into play. The mainstream media has always been fascinated by sex workers, and in doing so tend to sensationalize us and tell our stories for us — most of the time in a very stereotypical, sensationalized, and preconceived way.
Anna Saini, featured in the documentary, states in one scene, "The more that we can get our stories out there, honest stories about what it means to be a sex worker, that's the clearest path to humanizing us." This film does just that — it humanizes the people who make and have made their livings through sex work as they reclaim their narratives through media and storytelling. The Red Umbrella Diaries digs deep into the compelling and complex stories of the seven sex workers featured in it. The cast speaks candidly about their captivating life stories, and how isolating sex work can be because it's criminalized, judged, and stigmatized. Ray and her cast offer so much insight in this film by taking you deep into their lived experiences as sex workers that you won't return from it unchanged or unmoved.
For sex workers, whose voices are often unheard, this documentary will be a breath of fresh air. For everyone else this will be a compelling documentary to learn from. I got a chance to speak with Audacia Ray about the film, as well as cast members Essence Revealed and Sailor:
How did the idea for this documentary come about?
Audacia Ray:  The Red Umbrella Diaries was a monthly sex worker storytelling event that I produced at the fantastic but tiny Happy Ending Lounge on New York's Lower East Side for five years. During that time it developed into the more full-fledged organization of the Red Umbrella Project, which including writing workshops, a literary journal, and a podcast of the stories. One night after a show in the spring of 2013 a bunch of us were sitting around and fantasizing about the idea of doing a bigger show and it went from what if... to Let's do a big show at Joe's Pub and make a documentary! In a matter of minutes.
You all got incredibly intimate for this documentary. Did you feel vulnerable at times or was mostly just a sense of finally! because real sex worker stories are so underrepresented?
Sailor: I'm not sure I had a sense of finally but rather I hadn't been aware before of how much you don't say or talk about in your daily life, to keep things comfy for others around you. Perhaps it was a series of one little finally after another. After the main shooting of the doc and the one-on-one interviews, it was harder to be hush-hush about everything. I no longer felt like just not talking about it. In the Happy Ending reading series, that feeling existed in the room as a storyteller or in the audience, there was always this thrilling tell it kinda feeling. It was always a real high after the readings and there was vibrancy in the air.
Essence Revealed: I, personally, am terrified. I keep telling myself that only people who are interested in our stories are going to buy tickets. I wonder about being an out sex worker publicly. I'll probably never use my degrees to teach children. I lived in fear and isolation for fear of being found out. It makes it easier that I am outing myself in the sense that I'm more in control.
Why was it so important for you to do this film?
Ray: Most media about sex work is salacious — even if the content is sad or about how awful the sex industry is, the visuals are all hot but forlorn women in skimpy outfits. But as sex workers, we know that the reality is much more complex — and that's what we wanted to reflect in the film. Yes, sexuality is present in what we do as sex workers, but we wanted to make a film in which our stories and personalities are the centerpieces, and we're not dressing that up for sexual consumption.
Essence, You stated in the first trailer that you were elated to find yourself within this group of people where you didn't have to "edit yourself." Can you elaborate a bit?
Essence Revealed: I am a big fan of living your individual authentic truth. However, stigma abounds in ways that can affect one's life and livelihood. Therefore it is not wise to speak freely wherever you may be. Being at a big bank networking event causes me social anxiety. Being around other sex workers (for the most part, 'cause nothing is absolute) means that I can speak about any topic and it won't affect the way I can make a living.
The scenes of all of you together were some of the most comical; it really captured the closeness between you all. Was it easier to get so personal by having the camaraderie of each other, rehearsing together, performing together, etc.?
Essence Revealed: I care about these human beings. Period. To go from solitude to being among the most smart, talented, empathetic, open-minded and real group of people is a blessing. Imagine knowing that nothing you say will be judged (it may be debated in conversation a bit, lol). Being able to be authentic is lovely.
Sailor: When we were together in prep for the big night at Joe's Pub, we were all in process. This creative process, it was a few amazing months of workshops and listening and thinking and playing and snacking. The group part was the best, as far as I'm concerned. It felt so much bigger than one night, it felt like we were there to help each other pull the best story out of ourselves. The biz is solitary, you do what you do to make your money and you have to stay focused on yourself to get the cash. It negates a lot: people, friends, family and the regular life of water-cooler chitchat. I'll always love that part the most in this project. The movie is not mine, not my creation or work, that's the filmmakers and the editing and collecting of bits and pieces, the participation and yeah, camaraderie and that moment is ours.
Were you surprised by the support you garnered with the Kickstarter campaign and that you exceeded your goal?
Ray: I was really happy about how well the film did on Kickstarter — that was a big test of whether or not people will really get what we're trying to do. Now that we're moving into the phase of broader audiences getting to see the film, that's a big question again — what will people walk away from the film thinking about?
What do you hope they will walk away thinking about, specifically non-sex workers?
Ray: I hope that non-sex workers will have conversations about the impact that family acceptance and rejection has on sex workers, about how our mental health and survival are affected by stigma and lack of economic opportunities, and how the differences in race, class, gender, and more impact the ways that the sex industry works or doesn't work for different people.
Where else can people catch the film if they aren't in NYC?
Ray: We're continuing to screen at film festivals around the country, check the website for updates! But we will also be working with community organizations and colleges around the country (and world!) to share the film with audiences in 2016. After that it will be available for online streaming!